Santa doesn't always ride a sleigh: Bikers, veterans donate hundreds of toys for Japanese children
By
Stars and Stripes
December 8, 2021
---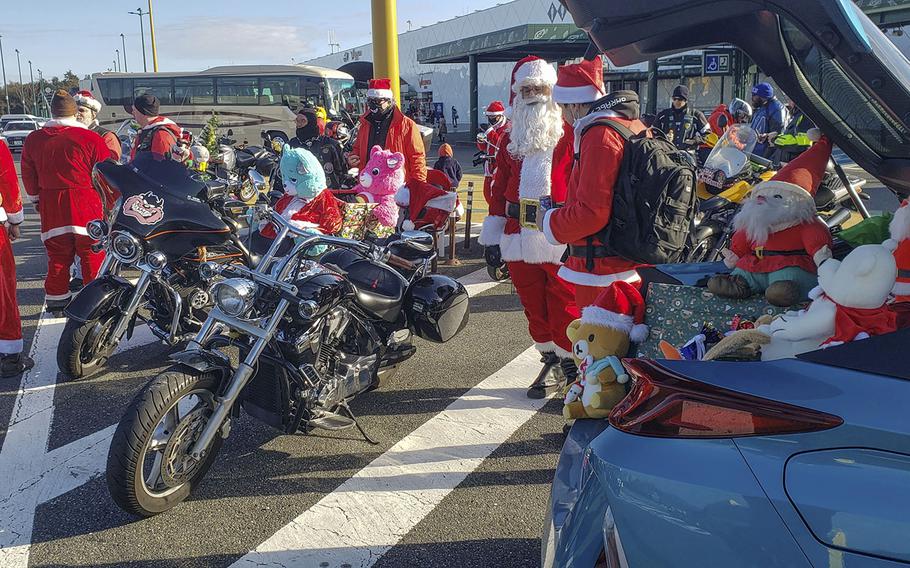 EBINA, Japan — More than 30 bikers dressed as Santa Claus gathered at a highway rest stop southwest of Tokyo over the weekend with decorated motorcycles and bags full of presents.
For the past 12 years, riders from all walks of life, including veterans and active-duty service members, have descended one day in December on the Ebina rest area on the Tomei Expressway.
They dress for the holiday season and carry gifts for children at orphanages in the area. This year's bounty included action figures, stuffed animals, Nerf guns, Legos and more.
Frank Misiura, a Navy veteran and contractor at Yokosuka Naval Base, has either organized or taken part in the event since it began.
"Toy runs have been a part of the rider community for as long as I've been a rider," he said Sunday. "It's a mechanism to promote camaraderie throughout the riding community and to give back to the host nation."
Chigasaki Farm Children's Home and The Elizabeth Saunders Home for the Displaced were chosen to receive this year's donations. Each orphanage has about 60 kids, according to Misiura, and the drive gathers, on average, nearly 300 toys and other gifts.
This year's donation drive had to break from tradition due to the coronavirus pandemic.
"Because of COVID, this is taking on a whole new way of doing business," Misiura said. "In the past, all the riders actually rode to the homes and hand-delivered their gifts."
Two SUVs filled with this year's toys were driven to the orphanages. Only two people made the trip, a precaution aimed at lowering the risk of transmitting COVID-19, the coronavirus respiratory disease.
In the past, the riders spent a few hours with the children and enjoyed a small lunch.
"You definitely come away with a renewed appreciation for what you have and what you can do for your kids and others," Evan Hall, an Air Force veteran and member of the Green Knights military motorcycle club said Sunday. "It pains us that we have not been able to see the kids for the past two years."
After the onset of the global pandemic, Misiura worked with the orphanages to figure out a plan in 2020 which was streamlined for 2021.
"We are still delivering Christmas the best way we can under the circumstances," Misiura said. "We appreciate each and everybody that does come out and does what they can and give."
---
---
---
---