Australia and Papua New Guinea revive World War II-era naval base built by Americans
by
Seth Robson
Stars and Stripes
December 6, 2021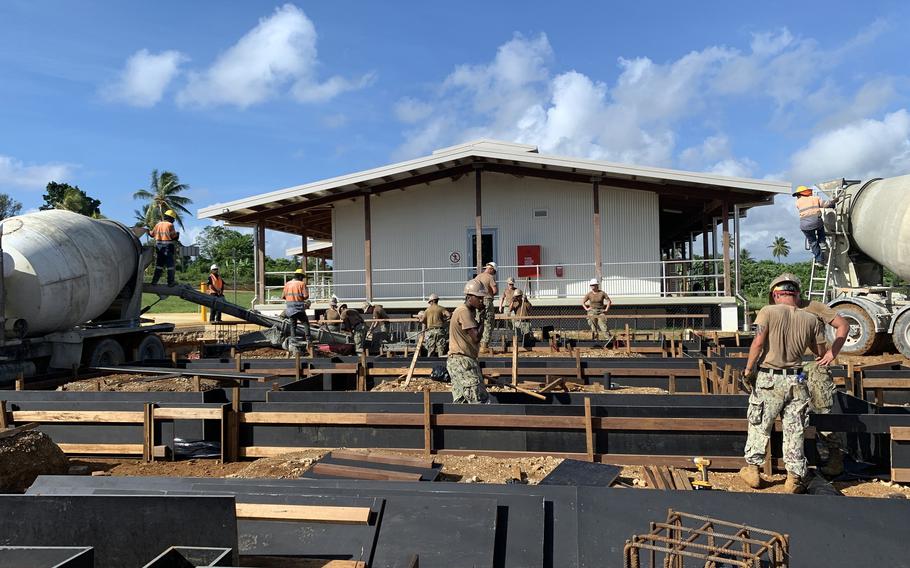 Australia and Papua New Guinea have completed first steps and begun major refurbishment of a navy base built by U.S. forces on Manus Island, Papua New Guinea, during World War II.
The upgrades at Lombrum Naval Base are part of a deal the two countries reached in 2018. It gives Australian forces access to the strategically vital deep-water port while slamming the door on Chinese ambitions to gain a foothold on the island, The Australian newspaper reported at the time.
A chapel, medical facility and security fencing have been built and a communication center has been upgraded since work began in mid-2020, the Australian Defence Department said in an email Nov. 24.
U.S. Secretary of the Navy Carlos Del Toro visited Manus in late October and met sailors assigned to Naval Mobile Construction Battalion 5, which deployed to the island to build a dental facility, according to posts on the battalion's Facebook page in September and October.
Manus is an 800-square-mile rock in the Bismarck Sea north of New Britain. It is just over 1,000 miles south of Guam, where Marines are scheduled to relocate from Okinawa, and 1,300 miles east of Darwin, which hosts a 2,500-strong U.S. Marine Corps rotational force.
During World War II, the U.S. constructed wharves, a 9,000-foot runway and accommodations for tens of thousands of troops on Maus.
It was a venue for the trials of Japanese war criminals and, in recent years, served as an offshore processing center for immigrants attempting to illegally enter Australia by sea. The center, for years a point of contention, held 1,400 immigrants in 2014. It was shut down in October 2019, according to Australian public broadcaster SBS.
The initial work to upgrade the base, completed in September, employed 121 local workers, according to the Australian Defence Department.
"Over the last six months, logistics, workforce facilities, and earthworks for environmental controls have been established for Main Works," the department said.
Next year, workers will build electrical generation, water and sewage services, facilities for community work, training and accommodation and operational facilities to support the Papua New Guinea Defence Force's Guardian-class patrol boats and small boat operations, the department said.
The project, expected to be worth $41.2 million, will create approximately 350 jobs in Papua New Guinea per year, the department said. Since June, the workforce has grown to 216, with 96% of them Papua New Guineans.
Royal Australian Navy vessels can and have made port visits to Lombrum, however it will remain a Papa New Guinea base for the country's vessels, the department said.
When construction work is completed, Lombrum will support Papua New Guinea's patrol boats and Australia's ANZAC-class frigates, Carlyle Thayer, an emeritus professor at the University of New South Wales and lecturer at the Australian Defence Force Academy, said in a Nov. 25 email.
"To accommodate larger vessels the harbour would need to be dredged at least two meters deeper and the current wharves would have to be widened and extended," he said.
A recent study by the Royal Australians Navy's Sea Power Centre proposed options for Lombrum ranging from a forward operating base to a geostrategic strongpoint on par with U.S. facilities on Guam. But building such a high-end facility couldn't be done without U.S. backing, Thayer said.
---
---
---
---