Social media post about Army specialist's Chinese mistranslation likely fake, officials say
by
Chad Garland
Stars and Stripes
December 7, 2021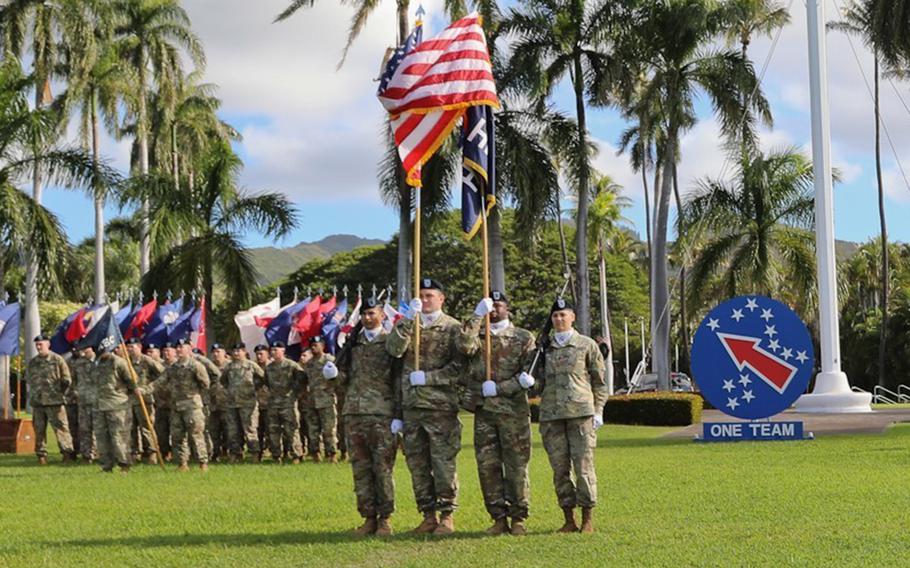 A military record about an Army public affairs officer who supposedly fell victim to a specialist's embarrassing mistranslation of a military motto into Chinese appears to be fake, an Army spokesman said Tuesday.
A post showing what appeared to be a counseling statement admonishing a specialist for mistranslating the U.S. Army Pacific motto, "One Team," into an offensive phrase in Mandarin Chinese popped up on the Army section of the social media site Reddit on Sunday.
Images of the counseling statement quickly began making the rounds on Facebook groups for military linguists and alumni of the Defense Language Institute where it garnered hundreds of likes and dozens of comments.
But there doesn't appear to be any truth to the scenario it depicts.
"We have polled our public affairs enterprise and social media and cannot find any factual basis to support this document," Jonathan Riley, U.S. Army Pacific deputy director of public affairs, said in an email Monday.
The questionable counseling statement says the specialist was a signals intelligence linguist who was asked last week by a public affairs major to translate the motto because he was fluent in Mandarin Chinese. What he provided in return meant "Eat My A--." 
But the officer didn't catch the mistranslation until the offensive phrase was shared on official social media posts, says the document, supposedly issued by a staff sergeant supervisor of the linguist's section on Friday.
Many commenters online blamed the hapless major for failing to check the translation, while others applauded the specialist for the prank.
"Why ask the mafia to translate something?" said one Reddit user, referring to the E-4 mafia, an informal network of military personnel in the rank of specialist or its equivalent. "Counsel that Major …"
But some pointed out the obvious implausibility of the counseling statement, which included the offending phrase both in English and in Chinese.
The unlikely mistranslation story comes as the U.S. government, and particularly the military, is focused on competing with China in the Pacific and elsewhere.
It also has echoes of countless stories about Americans getting tattoos in Chinese or Japanese characters whose true meanings are less profound or poetic than they originally thought.
Names were redacted from the counseling document, but Riley said the command's public affairs office did not ask for the translation described and did not release anything in Mandarin on its platforms.
The command also polled its intelligence section, which does not have the types of people identified in the counseling statement in the ranks or positions it gives.
"We will continue to maintain our awareness," Riley said. "But in the absence of new facts, this does not seem to be an accurate report."
---
---
---
---