US, Japanese forces rehearse defending Japan during large-scale exercise
By
Stars and Stripes
December 2, 2021
---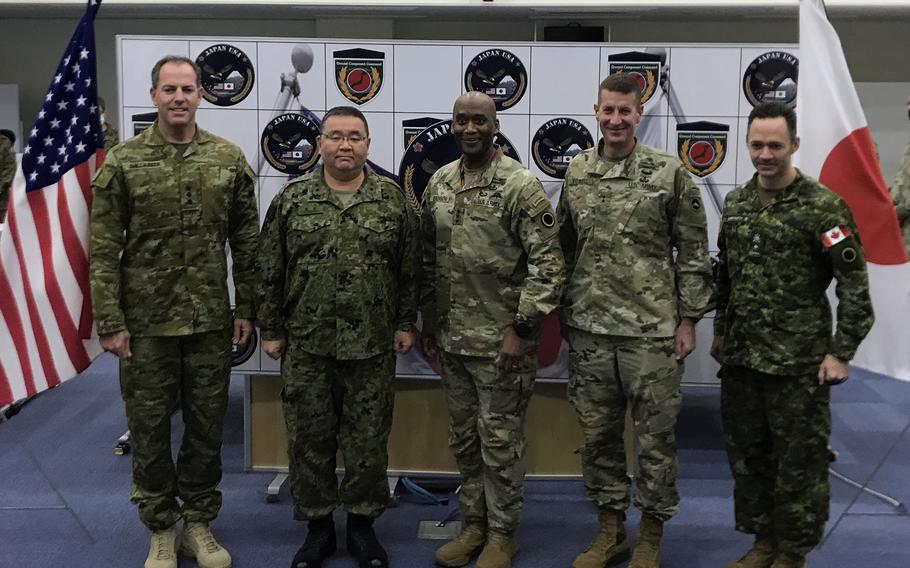 CAMP ZAMA, Japan – The U.S. and Japan are holding a large-scale command post drill involving thousands of troops, a year after holding a scaled-back, mostly virtual version of the exercise.
The two-week Yama Sakura drills began Thursday with 3,500 U.S. and Japanese troops at locations across the Pacific. The exercise runs through Dec. 13 and is designed to hone the command-and-control skills they'd need to respond to a crisis.
The training also prepares the allies' ground forces to fight together against an enemy force.
The U.S. and Japan have "increased the scope of the exercise" designed to hone skills in cross-domain and multidomain operations, the commander of the U.S. Army's I Corps, Lt. Gen. Xavier Brunson, told troops gathered at Camp Zama – U.S. Army Japan's headquarters just outside Tokyo – for the start of the training.
There are 3,000 Japanese and 1,500 U.S. participants partnering at multiple levels, said USARJ spokesman Maj. Elias Chelala.
For example, I Corps is working with Japan's Ground Component Command; the Hawaii-based 25th Infantry Division is working with Japan's Middle Army; and the Okinawa-based 3rd Marine Expeditionary Brigade is working with Japan's Amphibious Rapid Deployment Brigade, he said in an email Wednesday.
On Monday, 170 soldiers and equipment from the 25th Infantry Division arrived at Camp Itami in Hyogo prefecture for the exercise, according to a Facebook post by I Corps that day.
"This exercise effectively demonstrates to regional adversaries the readiness, commitment and capability of the U.S. and Japanese military forces to defend Japanese sovereignty and maintain a free and open Indo-Pacific," Chelala said.
Troops will train at Itami and Zama; Joint Base Lewis-McCord, Wash.; and Schofield Barracks, Hawaii, he said.
"There is also an Australian contingent of around 30 personnel that are here to observe the exercise," he said. "Although it is a command-post exercise through computer simulations, the participants practice the latest concepts involving multidomain and cross-domain operations through live, virtual and constructive aspects."
---
---
---
---