South Korean police recognize Americans for rescue efforts during Daegu fire
by
David Choi
Stars and Stripes
November 30, 2021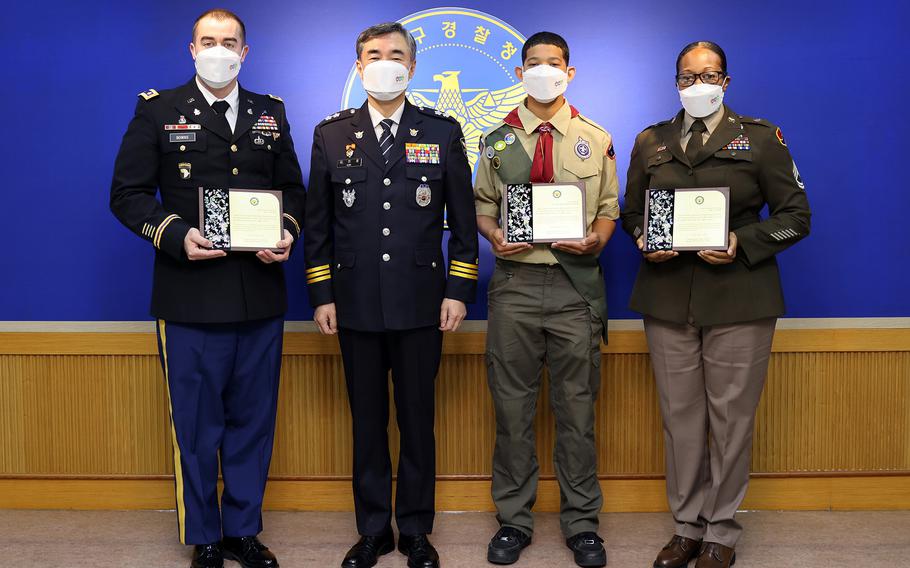 CAMP HUMPHREYS, South Korea — Two U.S. soldiers and a 13-year-old Boy Scout were honored recently by South Korean police officers for alerting and escorting over a dozen people from a burning building earlier this month.
Maj. Gabriel Bowns, a civil affairs officer with 19th Expeditionary Sustainment Command; Sgt. 1st Class Gisele Schilling, an AH-64 helicopter repairer with the same command; and Azizi Wilkins, an eighth-grader at Daegu Middle High School, received certificates Wednesday recognizing their actions in Daegu near Camp Walker.
All three Americans were near a four-story building where smoke billowed from the top floor at around 3:15 p.m. on Nov. 13. Bowns, who was driving near the building amid an ongoing military exercise, said he pulled his car's emergency brake after he noticed the smoke.
At a ground-floor restaurant, Bowns, who was in his duty uniform, yelled "fire" in English and pointed upward. There was "definitely confusion" and a language barrier with the diners, he said.
One man did not respond to Bowns' "distressful hand and arm signals," Bowns told Stars and Stripes in an interview last week. "He looked at me the first time, looked away and kept eating his lunch."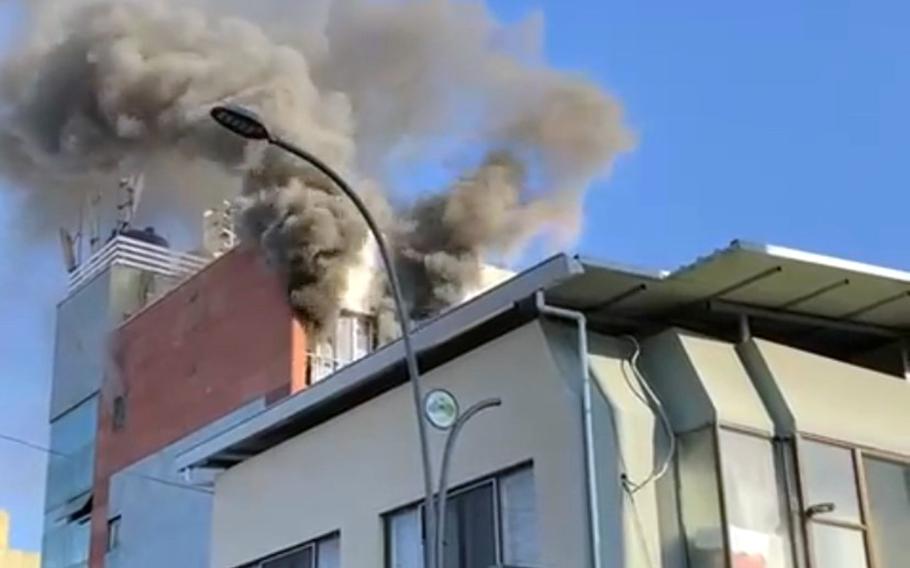 Schilling, who was also wearing her uniform, told Stars and Stripes she believed the smoke was from a demolition project until she went inside and saw the diners. Bowns and Schilling ran upstairs to apartment units and began banging on doors to alert residents of the fire.
Wilkins called the South Korean emergency services number and also started banging on doors, Bowns said.
As the two soldiers progressed up the stairs toward the fourth floor, black smoke obstructed their view and the smell of "burnt rubber" filled their noses, Bowns said.
"You could not have seen 2 inches in front of your face on the fourth floor," he said. "I could not see any of the doors."
Both Bowns and Schilling said they heard a woman's screams coming from the fourth floor. Schilling said she attempted to crawl toward the screams but was "coughing so hard that I couldn't even move back."
"I was aware of what was going on," Schilling said. "My main concern was that these people were completely unaware."
Bowns said he grabbed the back of Schilling's uniform with a "death grip" and told her, "There's no way we can get onto that floor."
The three Americans retreated to the bottom floor, where fire crews and police officers ushered them out and dealt with the flames.
Around 15 people were evacuated from the building, the Daegu Metropolitan Police Agency told Stars and Stripes in a statement. The police agency said it arrested a suspect who may have deliberately started the fire and that an investigation is ongoing.
All the survivors, some who were treated at a hospital, were cleared as of last week. Schilling received oxygen treatment therapy at a hospital for three days before being discharged.
"The courage and devotion … showed on the fire site indicates that [U.S. Forces Korea] already became a part of the local community, and we expect the troops to develop as a better neighbor through cooperation and a win-win coexistence," said Daegu Police Chief Kim Jinpyo.
Stars and Stripes reporter Yoo Kyong Chang contributed to this report.
---
---
---
---