Army says Iron Dome system test validates layered air defense for Guam
by
Seth Robson 
Stars and Stripes
November 24, 2021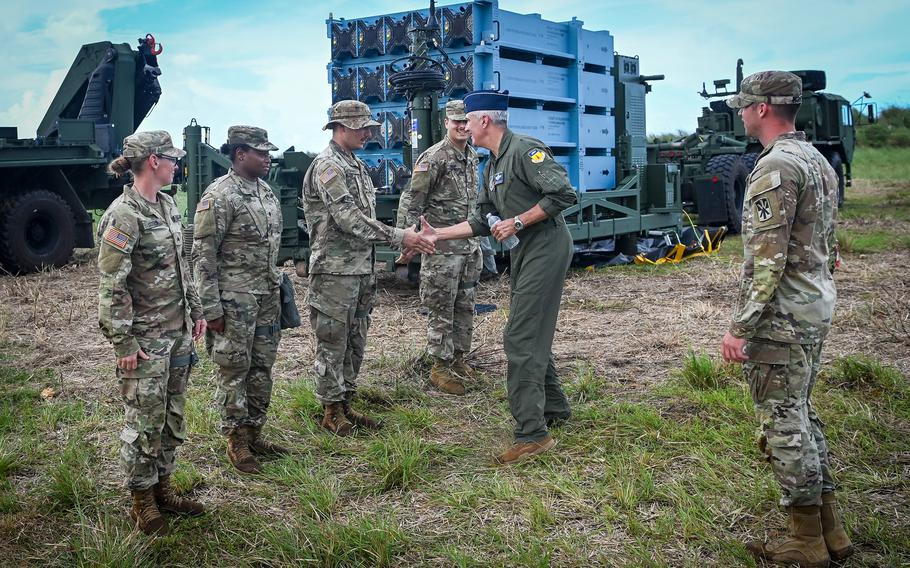 A three-week test of the Iron Dome air defense system at Andersen Air Force Base on Guam was successful, according to the commander of the Army task force that conducted the trial.
Sixty soldiers assigned to 2nd Battalion, 43rd Air Defense Artillery Regiment, deployed to Guam in late September from Fort Bliss, Texas, along with the Iron Dome's radar system, control center and launchers.
For the past few weeks, the Texas-based troops and 110 members of Task Force Talon, part of the 38th Air Defense Artillery Brigade, based at Sagamihara, Japan, have trained 24-hours-a-day to defend the island from simulated air attacks, task force commander Maj. Kyle Hermanson told Stars and Stripes by phone Wednesday.
Iron Dome deployed to Guam with a full complement of training missiles, but it hasn't been doing live fire, he said.
"We've been running multiple simulations between both units and the command-and-control element, forward deployed from Japan," Hermanson said. "The main thing we were trying to get after was to test the deployment of the system and the ability to operate with a low and upper tier asset."
During the simulation, which wrapped up this week, Iron Dome focused on defending against cruise missiles. A Terminal High Altitude Area Defense battery stationed on Guam since 2013 and a theoretical Patriot air defense battery defended against longer-range threats, Hermanson said.
"We validated the ability to fight in a layered defense of Guam," he said.
It's the Army's latest demonstration of its ability to move air defense systems around the Pacific.
A Patriot battery deployed to Japan's southern island of Amami during the annual Orient Shield exercise that ran June 24 to July 9. Also over the summer, 65 soldiers from the 38th Air Defense Artillery Brigade deployed to Australia with a pair of Patriot launchers, a radar, power plant, control station and brigade and battalion command posts during the biennial Talisman Sabre drills.
The Iron Dome battery on Guam is one of two the Army procured last year. The pair cost $373 million, part of $1.6 billion the U.S. has pumped into the program since 2011, according to a May report by Bloomberg news service.
Israel-based Rafael Advanced Defense Systems developed the system, which U.S. defense contractor Raytheon started co-producing in 2014, according to the report.
Congress required in the 2019 National Defense Authorization Act that the system be deployed to an operational theater before the end of 2021.
Iron Dome has brought down more than 1,500 targets with a success rate exceeding 90%, according to the Raytheon Missiles & Defense website. Israel has used it successfully several times during conflicts in Gaza.
The Army live-fire tested the system for the first time in August at White Sands Missile Range, N.M., where it "successfully engaged eight cruise missile surrogate targets," the service announced on Aug. 23.
The Army hasn't said whether Iron Dome might go somewhere else in the Indo-Pacific.
It can be transported by sea or air, Capt. Nicholas Chopp, a spokesman for 94th Army Air and Missile Defense Command at Joint Base Pearl Harbor-Hickam, Hawaii, said in a Nov. 16 email.
"Iron Dome is a rapidly deployable system that can be used in a variety of locations throughout the Indo-Pacific theater," he said. "During this exercise, we are focused on gathering the type of data that can inform those decisions."
---
---
---