Olympics official warns Peng Shuai case 'may spin out of control' as photos of tennis star raise questions
by
Ellen Francis
The Washington Post
November 20, 2021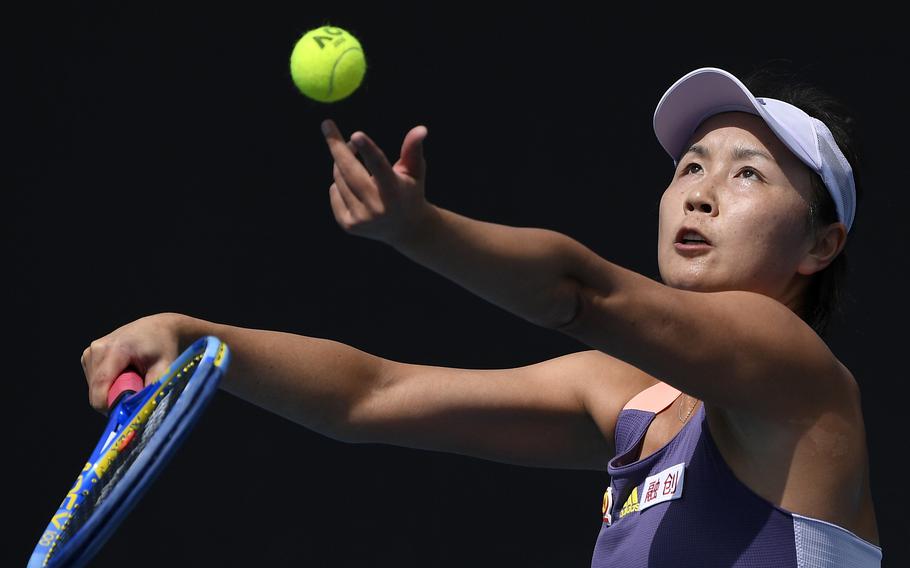 The crisis over the whereabouts of Chinese tennis star Peng Shuai, which has sparked a global outcry, "may spin out of control" and push the International Olympic Committee (IOC) into taking a harder line with Beijing, an Olympics official warned.
Peng, 35, a three-time Olympian and a two-time Grand Slam champion in doubles, has not been seen in public for more than two weeks, after she accused a former vice premier in an online post of sexually assaulting her about three years ago. Her post, and discussion of it, was quickly censored on Chinese social media.
Star athletes such as Serena Williams and Naomi Osaka have demanded information on her, while the United Nations' human rights office has called for proof of Peng's safety.
If there is no proper investigation into Peng's sexual assault allegations, the Women's Tennis Association is willing to pull tournaments out of China, potentially losing hundreds of millions of dollars, its chairman said on Thursday.
Chinese tennis star Peng Shuai is missing. Here is what you need to know.
The IOC has not indicated that it intends to make a similar move with the 2022 Beijing Olympics, which could jeopardize billions of dollars from one of the world's biggest sports events. The IOC press office said Thursday that "quiet diplomacy offers the best opportunity to find a solution."
The IOC Athletes' Commission expressed support for the quiet diplomacy approach.
"Together with the worldwide athlete community, the IOC AC is very concerned about the situation of three-time Olympian Peng Shuai," the IOC Athletes' Commission said in a statement. "We support the quiet diplomacy approach that is being taken and hope it will lead to the release of information about the whereabouts of Peng Shuai and confirmation of her safety and well-being. We also hope that a way can be found for direct engagement between her and her athlete colleagues."
Senior IOC member Dick Pound told Reuters on Friday, however, that the Olympics committee was following the case and that "if that's not resolved in a sensible way very soon it may spin out of control."
"Whether that escalates to a cessation of the Olympic Games I doubt it. But you never know."
The scrutiny has already added to existing momentum for a boycott of the upcoming Winter Olympics, as President Biden's administration says it is "considering" a diplomatic boycott. China has dismissed accusations of human rights abuses and calls for a boycott as "a distraction" from the Games.
Meanwhile, a Chinese state media journalist shared photos of Peng on Friday, which he said she posted on messaging app WeChat along with the words "Happy weekend." The editor of the state-run Global Times said the athlete had "stayed in her own home freely" but "will show up in public and participate in some activities soon."
Later Saturday, another Chinese state media journalist shared videos of Peng at a restaurant. The photos, which show a smiling Peng holding a cat in a room full of stuffed toys, and videos did little to assuage concerns, with human rights researchers saying the images only raised more questions and commenters questioning the authenticity of the post.
"I am glad to see the videos released by China state-run media that appear to show Peng Shuai at a restaurant in Beijing," WTA chairman Steve Simon said in a statement Saturday responding to the videos. "While it is positive to see her, it remains unclear if she is free and able to make decisions and take actions on her own, without coercion or external interference. This video alone is insufficient. As I have stated from the beginning, I remain concerned about Peng Shuai's health and safety and that the allegation of sexual assault is being censored and swept under the rug. I have been clear about what needs to happen and our relationship with China is at a crossroads."
An email purportedly from Peng that was released by the state-run China Global Television Network (CGTN) earlier this week was also met with skepticism. Simon said he had a "hard time believing that Peng actually wrote the email" to him in which she said she was neither unsafe nor missing.
"I have repeatedly tried to reach her via numerous forms of communication, to no avail," he said. "The WTA and the rest of the world need independent and verifiable proof that she is safe."
---
---
---