US Forces Japan commits $500 million to replace 24 trucking contracts with one
by
Seth Robson
Stars and Stripes
November 19, 2021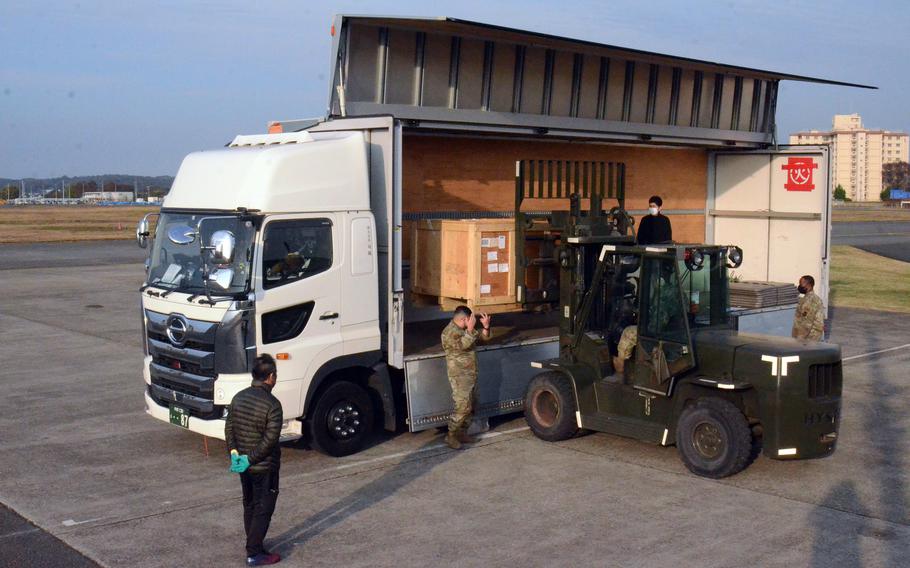 YOKOTA AIR BASE, Japan – Nine Japanese transportation companies have signed on to a contract worth as much as $500 million to haul items for the U.S. military on Japan's main islands.
The Commercial Trucking Solutions Contract was touted as a huge development in logistics by U.S. military contracting officials at Yokota, the home in western Tokyo of U.S. Forces Japan.
The system replaces 24 independent contracts with local truckers, said Lt. Col. Mark Wagner, commander of the 374th Contracting Squadron, at his headquarters on Nov. 10.
The cost savings of the contract, which eliminates time-consuming paperwork for thousands of orders each year, could be huge, according to Joshua Grubb, director of the squadron's specialized contracting division.
The contract sets rates between military installations and includes delivery pricing for places other than U.S. bases based on distance, Wagner said. Government rules prevent him from identifying the trucking firms involved in the contract, he said.
The contract's announcement comes amid global logistic snarl-ups that have left container ships stranded at sea and trucks backed up at ports worldwide in recent weeks.
However, Grubb said he's not aware of recent holdups moving items for the military in Japan.
U.S. forces submit about 9,000 orders each year to move items around Japan, except Okinawa, Wagner said.
"We have several hundred truck movements every month," he said.
Transportation officers at each U.S. base in Japan can put in orders to move items using the contract, Wagner said.
"Say I'm a transportation officer and I need to get something from Yokota to Misawa (Air Base in northeast Japan)," he said. "I can call our contractors and they will transport it up there."
The contract lists "families" of trucks capable of moving different types of cargo, Wagner said. Some trucks carry fragile materials while others transport refrigerated goods or boxes and crates.
Transportation officers are meeting to learn how to use the contract, Grubb said.
Not all trucks that people see on base are covered by the contract. For example, vehicles transporting household goods fall under a different agreement, Grubb said.
The new contract, worth up to $500 million over five years, improves readiness and supports the U.S.-Japan alliance, Grubb said.
"We are putting a lot of people to work," he said. "Everybody driving a truck and moving things across Japan is part of our alliance."
---
---
---