OBITUARY
'Incredible life': Navy mourns 'Daddy Mike,' a Sasebo Naval Base legend
by
Matthew M. Burke 
Stars and Stripes
November 18, 2021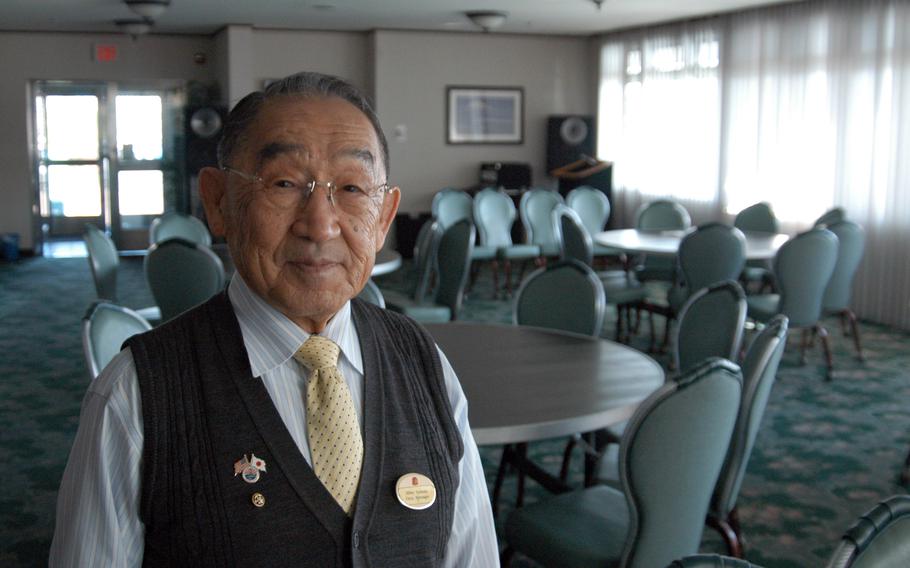 Minoru "Daddy Mike" Yoneda welcomed sailors and their families to Sasebo Naval Base, Japan, with the same warm smile, gentle demeanor and compassionate gaze for nearly four decades.
Yoneda, who died Nov. 3 at age 91, was a Navy veteran. He was a base ambassador, resident philosopher, historian and tour guide. He was a connoisseur of fine dining and an advocate for the children of military families.
Yoneda's many contributions, from the sign outside the main gate to the Child Development Center (now the Teen Center), earned him the unofficial title of mayor of the naval base 30 miles north of Nagasaki.
Yoneda died of pneumonia, base spokesman Aki Nichols and MWR director Scott Poluhowich said in separate phone interviews with Stars and Stripes this month. The news was reported on base social media accounts on Nov. 5.
He leaves behind a wife, Shigeko, and two adult sons, Poluhowich said Wednesday. Services were held on Nov. 4-5.
"Daddy Mike, as he was affectionately known around the base, considered everyone he met his shipmate, and over the decades touched the lives of countless Sailors, civilians, and family members through his warmth, charm, and sense of humor," said a message posted on the base's official Facebook page on Nov. 5 .
Yoneda, one of 16 children, was born in 1930 inside a log cabin in San Martin, Calif., he told Stars and Stripes in 2012. His father had entered the U.S. illegally, his mother was a naturalized citizen and a mail-order bride. He didn't own a pair of shoes until age 10.
The U.S. government interned his family along with many other Japanese for four years during World War II, he said. After the war, their home was shot at and their well dynamited.
In 1949, to prove his patriotism, Yoneda said he joined the Navy Reserve and persistently asked for an active-duty sea billet until he received one. More racist threats followed, including one that he'd be tossed overboard for the sharks.
"I'm proud to be an American," he said. "I don't hold grudges or anything else. I did it my way."
During his naval career, Yoneda served in ordnance, nuclear weapons and security and was eventually commissioned, he said. He traded some of the final rounds of the Korean War with communist forces in Wonsan, North Korea, in July 1953 and also did a stint in Vietnam.
Yoneda retired in 1982 and went to work for Sasebo's Morale, Welfare and Recreation in various capacities, including duty manager at the base restaurant, the Harbor View Club, for nearly 40 years.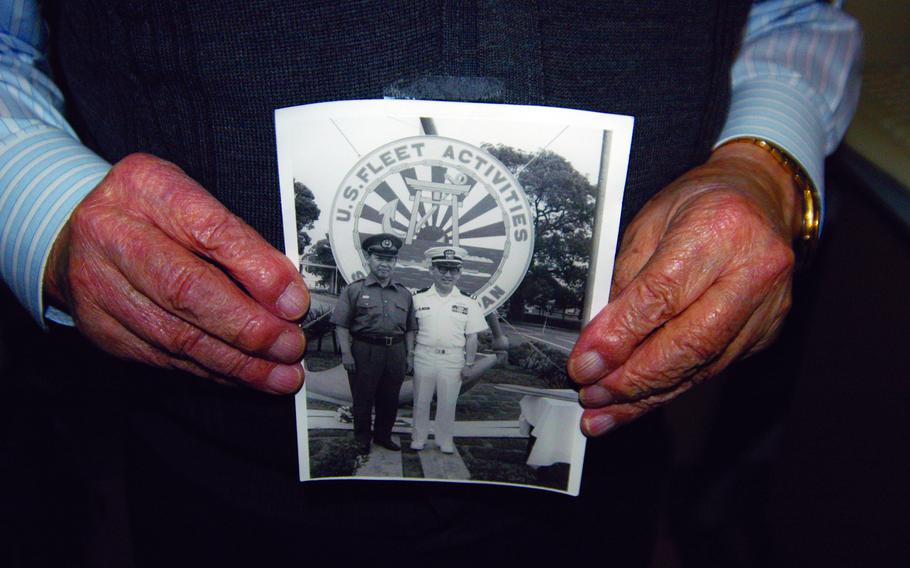 His weekly bingo game was the hottest ticket in town for 25 years, Poluhowich said.
But most will remember him beaming as he welcomed guests at the entrance to the Harbor View Club, his hair perfectly coiffed to one side and his hands folded in front of him.
"He knew admirals back when they were ensigns," Poluhowich said. "He loved to take care of people and be around people having a good time."
Yoneda said he loved being around the military.
"I love the Harbor View Club," he said in 2012. "I listen to these kids, and I can swap stories since '49."
Yoneda retired a couple of times due to health concerns but always came back, Poluhowich said.
He stepped away for good in 2019, though he would often drop in to visit or regale customers with stories.
Former base commander Rear Adm. Charles Rock, now the commander of Navy Region Mid-Atlantic, told Stars and Stripes in 2012 that having Yoneda welcome and assist service members and their families made their "lives brighter" and was "nothing but a plus."
"He's proven what many of us already know; you don't stop being a shipmate when you take off the uniform," Rock said.
One of the nicest function rooms at the Harbor View was named in his honor in 2009. A plaque also bears his name outside the Teen Center.
Many former base employees were saddened to hear of Yoneda's passing.
"He was very caring," said Navy veteran and Defense Department civilian employee Eric Campagna, now of Grafenwoehr, Germany. "He was passionate about passing on Japanese culture. He spoke about things to do and food to try around the area."
Campagna said Yoneda would often relay historical aspects of the base and encourage him to try Japanese cuisine.
"He was always smiling," said Navy Lt. Cmdr. Calvin Warren, executive officer of Naval Mobile Construction Battalion 3. "One of those guys you could really tell just loved what he was doing."
Yoneda will be best remembered for his dedication to the sailors and families that passed through the Harbor View's doors, Poluhowich said.
"He was the Harbor View Club," Poluhowich said. "He had a really incredible life."