US sanctions Cambodian officials over China-linked base
by
Philip J. Heijmans
Bloomberg
November 11, 2021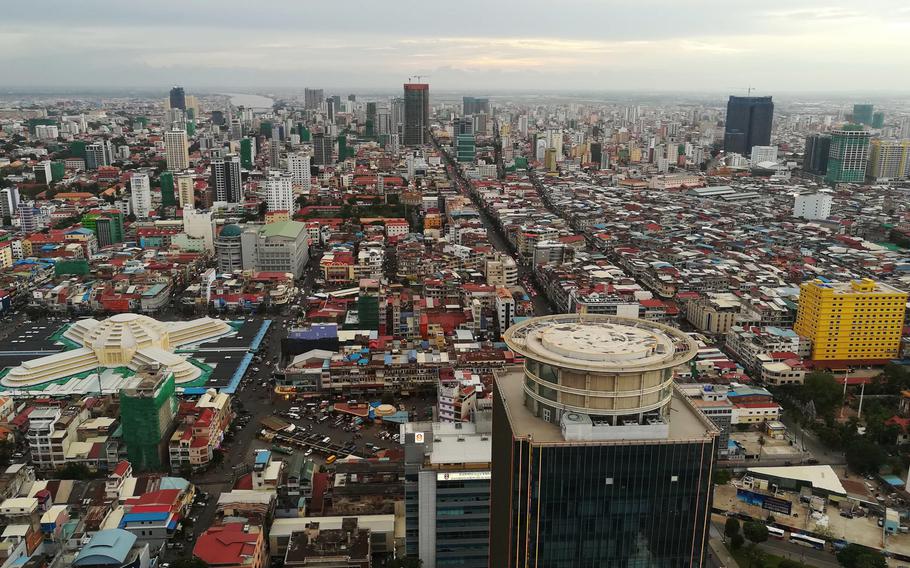 The U.S. Treasury Department leveled sanctions against two senior Cambodian defense officials for corruption related to a naval base that has links to China, the latest move by Washington amid continued concerns about Beijing's growing influence on the country.
Chau Phirun, director-general of the Defense Ministry's material and technical services department, and Royal Cambodian Navy Commander Tea Vinh were blacklisted by the U.S. for conspiring to profit from the construction and updating of Ream Naval Base facilities along the Gulf of Thailand.
The navy base is a source of tension between the U.S. and China after reports emerged in 2019 that Beijing signed a secret agreement allowing its armed forces to exclusively use parts of the base. The Chinese military has denied the reports.
The U.S. has said it was disappointed with Cambodia for razing a military facility it built on the base that symbolized friendship between the countries. Washington is concerned that China stands to benefit from the changes and upgrades made at the base.
Chau and Tea along with other officials "likely conspired" to inflate the cost of facilities and "personally benefit from the proceeds" by skimming funds, the Treasury Department said on Wednesday. "Recent developments in Cambodia, including growing systemic corruption, threaten both U.S. national security interests and the economic growth and prosperity of Cambodia and the region," it said.
Phay Siphan, Cambodia's main government spokesman, could not be immediately reached by phone or text message.
China is a key investor for Cambodia and often counts on the country's support for issues pertaining to Southeast Asia, especially with the disputed maritime rights over the South China Sea.
"I would like to stress that China consistently opposes unilateral sanctions by the U.S. under so-called long-arm jurisdiction," Chinese Foreign Ministry spokesman Wang Wenbin told reporters at a regular press briefing in Beijing on Thursday in response to a question on the U.S. action. "The mutually beneficial cooperation between China and Cambodia brooks no external interference."
The Treasury, Commerce and State Departments also cautioned U.S. businesses against investments in Cambodia due to exposure to illicit finance activities and possible involvement with entities involved in trafficking of humans, wildlife and drugs.
Cambodia in recent years has made headlines for human rights abuses and endemic corruption across its financial, real estate, casinos, and infrastructure development sectors in particular.
"An increase in foreign investment from investors willing to engage in corrupt practices, combined with sometimes opaque official and unofficial investment processes, further drives the overall rise in corruption," the departments said in a joint statement on Wednesday.
A key issue is Cambodia's limited regulatory scrutiny of financial institutions that has seen new banks easily enter the market and become vehicles for laundering illicit funds, along with real estate purchases and casinos, the departments said.
Meanwhile, over-indebtedness has been a driver for human trafficking and child labor with some children forced to work on rubber plantations to help pay off loans taken by their parents.
In tandem with the caution statement, the U.S. Trade Representative will now conduct an assessment of Cambodia's eligibility for the Generalized System of Preferences, which expired at the end of last year.
If extended, Cambodia regains duty-free access to the U.S., which is the largest market and accounts for nearly 30% of total exports in 2019, according to World Bank data. Exports of travel goods to the U.S. more than doubled in 2019 to reach $860 million thanks to the GSP program while garments as Cambodia's top export item grew 16.8% to $2.3 billion.
---
---
---