Blocked from UN climate talks, Taiwan's emissions go uncounted
by
Lily Kuo, Alicia Chen
The Washington Post
November 9, 2021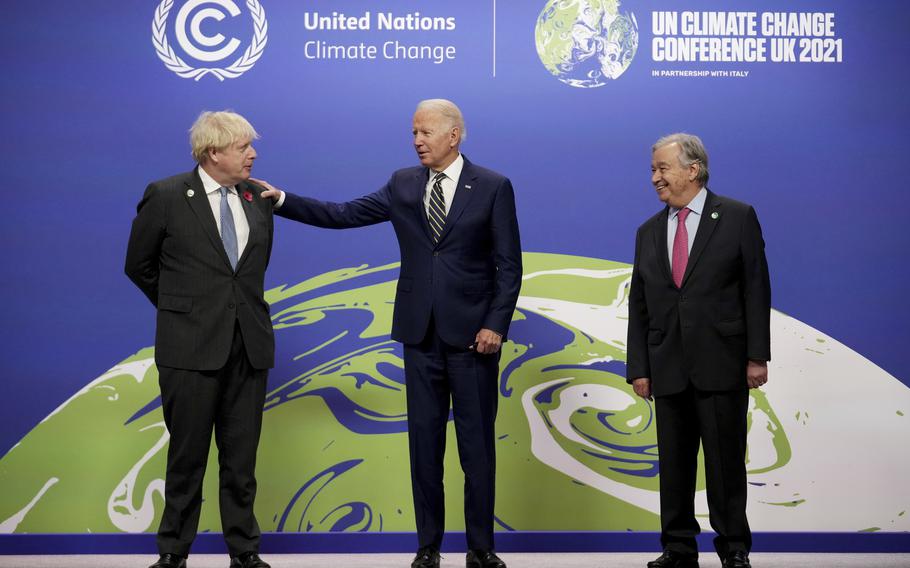 TAIPEI, Taiwan - It is home to the world's high-tech chip industry. It is in the top 25 economies, with output of about $700 billion a year. Its per capita carbon dioxide emissions are more than twice the global average, and higher than China's, the largest emitter.
Yet Taiwan is not part of the United Nations climate talks in Glasgow, Scotland, this week known as COP26. Its greenhouse gas emissions, which account for an estimated 0.75% of the planet's total, about the equivalent of Spain's, have not been counted in global data submitted to the U.N.
"You cannot ignore 0.75%, and we are a crucial hub of the global supply chain," said Chia-Wei Chao, chair of the Taiwan Environment & Planning Association who focuses on climate policy.
Taiwan, which lost its U.N. seat to China in 1971 and has been blocked by Beijing from participating in U.N.-affiliated bodies because of the dispute over its political status, cannot sign up to the U.N. Framework Convention on Climate Change (UNFCCC). Beijing, which repeatedly claims that Taiwan is part of China, does not include Taiwan's emissions in its count.
"Taiwan represents up to 1% of global greenhouse gases, so if we are not part of it, UNFCCC has a loophole," said Liangyi Chang, Asia Managing Director of the environmental group 350.org. "Taiwan's emissions are the gray zone of the COP process."
Taiwan's Environmental Protection Administration said in a statement that "due to political factors" Taiwan was excluded from the U.N. climate talks, but that it still discloses its emissions data publicly.
Despite being shut out, Taiwan has been closely monitoring climate measures and released its own emissions-cutting plans in line with the Paris agreement. In April, President Tsai Ing-wen pledged to achieve carbon neutrality by 2050.
In a video address on Sunday, Tsai said Taiwan regarded the net zero goal as "our collective and generational responsibility" and called for Taiwan to be included in the formal U.N. process.
In Glasgow, Taiwan delegates - attending as NGO representatives - are holding events on the sidelines including meals and talks with officials from the United Kingdom, Luxembourg and Belize, as well as researchers and think tanks. At a "Taiwan Day" on Sunday, delegates outlined Taiwan's pledges while environmental groups flashed "2050 NET ZERO" on skyscrapers at home.
"Our purpose here is not to start any conflict but to tell the world that on this issue, Taiwan is not absent. It is willing to work with other countries around the world," said Hung Mong-Kai, a Taiwanese delegate from the opposition Kuomintang, speaking by phone from Glasgow.
Taiwan's eagerness to participate in climate talks comes as China faces criticism not committing to more ambitious cuts. Chinese President Xi Jinping, who has not traveled abroad since January 2020, did not attend the summit and sent a written statement reiterating Beijing's previous pledges.
As the talks were getting underway on Nov. 1, Taiwanese lawmaker Wang Ting-yu quipped on Twitter, "If Xi Jinping doesn't even bother to show up . . . why do we continue to let China block Taiwan's participation."
While few are optimistic that Taiwan will be allowed to take part in the summit before it concludes on Nov. 12, observers say growing international sympathy for the self-ruled democratic island in the face of increasingly bellicose threats from China could help its cause.
In October, U.S. Secretary of State Antony Blinken called on U.N. member states to support "robust and meaningful" participation by Taiwan in U.N. bodies. Last week, the European Union sent its first delegation to Taiwan for an official visit.
"Right now the international community is attaching importance to Taiwan," said Hung Sun-han, a lawmaker with Tsai's ruling Democratic Progressive Party who traveled to Glasgow. "Both Western and Asian countries have clearly seen Taiwan's efforts to protect our democracy and freedom," he said, pointing to the number of young attendees at the summit who had approached the delegation, curious about Taiwan.
Still, without formally taking part as a member country, Taiwan is shut out from discussions of issues such as carbon border taxes, which would affect Taiwan as a major exporter of carbon-intensive goods like electronics, petrochemicals, iron and steel. The lack of international obligations leaves it up to the government to determine transparency and speed in meeting emissions commitments.
"It creates a lot of loopholes," said Chao. "They are not feeling the pressure."
Taiwan is particularly vulnerable to climate change, a point that was driven home during energy and water shortages this year. Summers in Taiwan have become a month longer and winters a month shorter, according to the Taiwan Adaptation Platform, which analyzed data between 1957 and 2006.
"Since we still haven't capped the total amount of our [greenhouse gas] emissions, it's unlikely we will reach the goal," said Shih Yueh-Ying, an environmental activist, referring to the president's 2050 pledge.
In Glasgow, attendees from Taiwan said they felt their exclusion in other, subtle ways. Hai-Wei Chang, part of the Taiwan Youth Climate Coalition, an NGO, said that as nonmember delegates, they were barred from attending the opening ceremony.
Instead, her group found a corner close to the meeting room where they watched a live stream of the proceedings. "The meeting was right in front of us but yet we were still so far," she said.
"Without a formal status, the information and resources that we can receive are much worse, " she added. "All we can do is try to find ways to let Taiwan be seen."
---
---
---