Air Force aims to have nuclear micro-reactor operating at Alaska base by 2027
by
Wyatt Olson
Stars and Stripes
October 30, 2021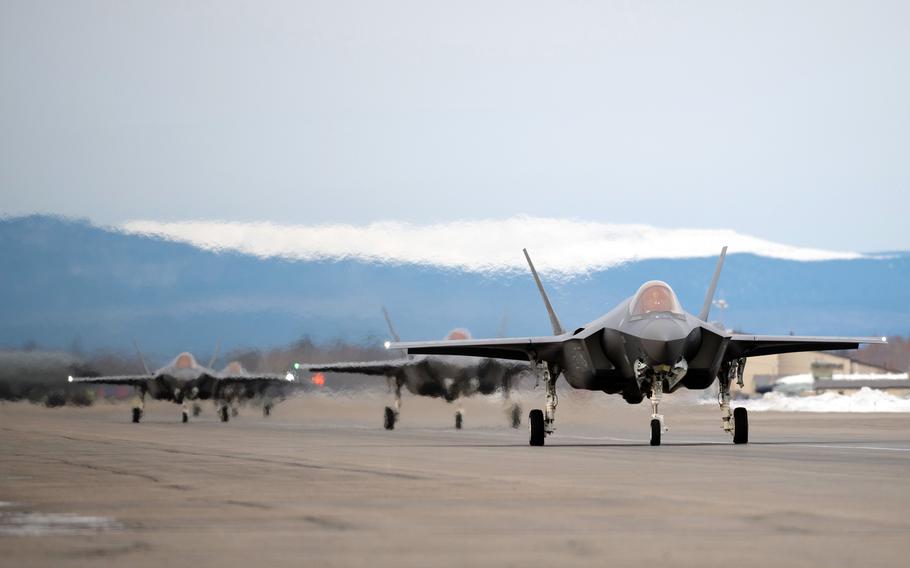 The Air Force is planning to test a nuclear micro-reactor at a base in Alaska in coming years as part of the service's quest for reliable energy sources on its installations.
The reactor, expected to be operational at Eielson Air Force Base by 2027, would be commercially owned and operated and be permitted and licensed by the U.S. Nuclear Regulatory Commission. The Air Force would purchase electricity at an agreed upon rate.
Micro-reactors are still in the experimental stage.
"First and foremost, this initiative is about installation resilience," Mark Correll, deputy assistant secretary of the Air Force for environment, safety and infrastructure, told reporters during a conference call Friday.
"The focus of this micro-reactor pilot project is not on the technology of micro-reactors; it's on the resilience piece," he said. "It's about our ability to use a micro-reactor and integrate it into our energy needs at an installation in a way that supports our mission."
Micro-reactors produce no more than 20 megawatts of power at full capacity.
The components of the reactor would be made at a factory and then shipped to Eielson, which is about 25 miles southeast of Fairbanks. Only a few acres of land would be needed for the complex to house the reactor, Correll said.
"We anticipate the micro-reactor that we put in place there will have a capacity of somewhere between one and five megawatts," he said.
"To give you a kind of a sense of what that means at Eielson, their average daily demand is 10 to 15 megawatts on the installation," he said. "It can surge to 25 megawatts depending on the time of year and what's happening."
The 2019 National Defense Authorization Act mandated that at least one micro-reactor be operational on a Defense Department installation by 2027.
"We expect to meet that goal without any difficulty," Correll said.
The project will require completion of a full environmental impact statement under the National Environmental Policy Act. That will include consultations with the state's tribes and communities and collection of public comments.
The Air Force is now drafting a request for proposals, which it expects to release this winter, with a goal of choosing a vendor for the project by late next year.
Construction is slated to begin in 2025.
The U.S. Department of Energy touts the future of micro-reactors on its website, saying that a handful of designs are under development and "could be ready to roll out within the next decade."
"These compact reactors will be small enough to transport by truck and could help solve energy challenges in a number of areas, ranging from remote commercial or residential locations to military bases," the DOE website said.
Safety systems would be used to "prevent any potential for overheating or reactor meltdown," according to the site.
The costs of developing micro-reactors has been borne by the firms creating them, with no research funding coming from the Defense Department, Correll said.
They still remain experimental at this stage, however.
"I am aware of one company that is likely to be testing their reactor," Correll said when asked to cite an example of an operating micro-reactor. "I don't know exactly when, but they're going to be doing it fairly soon. So, they want to do a test. But to my knowledge, they have not done it yet."
The reactors are only one avenue of energy resilience the Air Force is pursuing.
"We're not looking at nuclear micro-reactors as being the panacea that we're going to use everywhere," he said, noting the potential of capturing geothermal heat some 15,000 feet below the Earth's surface, as well as the more mature alternatives of wind and solar.
"There are some places where folks don't want nuclear, and they don't really care what we say," he said. "OK, then we'll look at a different option for them."