Fast and furious: Army sergeant helps keep drifting alive on Okinawa
by
Matthew M. Burke and Mari Higa
Stars and Stripes
October 22, 2021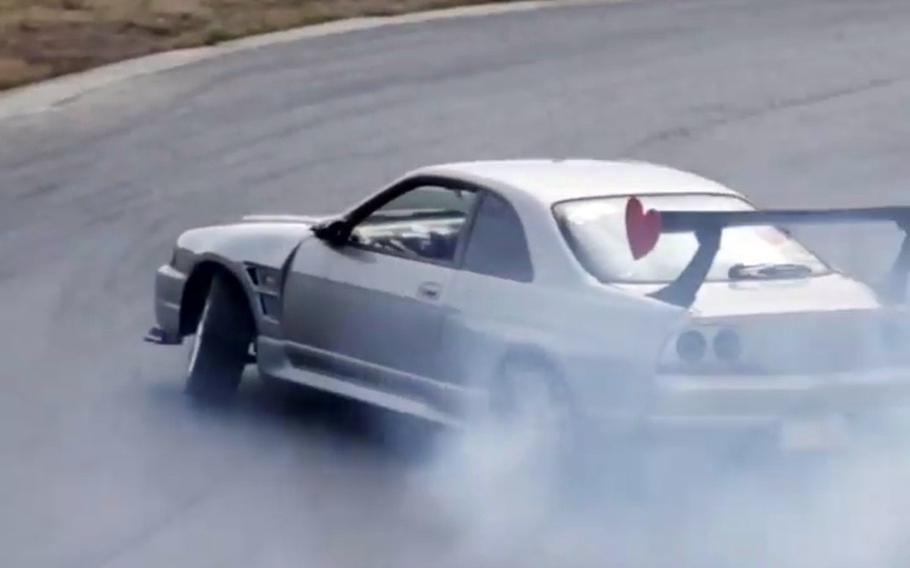 TORII STATION, Okinawa – Michael Dumpson punches into second gear as he spots a sharp, left-hand curve ahead on an Okinawa speedway and pushes his R33 Skyline as fast as it can go.
He quickly flicks the steering wheel to the left in a move known as a feint. The tires momentarily lose traction.
Then he pushes the clutch and rips the emergency brake, keeping the RPMs high, as the steering wheel spins the other way, hands-free. The car begins to slide.
Sgt. Dumpson, 25, an Army human resources specialist with 10th Support Group at Torii Station, is an especially skilled driver known as a drifter. He's one of the U.S. service members helping the sport make a comeback on the car-crazy island of Okinawa.
He qualified in December 2019 for the American-only drift competition Gaijin Power Grand Prix at Yanbaru Circuit in Kunigami village, a first-of-its-kind event on the island.
Though he was knocked out in the first round, Dumpson believes he made a significant achievement by qualifying in a car equipped with stock parts.
"The art of drifting is to be in control of something that is out of control," Dumpson said during a series of recent interviews with Stars and Stripes. "You're intentionally sliding the car around corners sideways for fun, for glory, for sport, for competition. The point is to go as fast as possible with as much angle as possible, which collectively is known as style."
His father's son
An Army brat and the middle of nine children who spent his formative years in Anchorage, Alaska, Dumpson gets his love of cars from his father, Gary Dumpson, who was always racing or working on engines. His father has owned five versions of the same car, the Nissan 300ZX.
"My main thing pretty much has always been cars," Dumpson said. "I'm always trying to be faster than my dad; I'm trying to be cooler than my dad. He's always been a big supporter."
Dumpson said he played racing video games before he could drive, got his learner's permit at 14 and his own 1985 300ZX at 16. He joined the Army in 2015, a year after graduating from high school in North Carolina. At Joint Base Lewis–McChord, Wash., he spent his off-hours at two nearby tracks.
Before drifting, he raced. But as drifting became popular in the U.S., he modified his car by installing a more powerful motor and a wide-body kit.
On a good run, a drifter will slide sideways through an entire bend in the track, then use various tricks and techniques to "link" the entire course, Dumpson said. Drifters participate in exhibitions, mainly, but also in competitions where they're judged on speed, placement or style.
Dumpson typically drifts on the first Saturday of each month with a Facebook group called Oki Track Days that reserves the Yanbaru Circuit. The events are supported by local auto shops like B&M Okinawa and Trinity Works.
"I try to stand out," he said. "My goal is to not fit in. If you've ever seen my car; it's pretty wild."
Dumpson drives a silver 1996 Nissan Skyline GTS-T, also known as an R33 Skyline, with rear-wheel drive, a wide body and an oversized, rear-mounted wing that features a heart-and-star end plate. That theme extends to hearts-and-stars taillights and a heart-shaped steering wheel.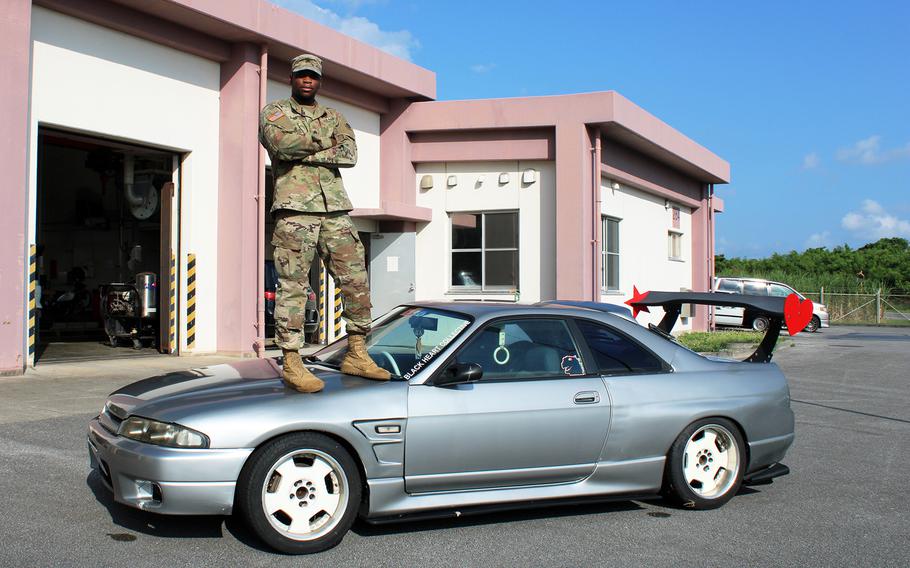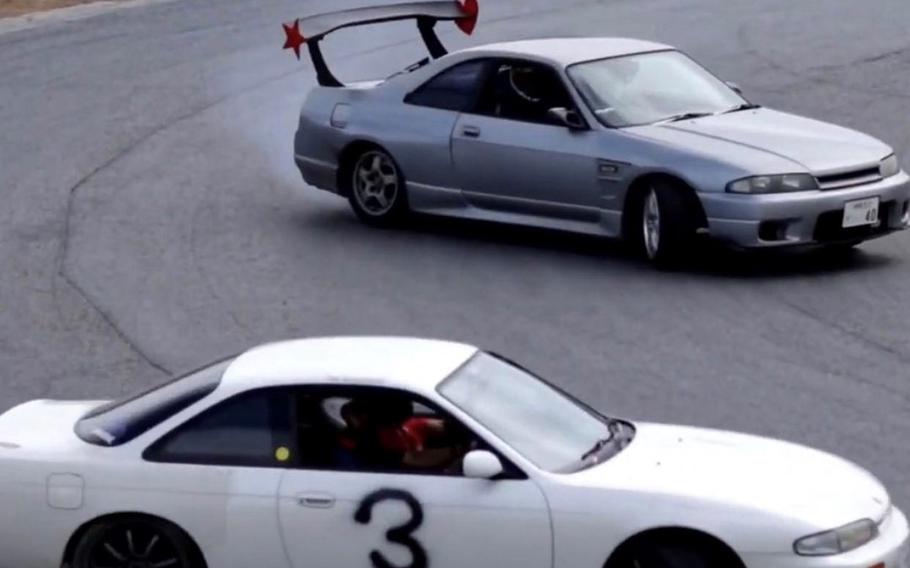 Okinawa dreaming
Japan has always been at the forefront of drifting, Ryusuke Kawasaki, editor-in-chief of Drift Tengoku, or Drift Heaven, magazine, told Stars and Stripes by phone on Oct. 14. What started as racing on mountain roads in the 1980s quickly developed into a motorsport thanks to events organized by car enthusiast magazines.
A scoring system was developed at events like Drift Contest and Ikaten, or Cool Driver's Heaven, Kawasaki said. The D1 Grand Prix made drifting a professional sport in Japan in 2001. Today, about 20,000-30,000 drifters are active on about 40 tracks.
Despite its popularity, the sport lost some of its allure when it moved from the mountainside to the track, Kawasaki said. But the move was necessary.
"You don't have to drive illegally anymore," Kawasaki said. "You can go to a circuit to practice and there are so many competitions you can sign up to."
He said Okinawa is one of the best places to drift thanks to Yanbaru Circuit and the island's warmer temperatures.
"You can drive anytime year-round because you don't have snow," he said.
Drift off, drift on
Drifting on Okinawa declined for several years, and the last drift track on the island closed in 2014, said Tsukasa Miyagi, 43, a lifelong drifter. Two years later, hoping to spark a renaissance, he founded Yanbaru Circuit on the island's northeastern coast, he told Stars and Stripes by phone Sept 21.
"It was much more vibrant when I was younger," he said. "Okinawa is a car society. Many people love driving."
After Yanbaru opened, drifting has made a comeback, Miyagi said, with the children of his generation discovering the sport as adults. Television programs like "Formula Drift Japan" and films like "Fast & Furious," called "Wild Speed" in Japan, have also captured imaginations.
During the coronavirus pandemic, Miyagi stayed open but his business took a major hit. Where 20-30 cars turned up on weekends, now he sees half that many.
"People cancel when new restrictions are placed, but I wanted to keep it open so that people can come and release stress," he said.
Key to drifting's revival on Okinawa are Americans like Dumpson, Miyagi said. He said Dumpson's driving skills put him in the middle of the pack.
"There are many foreigners. Most of them are Americans," he said. "Some are really good."
Dumpson said the culture extends far beyond the track.
"Drifting is very popular in the military here in Japan," he said. "There's probably 1,000 people who modify and drift their cars. There's a sense of tradition, being that drifting originated in Japan."
Okinawa Tuners Underground is another active Facebook group for enthusiasts, Dumpson said. There are also local teams and clubs, both amateur and professional.
Through his YouTube channel, "Streeties," Dumpson has racked up about 60,000 views documenting Okinawa drift life for an online audience.
Dumpson, still recovering from a motorcycle crash in August, expects to continue drifting while he serves his final year on Okinawa.
"I like extreme stuff," he said with a smile. "I like speed."