Friends, family celebrate Japan-based Navy spouse's debut on 'Project Runway'
by
Alex Wilson
Stars and Stripes
October 19, 2021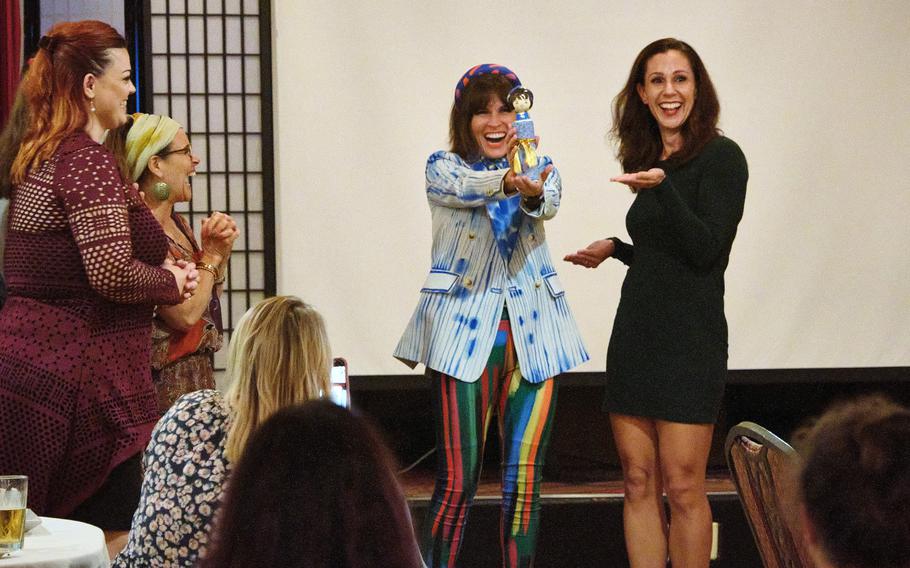 YOKOSUKA NAVAL BASE, Japan — Cheers and laughs filled a room at the Yokosuka Officer's Club on Saturday night as more than 60 people celebrated a Navy spouse's debut on prime-time television.
The crowd — friends, family, higher-ups and "Project Runway" fans — turned out for a watch party to support Yokosuka resident Katie Kortman's first appearance on the Bravo show. Kortman, 40, is taking on 15 other designers in the Emmy-winning fashion competition for a grand prize of $250,000 and a chance to show a collection at New York Fashion Week.
"It's so exciting to have everyone here for their support and hearing them cheering me on," Kortman told Stars and Stripes that night. "I experienced this all back in May and June, but I couldn't tell anyone about it except for my family — but now everybody gets to see what happened."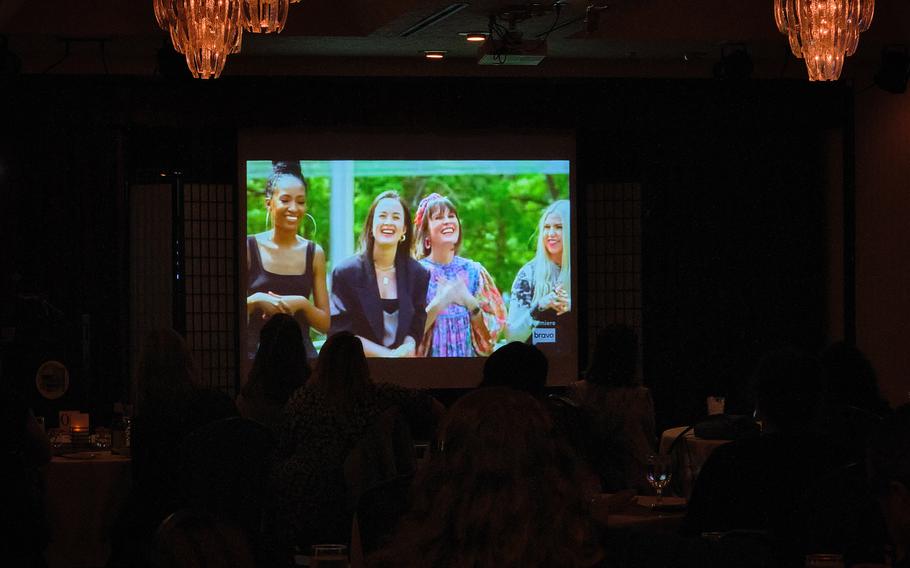 During the first episode, Kortman and the other designers were divided into two teams that competed to design a collection of outfits based on either the warm or cool sides of the color wheel. Kortman, on the "cool" team, designed a hand-painted dress that drew a cheer from the crowd when a "Project Runway" model walked it down a runway.
Kortman's team didn't win the competition, and one of her teammates was eliminated as a result. However, the judges were restrained in deriding her design, meaning she'll continue to the second episode, which airs Thursday at 9 p.m. EST.
Throughout the first episode, Kortman's design choices — and the clothes she wore — reflected her colorful and stylistic preferences. In a past interview with Stars and Stripes, she said that everything she wears on "Project Runway" are clothes of her own design.
"I decided I wasn't going to waste this opportunity," she said. "Why would you wear stuff that you didn't design? It's free advertising."
She also said that her new apparel line, Katie Kortman Clothing, will feature pieces that were either shown on "Project Runway" or inspired by clothing she designed during the competitions.
As the first episode played out, Kortman's husband, Lt. Cmdr. Francisco Kortman, said he couldn't be prouder of his wife's accomplishments.
"I'm really happy for Katie. It finally feels like she's being celebrated as much as our family has always celebrated her," he told Stars and Stripes. "I feel like it's so natural for her to be up there [on the screen]; what you see on the screen is pretty much what I see every day. It's kind of like the best home movie ever made."
A longtime friend, Deidre Cammack, recalled years of watching Kortman work on designs. Now in the process of achieving her dreams, Cammack said Kortman's appearance on the show serves as an inspiration.
"It's just inspiring to know that it's not too late to develop a career and do things in your 40s," Cammack said.
At the end of the watch party, several of Kortman's friends presented her with a gift: a traditional Japanese kokeshi doll designed to look like Kortman and wearing a bright blue dress that looked almost exactly like what she was wearing for the party itself.