Biggest US naval base in Japan unveils state-of-the-art sub-tracking simulator
by
Alex Wilson
Stars and Stripes
October 15, 2021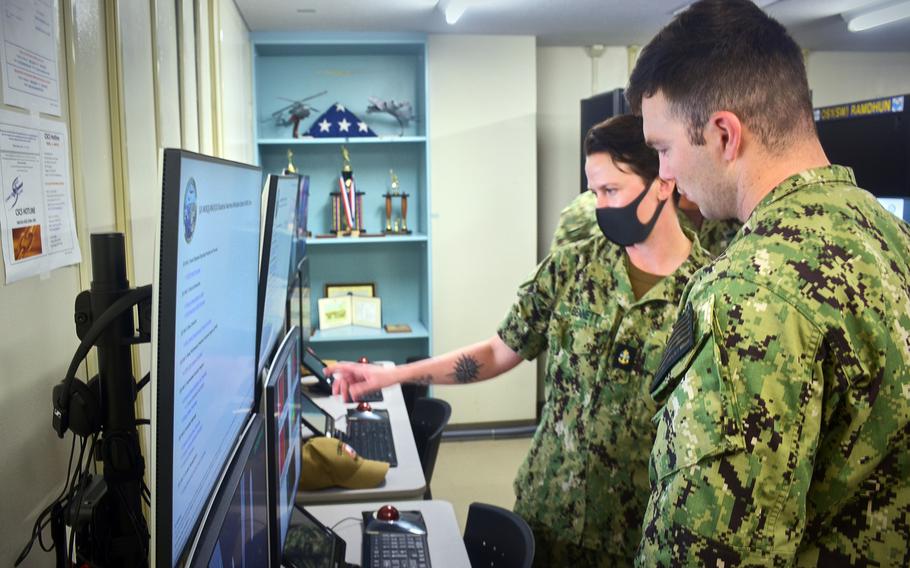 YOKOSUKA NAVAL BASE, Japan – Sailors will be able to hone their submarine tracking skills in a virtual setting with the debut of a new simulator at the home of the U.S. 7th Fleet.
The Center for Surface Combat Systems Detachment Yokosuka cut the ribbon on its new anti-submarine warfare trainer at 10 a.m. Friday. The facility features a six-chair simulator that enables sailors to learn and improve their skills in tracking enemy vessels.
The system also provides a more cost-efficient and expedited method of training, according to Lt. Cmdr. Michael Arnold, head of the Yokosuka detachment. Training sailors at Yokosuka saves weeks and thousands of dollars over flying them to another U.S. facility, he said.
"This brings advanced tactical training directly to the waterfront," he told Stars and Stripes on Friday. "The only comparable training you can do is onboard your own ship."
Training in the new area can take a variety of formats: interactive 3D models, simulated "gaming" courses, instructor-led exercises and the simulator itself. Officially called a Virtual Operator Trainer, the system offers realistic interfaces that emulate the actual process of tracking a submarine.
Arnold said the trainer also can use data from actual encounters between deployed ships and submarines to mimic real-world scenarios for added immersion.
"We can bring those tapes in here and show the next ship that's going out that this is what to look for," he said. "These are the frequencies and all this stuff for this particular submarine; this is what you should be looking for."
Arnold said the six-seat setup is temporary and he hopes to have a full, 12-seat classroom completed by the end of the year.
He declined to comment on the project's overall cost but said the hardware and software for the full 12-seat suite cost approximately $350,000.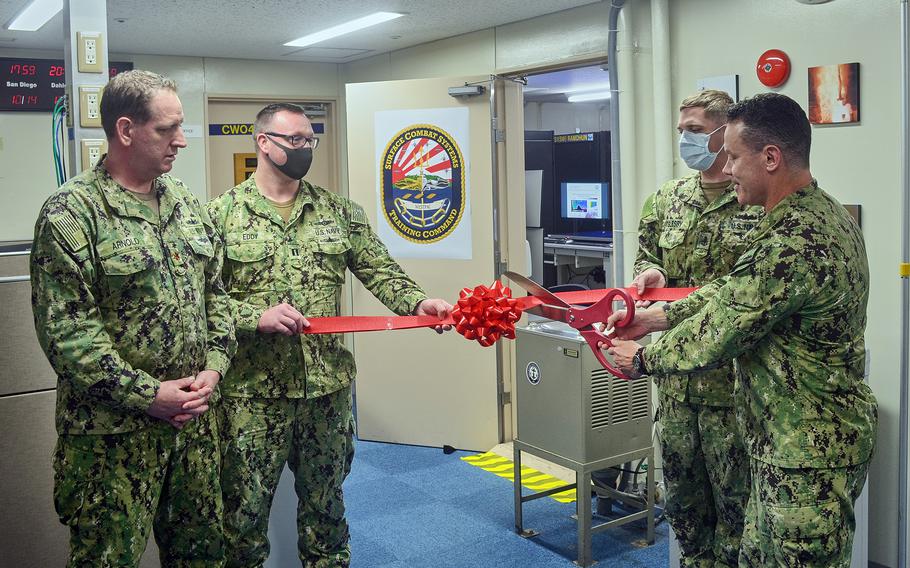 The simulator will also eventually be used to mimic the Aegis Combat System carried aboard Navy destroyers. An advantage of the simulator is that it can mimic the operating systems of various versions of anti-submarine and Aegis systems.
"All these ships all have sonar systems, but they're probably all different," Arnold said. "There are different variants and versions of the software. Our trainer can train on those different variants, so that's an added benefit."
Sailors training on virtual systems have been shown to retain knowledge longer, develop stronger skills and graduate faster, according to a 2018 report by Naval Sea Systems Command.
The Yokosuka facility is the third to go operational out of seven planned across the globe, the first two being in Pearl Harbor and San Diego. Future sites include Naval Station Rota in Spain, and Naval Station Mayport in Florida.
The remaining systems are expected to be installed by 2023, according to an April news release from the Center for Surface Combat Systems.
wilson.alex@stripes.com Twitter: @AlexMNWilson
---
---
---