Marines in Japan make plans to mark the Corps' 246th birthday in another pandemic year
by
Matthew M. Burke
Stars and Stripes
October 15, 2021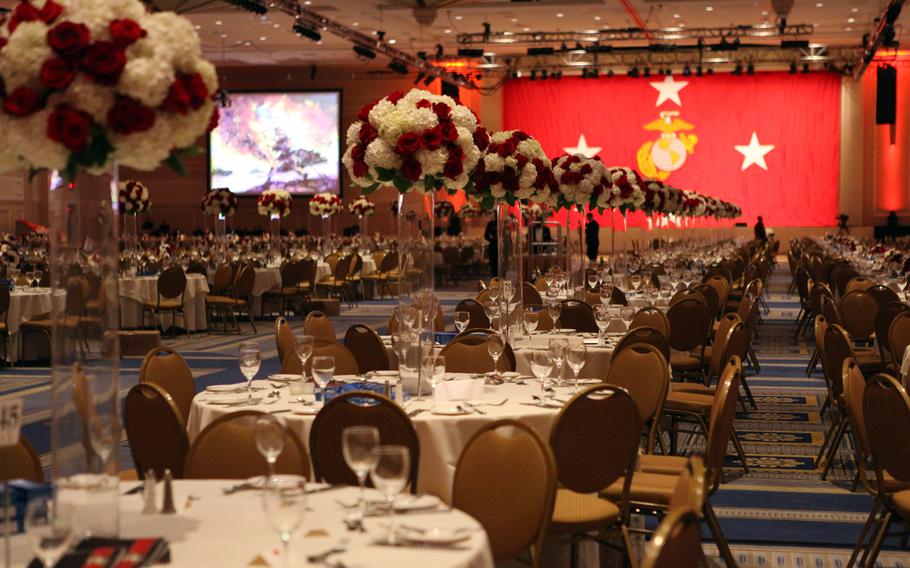 Marines in Japan plan to resume their annual birthday ball celebrations this year despite Commandant Gen. David Berger canceling his soiree in Washington, D.C.
Berger announced his decision Wednesday, citing an "abundance of caution due to the COVID-19 pandemic," Marine Corps spokesman Capt. Ryan Bruce wrote in an email to Stars and Stripes a day later.
Berger has canceled his birthday ball two years in a row because of the coronavirus.
"Marines have always thrived under difficult circumstances and the 246th year of the Corps is no different," Bruce said. "We encourage all Marines to celebrate our birthday traditions and history in ways that keep them safe and healthy."
The III Marine Expeditionary Force, headquartered on Okinawa, Japan, plans to hold a ball this year "unless otherwise directed by higher headquarters or local COVID-19 conditions prove prohibitive," III MEF spokesman 2nd Lt. Zachary Voss wrote in an email to Stars and Stripes on Friday.
The event is tentatively scheduled for the evening of Nov. 10 at the Butler Officer's Club in Camp Foster's Plaza Housing.
"The Marine Corps Ball is an opportunity for Marines to commemorate the founding of the Corps, reflect on our storied history and build unit cohesion," Voss said. "It provides Marines the chance to take a break from III MEF's high operational tempo and enjoy a night of camaraderie with peers, colleagues, and significant others."
Balls for subordinate commands on Okinawa are between Oct. 22 and Dec. 9, Voss said. Mitigation measures for COVID-19 have been planned "to ensure the safety and well-being of attendees."
The number of new cases of COVID-19 at Marine bases on Okinawa has fallen as Marines and their families are vaccinated, according to a Wednesday bulletin by Marine Corps Installations Pacific. More than 80% of the Marines on Okinawa are vaccinated, according to the bulletin.
Marine Corps Air Station Iwakuni, 30 miles southwest of Hiroshima on the island of Honshu, is also preparing to hold birthday balls this year.
"We have not been told 'no' on a ball," base spokesman Maj. Joshua Diddams said by phone Thursday. "If we're allowed to have a ball, we will have one."
The air station tentatively scheduled its ball Nov. 5 at IronWorks South Gym, Diddams said. About 900 guests from the headquarters and headquarters squadron are expected.
The installation plans further balls, two squadrons at a time, until they are completed, he said. COVID-19 mitigation measures will be in place.
Marines celebrate the Corps' birthday on or near Nov. 10. Birthday balls provide Marines a rare opportunity to don their dress blues and let their hair down for a night of food, drink and entertainment with friends and loved ones.
Its iconic cake-cutting ceremony was formalized in 1952, a Marine history by the service's history and museums division said.
Berger is not alone in canceling the birthday celebration this year, Bruce said.
"Many commanders have made the decision to forgo their in-person Marine Corps Birthday Ball celebrations," Bruce said, though he did not provide examples.
Any gathering over 50 people must be approved by the secretary of the Navy or the undersecretary of the Navy, Bruce said.
burke.matt@stripes.com Twitter: @MatthewMBurke1
---
---
---