Music messengers: Army family in South Korea creates free melodies that aim to heal
by
Jonathan Snyder
Stars and Stripes
September 30, 2021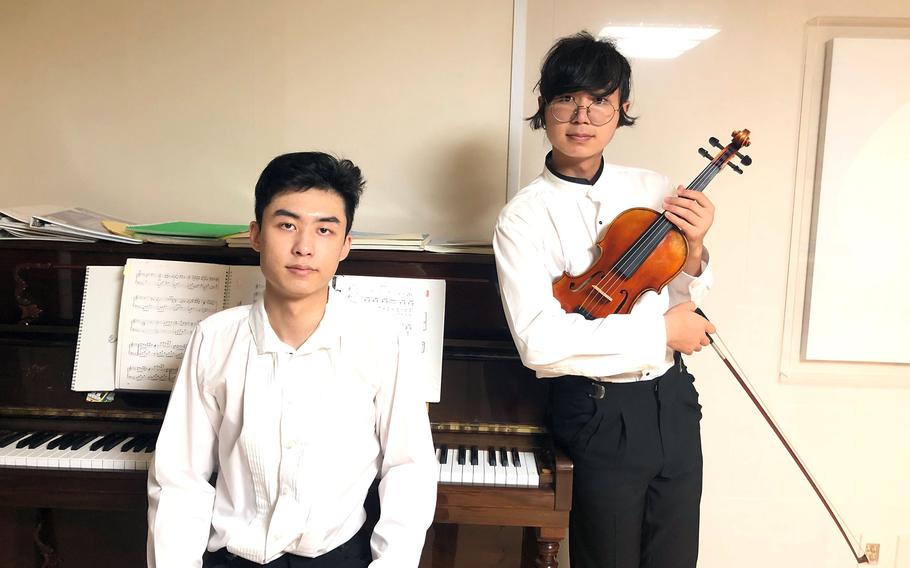 Two music-making sons in an Army family in South Korea aim to make the world a better place by giving their violin and piano music away to nursing homes and hospitals.
Brothers David Lee, 17, a senior at Osan Middle High School, and Ralph Lee, 18, an Osan graduate, started their music volunteerism three years ago in Portland, Ore., after an elderly woman in a nursing home requested that David perform at her funeral, he told Stars and Stripes by email on Sept. 15.
The family moved to South Korea when their father, James Lee, an Army Reserve warrant officer, found a civilian job with the Air Force at Osan Air Base.
"We had to come to South Korea in 2019. Then COVID-19 hit, so I couldn't really travel to play for her funeral," David said. "However, I really wanted to play for her funeral, so I created Music Echoes to send the violin audio and video to her."
That experience sparked a desire to give more through their music, so David and Ralph started Music Echoes.
With David playing the violin and Ralph on piano, the two set out last year to record and produce original tunes. They upload their compositions to their Instagram account, Music.Echoes.
The boys' mission is simple, they said: They want to deliver free music to more than 100,000 hospitals around the world, to help people and to make a difference and bring people together.
"We wish to be the global free music provider for places in need and be a music messenger to our world," David said.
Their parents fund their endeavor and David chips in his allowance so they can record and produce music at home. So far, they have produced several songs and delivered them digitally to more than 1,000 hospitals, David said.
"Through music, we want our organization to communicate with the people in this world," David said. "I want the poor people, people with disability, elders that have hard time in their life and the forgotten people in our society to be healed inside through our music."
Osan Middle High School music teacher Kristi Howell taught David Lee at Osan, she told Stars and Stripes in a recent email.
"David is a wonderful music student and I'm honored to have been his music teacher," she said. "He is one of the most talented violinists I have ever seen, and I can't wait to see what his future holds."
The reception to their work, thus far, has been positive.
"David has sent us his pre-recorded performances, so oftentimes folks here like to listen to it on loop, because they really enjoy his music," Malisa Ratthasing, life enrichment director at West Hills Health & Rehabilitation in Portland, Ore., told Stars and Stripes by phone last week.
David hopes to grow the nonprofit and find more musicians to join his global project to bring music to hospitals, rehabilitation centers and clinics around the world.
Visit www.themusicechoes.com for more information.