Improved maintenance pier at US naval base in Japan is on time, on budget, managers say
by
Alex Wilson
Stars and Stripes
September 20, 2021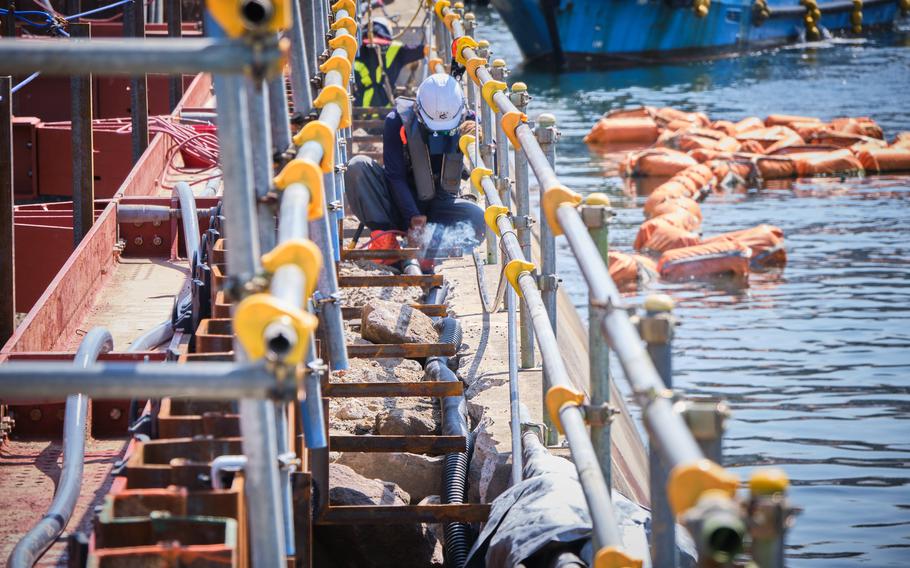 YOKOSUKA NAVAL BASE, Japan – The largest U.S. naval base in Japan is just one year away from completing a $128 million project to replace an outdated piece of infrastructure and expand its ship maintenance capabilities.
Located in Truman Bay in the southwestern quadrant of Yokosuka Naval Base, the fixed, single-deck Pier 5 will replace an older version that could no longer support crane operations or ship repairs and was demolished last year.
"This pier, when completed, will directly enable fleet readiness immediately by providing much needed berthing, and also some maintenance capabilities that didn't exist here previously," said Tim DeWitt, commander of Naval Facilities Engineering System Command Far East, in an interview Thursday with Stars and Stripes.
Penta-Ocean Construction Co., based in Tokyo, is working on the project alongside the engineering command.
Congress appropriated the money to build the 672-foot pier in 2020. It's scheduled to be complete in September 2022.
Among its improvements over the previous pier are enhanced utility services – such as water and power – and the ability to accommodate larger classes of ships, such as cruisers. The pier will also be able to berth up to two ships at a time, according to DeWitt.
The project engineers also customized the pier's design to extend its lifetime from a standard 50 years to 75 years by reinforcing the concrete and using specialized materials to reduce wear-and-tear.
"Every 50 years seems to come pretty quickly when it comes to facilities," DeWitt said. "Extending that [lifespan] will help save future money and sustainment dollars."
Alberto Serrano, construction manager supervisor, said the project has managed to stay on budget and on schedule despite the coronavirus pandemic.
"There were a lot of adjustments that we had to do last minute that were really unprecedented," Serrano said. "But we've been able to adapt."
The original pier, which was a floating structure, was built in 1950 and serviced hundreds of ships, according to the Navy. DeWitt recalled docking alongside the previous pier as a young officer early in his career with the Navy.
"I used to sit on that old pier when I was an ensign on a ship," DeWitt said. "To see this being replaced now, almost 30 years later is kind of awesome."