Typhoon and national holiday exacerbate shipping delays for US commissaries in South Korea
by
David Choi
Stars and Stripes
September 20, 2021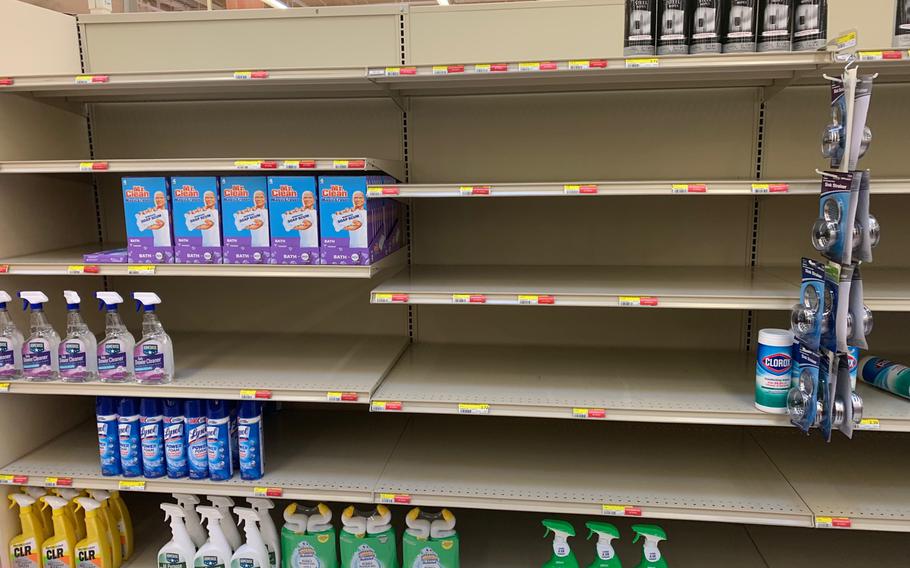 CAMP HUMPHREYS, South Korea — A typhoon passing through the southern coast of South Korea last week exacerbated shipping delays at commissaries on U.S. bases on the peninsula and postponed deliveries for chilled and frozen goods for several weeks.
Osan Air Base, which is located 30 miles from Seoul, is experiencing shipping delays due to Typhoon Chanthu, the base said in a Facebook post Friday. The delayed shipment includes chilled items, such as juice and dairy products. The base advised shoppers to shop instead at grocery stores off-base until the items were restocked.
Camp Humphreys notified shoppers earlier this month that fresh meats and U.S.-grown potatoes would be affected by upcoming supply disruptions. The commissary limited short ribs to one 10-pound package per customer and restricted shoppers to one gallon of milk each per day.
Commissaries in South Korea were already backed-up for around three weeks prior to the typhoon, commissary officer Myung Brown told Stars and Stripes on Monday.
Many of the products expected to arrive by the weekend passed their shelf-dates because they were held up on ships. Much of the U.S. goods bound for central distribution centers in South Korea arrive from the port in Busan, on the southern coast of the peninsula. 
The delays also come amid Chuseok, a national three-day harvest holiday observed this year from Monday to Wednesday. Most employees in South Korea, including those who work at the shipping docks, are not required to work on the national holiday.
Brown said the delayed goods are expected to hit store shelves by early October and added that the holdup was "beyond our control."
The supply disruption did not appear to completely deplete the commissary of household essentials at Camp Humphreys. While several bare shelves indicated that certain brands of cereal, household cleaners and bottled water were out of stock for several weeks, other brands of identical goods were still up for sale.
Typhoon Chanthu, which traveled northeastward from South Korea, drenched the southern resort island of Jeju and brought heavy rains and winds to Japan, according to meteorological agencies from the two countries. Maximum wind gust speeds reached around 78 mph on Friday afternoon.
Typhoons have in the past affected the commissary supply chain in South Korea. In 2018, Typhoon Jebi caused delays in the delivery of chilled and frozen products at the Camp Humphreys commissary.
In April 2020, a mechanical failure aboard a container ship bringing goods to South Korea caused the weeklong delay of 870 items normally stocked at the commissary.