'Prayer helps': Impromptu vigil at Marine base in Japan honors service members killed in Kabul bombing
by
Jonathan Snyder
Stars and Stripes
August 30, 2021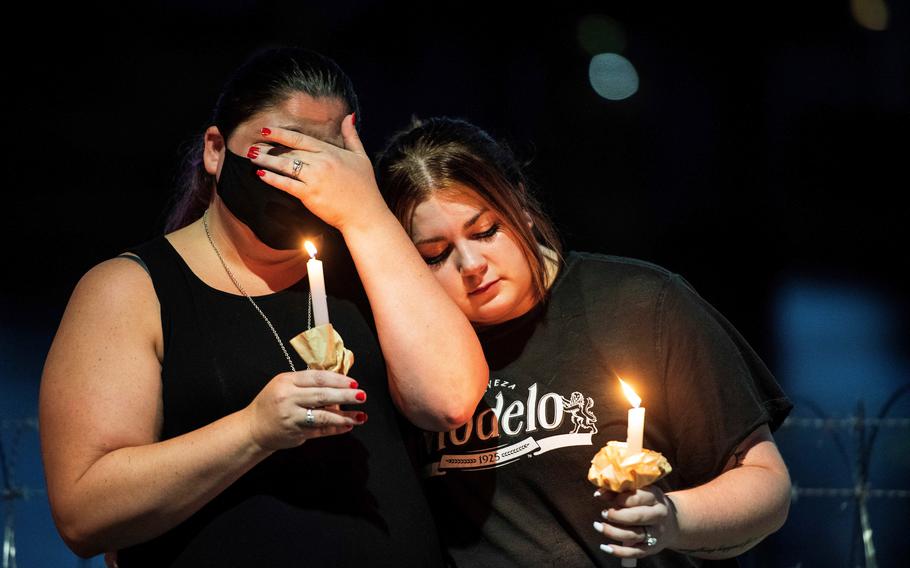 MARINE CORPS AIR STATION IWAKUNI, Japan — A group of Marines, sailors and their families gathered Friday for a candlelight vigil to remember the lives lost the previous day in a terrorist suicide bombing in Afghanistan.
Eleven Marines, a Navy corpsman, one soldier and 170 civilians, according to latest reports, died Thursday outside the Abbey gate of Hamid Karzai International Airport in Kabul. They were part of a contingent sent to help evacuate thousands of American citizens and Afghans left at risk as the country fell to the Taliban.
"My husband was a prior combat veteran, and we have several friends that are over there right now," Marine spouse Jamie Holmes, 36, of Raleigh, N.C., told Stars and Stripes at the vigil, "and I feel this is my way of being able to help them."
The first arrivals gathered just before 7 p.m. next to the seawall on base as dusk turned to darkness. Others arrived later, paid their respects and quietly departed. Someone left a bottle of sake as tribute.
"I understand that not everyone is religious, that is OK, but for me, prayer helps me," Holmes said. "I want to be able to let them know that we are here for you. Even though we are at a base in Japan, we are still all here for you."
The 13 service members' remains arrived Sunday at Dover Air Force Base, Del. President Joe Biden, his wife, Jill Biden, Defense Secretary Lloyd Austin and other administration officials stood outside the C-17 Globemaster III airlifter bearing the remains as teams of uniformed troops carried them into waiting hearses.
Holmes said she decided Friday morning to organize a vigil that night and spread the word through Facebook.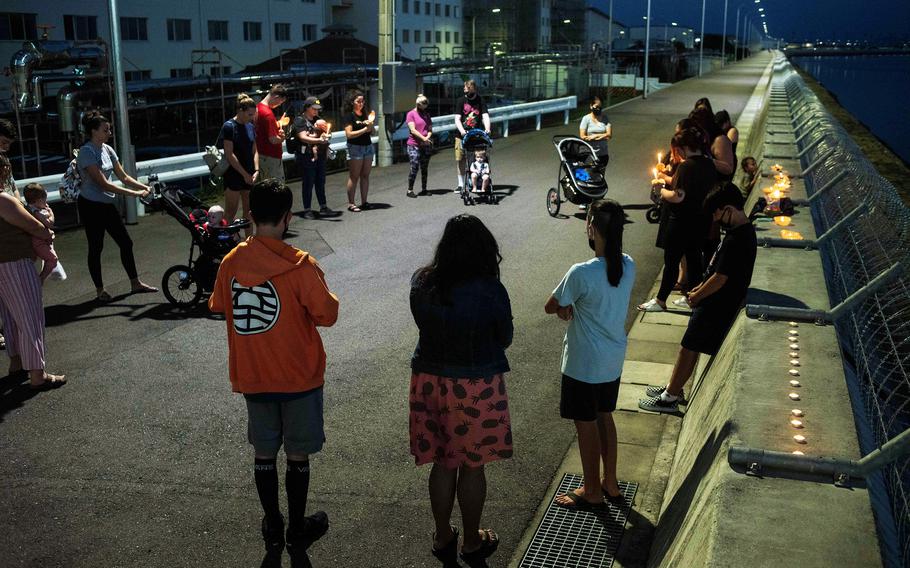 "I feel like people underestimate the military community sometimes, and once we do retire, I already know I'm going to miss it," she said. "When things get tough, we all come together and when something happens, we are all there for each other and that is what being a military family is."
A "gut punch" is how Holmes described her feelings about events happening in Kabul.
The Air Force, contracted air carriers and others are moving thousands of desperate Afghans and U.S. citizens out of the airport each day. Biden has set a deadline of Tuesday to withdraw remaining troops from Afghanistan.
"I feel like things have been set back, but it's not a time to politicize any of this," she said. "Now we have to get our guys out safely, we have to get these innocent families out safely and for me praying for them is something I can do."
After lighting candles and observing a moment of silence, Holmes, holding back tears, encouraged those affected by the bombings to not be afraid to ask for help through chaplains or the Military and Family Life Counseling Program.
"I've been to a few vigils for different reasons and it's always difficult, especially when young lives are lost," Filiz Troudt, 52, whose husband is a retired Marine working on base, told Stars and Stripes on Friday. "And we don't know if it's over yet. They are still over there trying to get people out."