Okinawa hospitals near breaking point
The Japan News-Yomiuri
August 28, 2021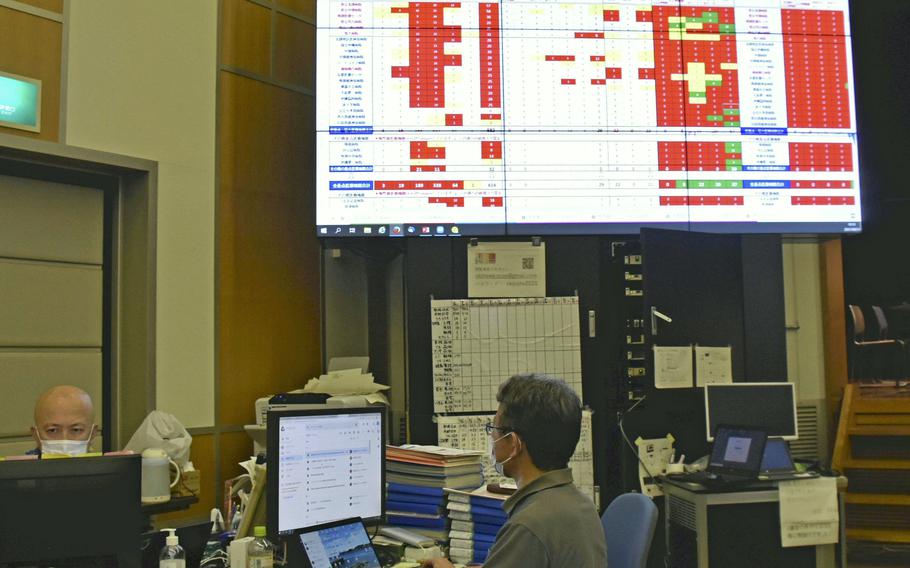 TOKYO — Okinawa Prefecture has logged the highest weekly average of new COVID-19 cases per 100,000 people in Japan for nearly a month. With hospital beds for COVID-19 cases almost fully occupied, the prefecture's medical system is on the brink of collapse.
Hospital bed occupancy on the main island of Okinawa reached 93% last week.
Although more than three months have passed since the prefecture was placed under a state of emergency, crowds of drinkers have been conspicuous in some of Naha's entertainment districts and coronavirus cases originating from outside the prefecture have been confirmed.
The names of about 60 infected patients waiting to be admitted to hospitals were listed on a whiteboard at the prefecture's novel coronavirus response headquarters on Aug. 21. A screen with information about COVID-19 hospital bed rates at 25 key medical institutions with intensive care services in the prefecture indicated that most had no vacancies.
"Every morning, each of these hospitals inputs the anticipated number of vacant beds based on the number of patients scheduled to be discharged that day, but the beds are filled by midday," said Hideaki Sasaki of Okinawa Red Cross Hospital, who coordinates hospital admittance for infected patients at the prefecture's response headquarters.
"Elderly patients, who tend to stay longer in hospital, are being urged to recuperate at home for as long as possible, and patients in their 50s or younger who are experiencing breathing difficulties are being admitted," Sasaki said.
Okinawa Prefecture has been under a state of emergency since May 23, and the number of new cases, which was in double digits in mid-July, reached a record 809 on Wednesday. If the proportion of new cases was the same in Tokyo, it would be equivalent to almost 8,000 daily cases.
Okinawa Prefecture's weekly average of new cases per 100,000 people has been the highest in Japan since July 30, standing at 316.28 cases as of Wednesday, 92 more than Tokyo, the city with the second-highest average. The spread of the disease to remote islands has also been serious, with the number of people infected in Miyakojima briefly exceeding 444.
On Okinawa Island, the occupancy rate of COVID-19 hospital beds stood at 93.6% on Thursday.
Some medical institutions have suspended general outpatient services to increase the number of beds for COVID-19 patients. A prefectural official said the local government is continuing efforts to secure hospital beds.
At a 20-bed oxygen therapy facility that opened on Aug. 1, there have been cases of patients spending two nights there while waiting to be hospitalized, prompting the prefectural government to expand such facilities.
More than 2,800 patients are recuperating at home in the prefecture.
"The demand for hospital beds has been coming in waves. If the situation continues, [within days or weeks] it might be impossible to provide normal medical services, such as the acceptance of general emergency patients," Sasaki said.
According to the prefectural government, nearly 40% of infections within households in July involved cases in which the virus was contracted by someone who had dined out. As many as 500 eateries have not responded to the prefectural government's request to stop serving alcohol.
Drinkers have been conspicuous at izakaya eateries in the center of Naha. The proprietor of a bar in the area said: "When I open, lots of customers come. I'm also staying open to protect the livelihoods of my staff."
Major airlines' numbers of passengers at Okinawa airports during the Bon holiday period was 120% to 130% of the previous year's total.
A record 79 cases were confirmed among passengers from Aug. 17-23, prompting the prefectural government to toughen its message. Instead of calling for restraint, it advised people to stop traveling.
The sociable nature of Okinawans, the rise in the number of travelers over the holiday period and the prolonged state of emergency are major factors in the infection surge, according to Yoshihiro Takayama, a doctor and a member of the prefectural epidemiological statistics and analysis committee.
"Things might get even worse due to the impact of holiday season and the resumption of school after the summer break," Takayama said.