Rare Zero fighters on display in August at Japanese museum
by
Seth Robson
Stars and Stripes
August 18, 2021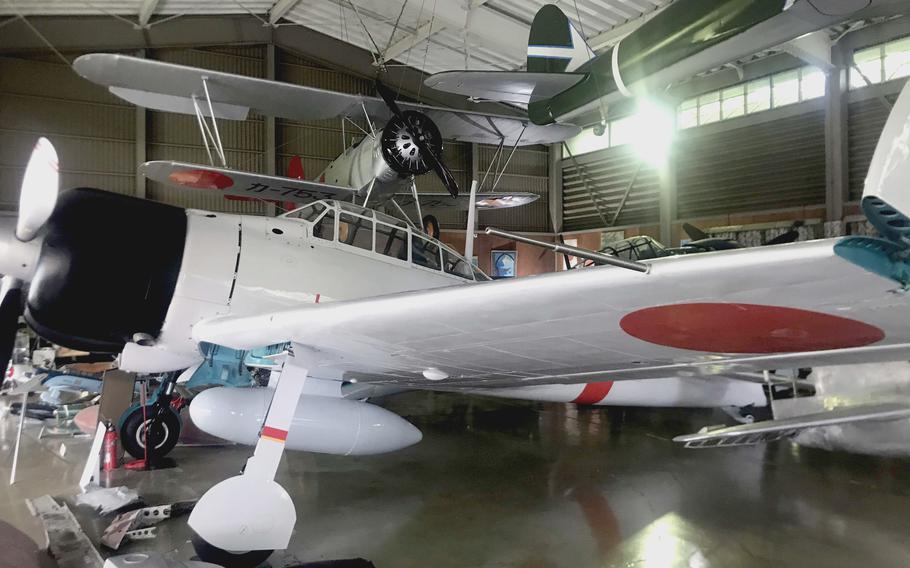 KAWAGUCHIKO, Japan — The Mitsubishi A6M fighter, commonly known as the Zero, could outmaneuver every airplane it encountered when the Japanese swept across the Pacific at the start of World War II.
The Allies eventually built planes that were almost as agile, with more firepower and superior armor. But the Zero, in the war's last stages put to use for kamikaze attacks, has retained its mystique as one of the ultimate dogfighters.
During August, some of the few surviving examples of the legendary aircraft are on display at the Kawaguchiko Zero Fighter Museum in Yamanashi prefecture, about an hour's drive from western Tokyo. Admission is 1500 yen, or a little less than $15 USD.
The Japanese built almost 11,000 Zeros during the war but only a handful are still airworthy today, according to the National Air and Space Museum in Washington, D.C.
The museum, open daily during August from 10 a.m. to 4 p.m., is part of a facility that was built in 1981 by former race-car driver Nobuo Harada.
Initially, its collection featured only antique cars, but it grew to include a warehouse full of restored Japanese military planes recovered from Pacific battlefields.
The aircraft collection includes three Zeros. A fourth, restored by museum staff, is displayed at the Yushukan Museum at the Yasukuni shrine in Tokyo.
Near the aircraft a video shows Japanese troops dragging Zeros off a runway into a field next to Naval Air Station Atsugi in preparation for the arrival of U.S. Army Gen. Douglas MacArthur in 1945. The base, in Kanagawa prefecture, is now a joint base shared by the U.S. Navy and Japan Maritime Self-Defense Force.
Along with a the Zeros, the Kawaguchiko museum includes the tail section of Mitsubishi G4M Betty bomber flown by the Imperial Japanese Navy Air Service.
Adm. Isoroku Yamamoto, who led the attack on Pearl Harbor in 1941, died when the Betty he was travelling in was shot down over Papua New Guinea by a U.S. Air Force Lockheed P-38 Lightning fighter on April 18, 1943.
The Kawaguchiko museum also displays a Nakajima Ki-43 Hayabusa/Oscar fighter flown by the Imperial Japanese Army Air Service.
Outside, the museum also has on display several F-86F Sabre fighters that were flown by the Japan Air Self-Defense Force from the 1950s. Sabres saw more than their share of combat with the U.S. Air Force during the Korean War.