Okinawa governor 'infuriated' over fallen piece of Marine Corps Osprey 
by
Matthew M. Burke and Mari Higa
Stars and Stripes
August 16, 2021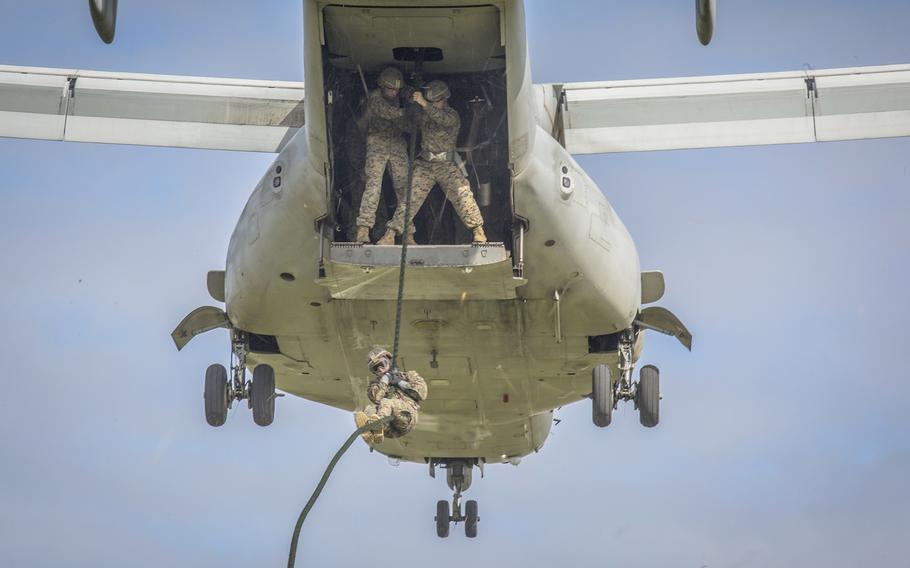 CAMP FOSTER, Okinawa — An Okinawa-based Marine Corps MV-22B Osprey lost a panel while in flight Thursday night, prompting the island's governor to call for the immediate cessation of flight operations.
The 14-by-18-inch metal panel, and a 9-by-3 fairing, were missing from the tilt-rotor aircraft upon its return to Marine Corps Air Station Futenma at approximately 9:30 p.m., 1st Marine Aircraft Wing spokesman Maj. Ken Kunze wrote in an email Monday to Stars and Stripes.
The flight path between the air station and the Central Training Area was mostly over water and the crew did not see the parts fall from the aircraft, Kunze said. No damage or injuries were reported. The missing parts have not been found, according to a spokesman for the Okinawa Defense Bureau on Monday.
The incident prompted Okinawa Gov. Denny Tamaki to call for the "prompt suspension of operations" and "early closure" of MCAS Futenma.
"I am infuriated over the frequent occurrence of aircraft accidents," Tamaki said in a statement released Saturday. "Aircraft-related mishaps can lead to serious accidents that put human lives and important properties in danger and cause great anxiety to the local residents and Okinawa's people."
Tamaki also cited two emergency landings by U.S. military helicopters from Okinawa, a AH-1Z Viper on July 27 in Miyazaki prefecture and a UH-1Y Venom on June 2.
Kunze said the Marines would not suspend flight operations.
"We are not suspending MV-22 operations because it is not necessary to do so: This was an issue isolated to one aircraft that does not appear to be systemic," Kunze's statement said. The air wing "takes all aviation-related events seriously and will conduct a thorough review to determine the cause of the incident."
The incident was reported by the U.S. military Friday afternoon to the Okinawa Defense Bureau, which represents Japan's Ministry of Defense on the island, a defense bureau spokesman told Stars and Stripes by phone Monday. The bureau made a "strong request" to the U.S. military for a prompt investigation and report on the incident, as well as effective prevention measures.
Government spokespeople in Japan typically speak to the media on condition of anonymity as a condition of their employment.
The people of Okinawa are sensitive to incidents of falling aircraft parts, the bureau spokesman said.
Since 2017, parts or equipment have fallen from U.S. military aircraft on or around the island in a handful of highly publicized incidents.
On July 13, a steel shipping container inexplicably fell from a Marine Corps CH-53E Super Stallion helicopter into the sea. On Aug. 27, 2019, a Super Stallion lost a cabin window over open water off the Okinawa coast. No injuries or property damage were reported.
In December 2017, a window fell from a Super Stallion and landed on an elementary school sports field near MCAS Futenma's fence line. About 40 children were playing nearby at the time. One boy received a minor injury from a stone thrown up by the falling window.