Heavy rain continues to pound Japan
The Japan News-Yomiuri
August 14, 2021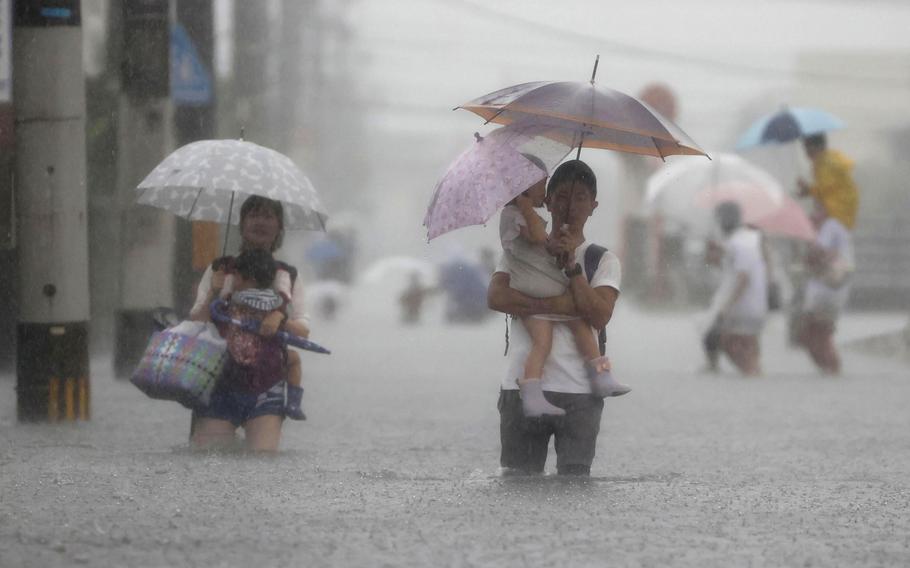 FUKUOKA/TOKYO — The Japan Meteorological Agency issued a special rain warning in four prefectures on Saturday morning, as record rainfall continued in western and southwestern Japan, causing riverbanks to burst and flooding in residential areas.
The agency issued a special warning for Fukuoka, Saga, Nagasaki and Hiroshima prefectures, citing the imminent risk of a serious disaster.
According to the JMA, up to 912 millimeters of rain fell in Ureshino, Saga Prefecture, in the 72-hour period through 10 a.m. Saturday, 848.5 millimeters in Mt. Unzen, Nagasaki Prefecture, and 712.5 millimeters in Kurume, Fukuoka Prefecture. All were record highs.
In some places, rainfall over the three-day period was more than three times the amount that usually falls in the entire month of August.
In Takeo, Saga Prefecture, the Rokkaku River overflowed its banks on Saturday, flooding homes and forcing residents to seek refuge.
The heavy rain was triggered by weather conditions similar to those seen during the rainy season in early summer, experts said. The problem is that the phenomenon has emerged in mid-summer.
A Pacific high-pressure system, which usually means sunny summer days across Japan, has stayed in the southern part of the archipelago, according to the JMA, which has attributed the widespread rainfall to a front between the Pacific high-pressure system and another high-pressure system to the north.
In Kyushu, warm and humid air around the edge of the Pacific high-pressure system and air flowing along the westerly winds are coming in from two directions, making the front active. The JMA said that heavy rains are likely to continue until the middle of next week.
"The pressure pattern is similar to that seen at the end of the rainy season, but in August, when temperatures are high, the amount of water vapor in the atmosphere tends to increase, raising the risk of heavy rain," said Haruhiko Yamamoto, a professor at Yamaguchi University. "High-risk zones might expand in August so vigilance is needed across widespread areas," Yamamoto said.