All South Korean navy sailors aboard a cluster-infected warship have recovered from COVID-19
by
David Choi and Yoo Kyong Chang
Stars and Stripes
August 10, 2021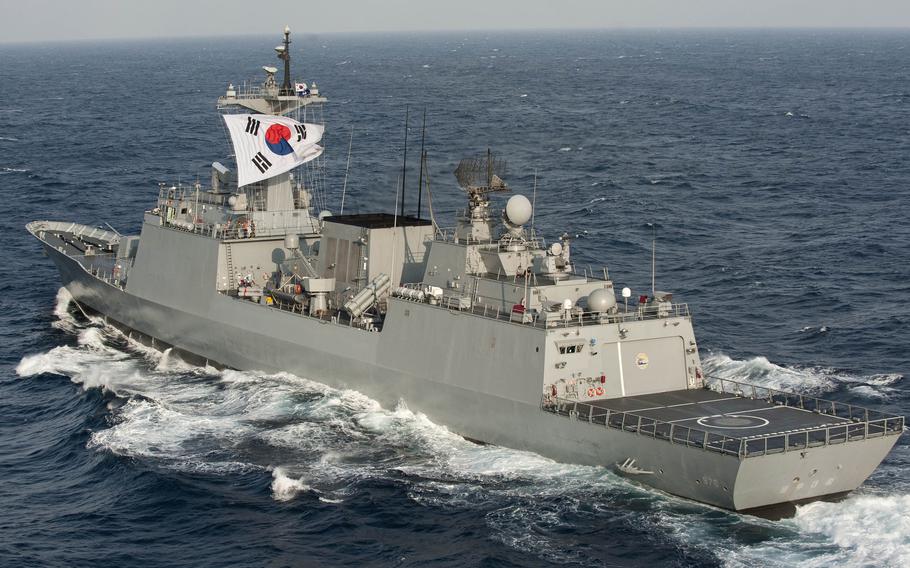 CAMP HUMPHREYS, South Korea — All of the South Korean navy sailors aboard a warship hit by a cluster of COVID-19 cases are expected to be discharged from the hospital Tuesday, according to military officials.
Of the 301 sailors aboard the South Korean destroyer Munmu the Great, 271 had tested positive for the coronavirus since July. The destroyer was initially patrolling the Gulf of Aden off East Africa to disrupt pirates before being recalled from service.
The ship's crew members were airlifted back to South Korea in late July and received treatment at a military hospital in Daejeon, roughly 80 miles south from the capital city of Seoul.
All of the crew members had recovered 26 days after the initial outbreak was discovered, a Ministry of National Defense spokesman told Stars and Stripes on the customary condition of anonymity. Two remaining members of the crew are scheduled to be released Tuesday.
The outbreak prompted an apology from South Korean Defense Minister Suh Wook.
"As defense minister, I feel strongly responsible for having the great number of those tested positive for COVID-19, because I have failed to take better care of the health of our soldiers," Sun told reporters last month. "I deeply apologize to the service members … their families, and the people."
The defense ministry released the results of an epidemiological investigation Tuesday afternoon, which said the ship's crew could have started becoming infected between June 28 and July 1.
In their report, investigators say they believe the sailors became infected after anchoring their ship and coming into contact with civilians at an undisclosed location.
Investigators found that 64 crew members were infected with the highly contagious delta variant of the coronavirus. Over 70% of the infected sailors had symptoms, including sore throats, fevers and coughs.
Last week, South Korea's defense ministry said that the vast majority of its service members were inoculated on a voluntary basis. The ministry reported that 93.6% of its 550,000 active-duty troops received at least one dose of a vaccine.
As of Tuesday, 1,536 South Korean service members have tested positive for COVID-19 since the beginning of the pandemic, the defense ministry said in a news briefing.
South Korean service members were fast-tracked to receive the COVID-19 vaccine after it became available in January. The country received over a million doses sent from the United States.