Japan retools plan for F-15 upgrades by losing high-tech anti-ship missiles from US
by
Hana Kusumoto
Stars and Stripes
August 6, 2021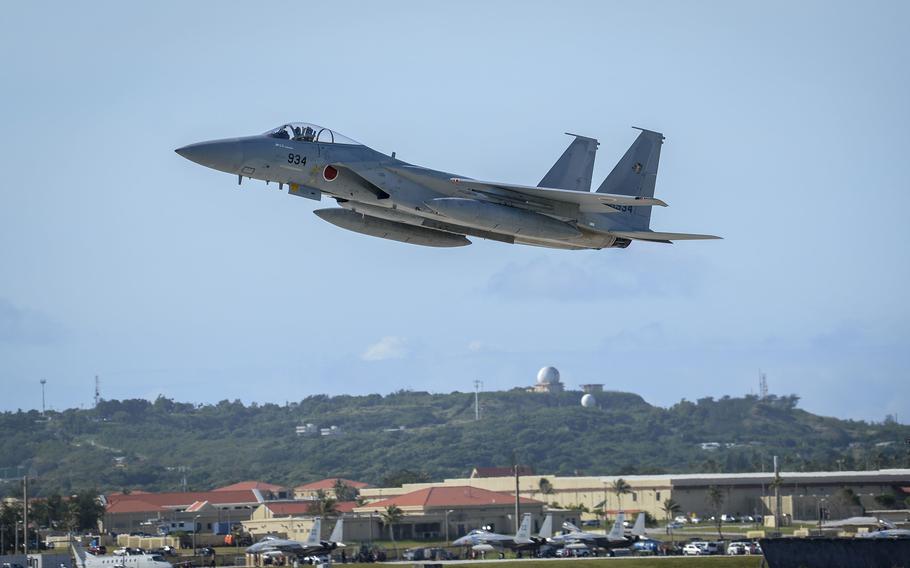 TOKYO – Japan is moving forward with a stalled plan to upgrade some of its F-15 Eagle fighters, but is ditching plans to arm them with expensive, U.S.-made, anti-ship missiles, the Ministry of Defense said Thursday.
Making the long-range, stand-off missiles compatible with the F-15s, which the United States has not previously done, adds to the project cost and would delay the upgrades, according to information the ministry provided at a Thursday media briefing.
Japan had initially planned to equip 68 F-15s of the Japan Air Self-Defense Force with Long Range Anti-Ship Missiles, or LRASM, as a defense against ships and landing forces. The LRASM is a stealthy, air-launched anti-ship cruise missile.
However, the cost skyrocketed from the initial appraisal after parts of the project were revised, including a plan for replacement parts and integrating the missile systems to Japanese specifications, ministry officials said at the briefing. Japanese government officials typically speak to the media on condition of anonymity.
The equivalent of about $354.9 million allocated for the project last year was not spent, an official said. The ministry also decided not to allocate about $193.8 million for the project in this year's budget and instead continued to negotiate the cost with the United States.
After reviewing the program and further negotiations with the U.S. Air Force and Mitsubishi Heavy Industries, the ministry dropped plans for the anti-ship missiles, officials said.
Nonetheless, the estimated cost to upgrade the fighters rose $3.6 million, according to information the ministry provided.
The F-15s will be equipped instead with the Joint Air-to-Surface Standoff Missile, an air-launched cruise missile. Further improvements will include increasing the payload from four to eight missiles and improving the fighters' electronic warfare capabilities. The JASSM has a shorter range and higher visibility than the more expensive long-range, stealthy version.
"Although the cost has increased since the Medium Term Defense Program was established, the role of F-15s as a missile carrier by utilizing high missile-loading capability is important," according to a briefing paper the ministry provided.
Japan planned on upgrading about 80 of its 201 F-15s, according to the Mid-Term Defense Program. The remainder, which are not suitable for modernization, will be replaced by F-35A and F-35B Lightning II stealth, multirole aircraft.
The ministry is considering installing domestic standoff missiles on F-2 fighter jets as an alternative plan for the anti-ship missile, officials said.
With increasing Chinese military assertiveness, the Defense Ministry has said that the missiles are necessary to increase Japan's defense capabilities around the Nansei Islands, also called the Ryukyus, a chain stretching southwest toward Taiwan, the Mainichi newspaper reported Thursday.
The ministry plans to make a budget request for the project in the next fiscal year, which starts in April, and finish upgrades for 20 of the jets by March 2028, officials said at the briefing.