North and South Korea reopen communication lines in name of 'mutual trust'
by
David Choi
Stars and Stripes
July 27, 2021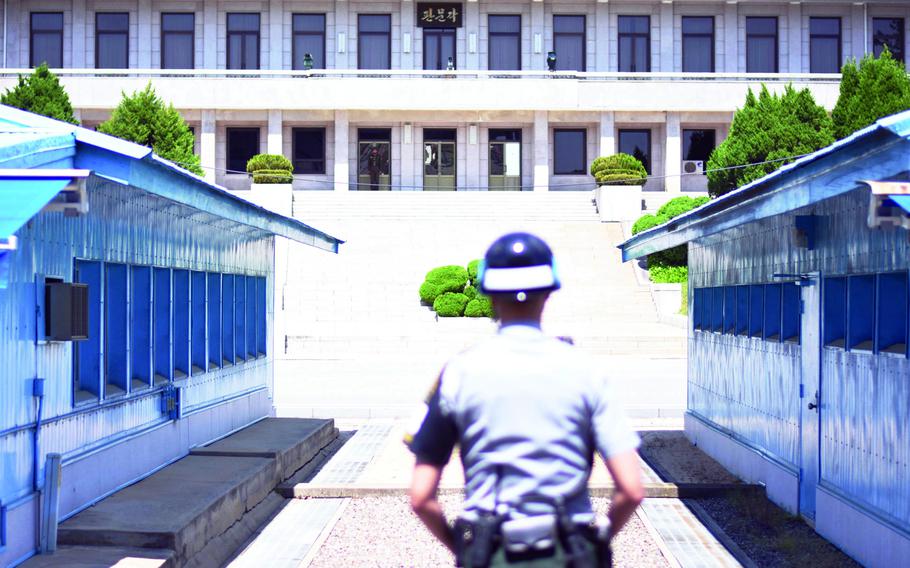 Communication channels between South and North Korea, severed for more than a year, were restored Tuesday to promote "mutual trust" and "reconciliation," according to separate statements from both countries.
Communication was suspended in June 2020, after North Korea described the South as its "enemy" and said it would "completely shut down all contact … with South Korea and get rid of unnecessary things."
The lines were restored at 10 a.m. Tuesday after a system test in which leaders from both countries "communicated about the reestablishment of inter-Korean relations," Park Soo-hyun, a senior South Korean government official, told reporters in Seoul.
Park said South Korean President Moon Jae-in and North Korean leader Kim Jong Un have exchanged letters on numerous occasions since April.
"This restoration of the communication line between South and North Korea is expected to do good to the improvement and development of inter-Korean relations in the future," Park said.
North Korea's state-run news agency also confirmed that communication had been restored.
"The whole Korean nation desires to see the North-South relations recovered from setback and stagnation as early as possible," the Korean Central News Agency said in a statement Tuesday. "In this regard, the top leaders of the North and the South agreed to make a big stride in recovering the mutual trust and promoting reconciliation."
North Korea cut off its communication channels with Seoul last year, as it accused South Korean activists of "hostile acts" for floating anti-Pyongyang leaflets across the border. Diplomatic rows between the two countries have prompted Pyongyang to shut off, and then restart, its communications lines throughout the years.
The lines are "merely symbolic" and "serve as effective bargaining chips," according to Soo Kim, a policy analyst for Rand Corp. and an adjunct instructor at American University.
"The importance of the communication lines hinges on the follow-through and consistency of the two Koreas," Kim told Stars and Stripes in an email Tuesday. "Unfortunately, the follow-through and consistency have been the hiccups."
Kim questioned the timing behind restoring communication.
"The Moon administration left the door open to talks with North Korea and has proven quite tolerant of the Kim regime's antics, but Pyongyang has consistently rebuffed and disdained Seoul's extension of the olive branch," Kim added. "Given the abrupt nature of the announcement — not to mention, its timing — we should be asking, 'Why now?' "
The restoration comes nearly a month after North Korea fired several senior officials for their handling of COVID-19 measures in the country. Pyongyang refused to accept vaccines offered by other countries and has yet to publicly respond to an offer from neighboring Russia.
North Korea, which has not acknowledged the existence of an outbreak in the country, also continues to experience a food drought as severe weather affects the peninsula. In a voluntary assessment provided to the United Nations in June, the North blamed international sanctions and "severe natural disasters" for conditions in the country.