Indo-Pacific Command employee pleads guilty to mishandling classified documents after dinner party guest found them in her room
by
Wyatt Olson
Stars and Stripes
July 22, 2021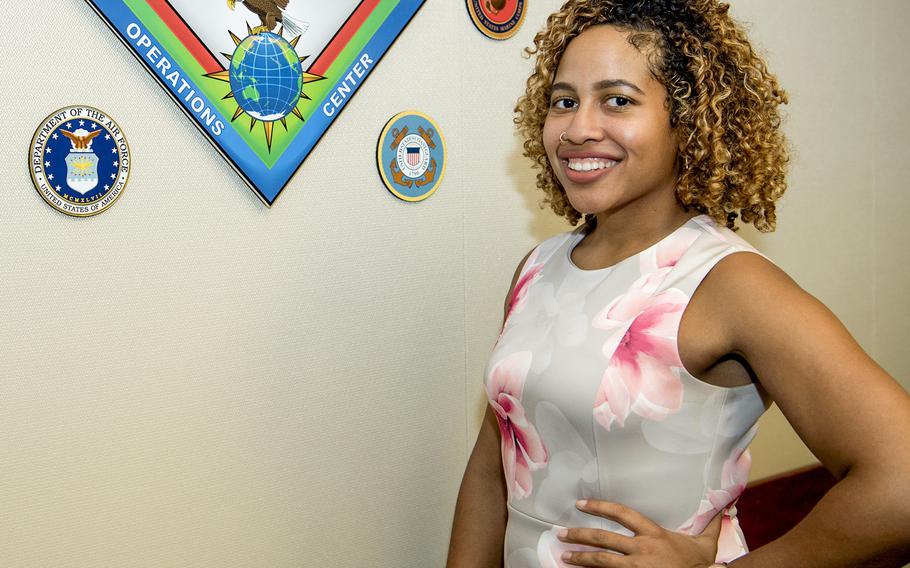 FORT SHAFTER, Hawaii — A 31-year-old civilian employee of U.S. Indo-Pacific Command pleaded guilty this week in Hawaii to mishandling classified information while she was on temporary duty in Manila.
Asia Janay Lavarello, in a plea agreement on Tuesday, admitted one count of "knowingly removing classified information concerning the national defense or foreign relations of the United States and retaining it at an unauthorized location" in U.S. District Court in Hawaii, the Department of Justice said in a news release Tuesday.
She is free on an unsecured bail bond, with sentencing scheduled for Nov. 4.
The count carries a maximum sentence of five years in prison, three years of supervised release and a fine of up to $250,000, the release said.
The plea agreement states that Lavarello had also made false statements in the course of its investigation. The Justice Department agreed not to charge her for that as part of the plea agreement, according to the release.
INDOPACOM referred queries on the case to the Justice Department. Lavarello's attorney did not respond to a request for comment by Stars and Stripes.
Lavarello became a Defense Department employee in 2011, according to the plea agreement filed in federal court.
In March 2018, she became executive assistant to the commander of INDOPACOM's Joint Intelligence Operations Center, for which she had a "top secret" security clearance, the court document said.
The center "produces and disseminates intelligence on political, military and asymmetric threats impacting U.S. and allied interests, and sustains air, space, land, sea, and subsurface military operations throughout the Asia-Pacific theater of operations," according to a 2017 INDOPACOM news release.
Defense Department employees holding a top secret clearance must undergo an in-depth background clearance check and receive multiple briefings on handling, marking and transporting documents.
The U.S. government classifies information "secret" if its disclosure could cause "serious damage" to national security. Information is classified "top secret" if its disclosure could cause "exceptionally grave damage."
In January 2020, Lavarello was given a six-month temporary assignment in the Philippines, where she worked with that nation's armed forces at Camp Aguinaldo and also out of U.S. Embassy Manila, the plea agreement said.
At the same time, she was also working on her thesis as a student at National Intelligence University, court documents said.
She had access to the embassy's classified computers and the storage area for classified documents, called a secure compartmented information facility. She also attended weekly classified meetings at the embassy.
On March 20, 2020, Lavarello hosted a dinner party in her hotel room, attended by three Americans with whom she worked at the embassy, as well as two foreign nationals, according the plea agreement.
"During the dinner party, one of the American guests discovered a stack of documents in the defendant's bedroom with U.S. Government … classified markings on them, including documents classified at the "SECRET" level," the plea agreement said.
When confronted by the dinner guest, Lavarello said that she had them for use in her university thesis, the plea sgreement said.
She did not return the documents to their properly secured area in the following days, and in late March her temporary duty was terminated due to the mishandling of the documents, the plea agreement said.
Lavarello compounded the mishandling by maintaining a handwritten notebook with classified information gleaned from the mishandled documents, the plea agreement said.
Agents with the Naval Criminal Investigative Service retrieved and copied the notebook during a covert search of Lavarello's work desk in June 2020, the plea agreement said.
During an interview with FBI and NCIS agents in January, Lavarello lied about possessing classified information after returning from the Philippines, the plea agreement said.
"Asia Janay Lavarello failed in her duty when she removed classified documents from the U.S. Embassy Manila," Steven Merrill, the FBI special agent in charge of the investigation, said in the DOJ news release. "Government employees are entrusted with a responsibility to ensure classified information is properly handled and secured."