US Forces Korea reports 19 new patients amid record-breaking COVID-19 surge on peninsula
by
David Choi
Stars and Stripes
July 7, 2021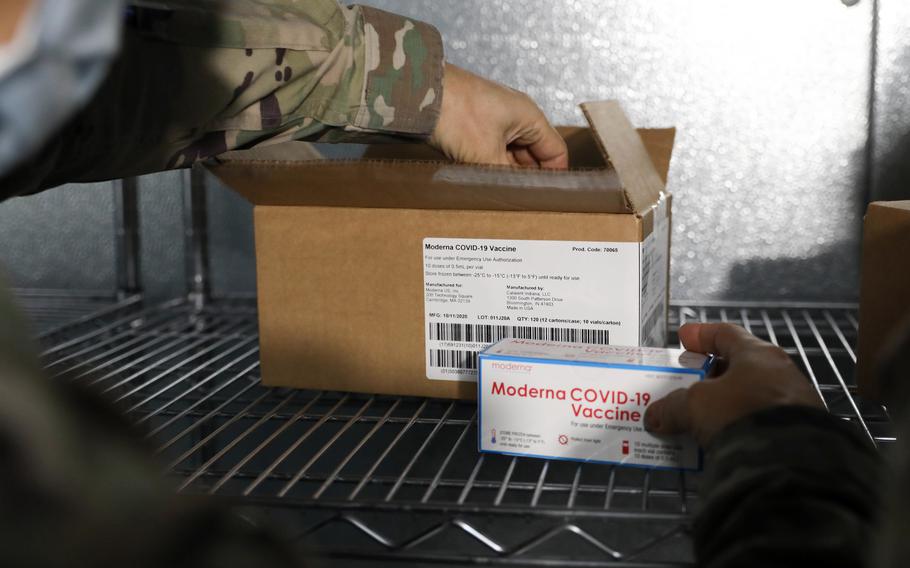 CAMP HUMPHREYS, South Korea – South Korea recorded 1,212 COVID-19 infections Wednesday, its highest one-day number of patients this year and the second highest of the pandemic.
U.S. Forces Korea, meanwhile, announced that 19 people had tested positive for the coronavirus respiratory disease between June 29 and July 2.
The surge in cases, which forced Seoul to suspend plans to ease pandemic restrictions related to masks and social distancing, came the same day that public tours were temporarily halted to the Joint Security Area at the border between the two Koreas.
United Nations Command announced the suspension after two of its members came in contact with an infected South Korean citizen. It said tours will resume "once we are certain that there is no additional risk to our force or the South Korean population."
Tours of the JSA at the Demilitarized Zone had resumed in April after a four-month pause due to coronavirus concerns. U.N. Command halved the number of people per tour to 20 and required visitors to observe social distancing.
Visitor attractions include the building where the armistice agreement pausing the Korean War was signed, as well as the Freedom House where President Donald Trump and North Korean leader Kim Jong Un held an impromptu meeting in 2019.
South Korea's previous one-day coronavirus record was 1,240 new cases on Dec. 25. Wednesday's count follows a solid week of the South reporting more than 700 new cases each day, most of them in Seoul.
It has recorded 162,753 infections during the pandemic.
South Korean health officials have stepped up efforts to mitigate the coronavirus spread, including inspecting businesses that were considered a high-risk for transmissibility. Seoul government officials also announced Wednesday that the capital city would limit the subway schedules in the evenings by 20%.
As of Monday, over 10% of South Koreans were fully inoculated and 30% of the population had received a first dose of a vaccine.
Of the 19 new cases reported by USFK, 17 are on active duty and two are family members. All were quarantined at Camp Humphreys or Osan Air Base.
USFK is "actively conducting contact tracing to determine whether anyone else may have been exposed to these individuals and to identify and ensure all known on-post and off-post facilities visited by the individuals are thoroughly cleaned," the command said in a statement Wednesday.
Less than 1% of USFK's active-duty force tested positive for COVID-19 and over 80% of its personnel is vaccinated, according to the command.
Cases also spike in Tokyo
Japan's capital city announced 920 new coronavirus patients on Wednesday, 327 more than it reported the previous day, according to the Japan Times and public broadcaster NHK.
The number of new cases in Tokyo spiked June 30 to 714, the highest daily count in five weeks, and peaked again at 716 on Saturday, according to Tokyo Metropolitan Government data.
Although it has accelerated its vaccination program, Japan, with 13.8% of its population fully vaccinated, still lags other developed nations like the United States at 47.4% and the United Kingdom at 49.5%, according to The Associated Press.
U.S. military bases in Japan had reported three COVID-19 infections as of 6 p.m. Wednesday, all assigned to the Army. The individuals tested positive sometime between June 30 and Wednesday after suffering mild symptoms.
Twitter: @choibboy