Military housing company to spend $72 million upgrading communities at five Air Force bases
by
Wyatt Olson
Stars and Stripes
July 7, 2021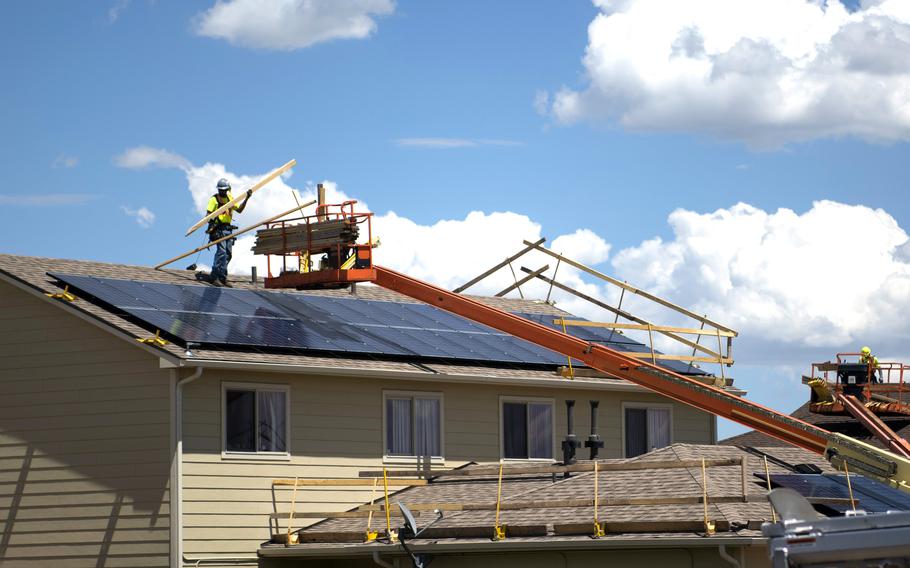 One of the major companies participating in the Defense Department's beleaguered privatized military housing program announced Tuesday that it will spend $72 million over five years for improvements at five Air Force installations.
Work should begin this year at properties overseen by Lendlease in Hawaii, California, Colorado, Arizona and New Mexico.
"The planned improvements at each installation are designed with residents in mind, to not only enhance the look and feel of the communities, but also ensure that housing is supporting today's service members and their families, as well as future generations of military families," Jerry Schmitz, senior vice president for Lendlease Communities, who oversees the Air Force properties, said in a news release.
The bases receiving the upgrades are Hickam Communities at Joint Base Pearl Harbor-Hickam, Hawaii; Tierra Vista Communities at Los Angeles Air Force Base, San Pedro, Calif.; Tierra Vista at Peterson-Schriever Air Force Base, Colo.; Soaring Heights Community at Davis-Monthan Air Force Base, Ariz.; and Soaring Heights at Holloman Air Force Base, N.M.
Private companies involved in the housing program have been under fire by service members and Congress since a 2018 Reuters investigation found widespread and systemic deficiencies by those firms, including falsified maintenance reports, mold, pest infestation, poor infrastructure and retaliation against those who complained.
Congress passed the Military Housing Privatization Initiative in 1996, legislation that was itself driven by problems with maintenance and capitalization of Defense Department housing.
During a March hearing of the House Subcommittees on Readiness and Military Personnel Joint Hearing, Chairman John Garamendi said that lawmakers would continue to demand more out of the private firms operating the housing.
"Military families deserve quality housing, and they deserve responsive property management, and this committee will continue use all of the tools at our disposal to make sure that those families get both quality housing and responsive answers to whatever concerns they may have," he said.
The Australia-based Lendlease maintains its U.S. military housing business from headquarters in Nashville. It oversees more than 40,000 single-family rental homes at 28 installations in 12 states, according to written testimony submitted by the company to the House subcommittee.
The company's announcement on Tuesday made no mention of the Reuters report or congressional scrutiny.
Los Angeles Air Force Base will see improvements of $19.2 million for electrical infrastructure upgrades, exterior repainting and wood repairs at more than 500 homes, the news release said. There will also be improvements to playgrounds, irrigation and perimeter fencing.
An investment of $16.8 million at Peterson-Schriever Air Force Base will be used for new privacy fences at more than 800 homes, 90 new heating/air conditioning systems, exterior painting and repairs for more than 90 homes.
Davis-Monthan Air Force Base is slated for $11.7 million for replacement of flooring, countertops, appliances and lighting in more than 300 homes, among other improvements, the news release said.
Holloman Air Force Base will get 135 interior home renovations, exterior painting of more than 400 homes, replacement of more than 940 vinyl fences, more than 325 new heating/air conditioning systems, street repairs and other improvements at a cost of $13.6 million, the news release said.
Roughly $10.9 million will go to Hickam Communities in Hawaii for repainting historic homes, tree removal, sidewalk repair, and replacement of windows and air conditioning systems, the news release said.