US Forces Korea limits on-base wine purchases to deter 'black marketing'
by
David Choi
Stars and Stripes
June 29, 2021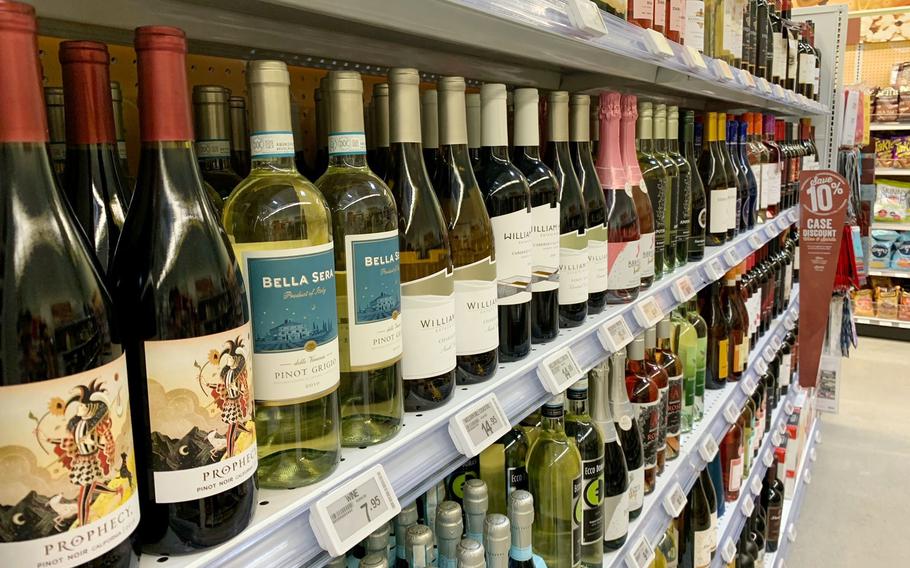 CAMP HUMPHREYS, South Korea — The U.S. military has enacted restrictions to wine purchases from on-base shops in South Korea to discourage black market sales in the country.
The policy update, which took effect Monday, limits the monthly purchase of wine to 15 units of 750 ml, the standard size for a bottle of wine, for U.S. Forces Korea sponsors. Wine was previously excluded from purchase limits at exchange stores, unlike beer and hard liquor.
The policy update was established "to deter black marketing," according to a memorandum signed by Maj. Gen. Brad Sullivan, Camp Humphreys' chief of staff.
Military retirees in South Korea were previously caught abusing their tax-free shopping privileges, including one person who bought meat for his off-post restaurant and another individual spending over $100,000 in a few months. Each of the retirees received a 10-year ban from entering U.S. bases in South Korea.
Shoppers must scan their military identification card when entering the building and when making their purchases, or present a ration card if they do not possess a military ID. Some controlled items, such as alcohol, are tracked and flagged by USFK when purchased in excess.
There will be some exceptions to the policy update, the memorandum said, including special events hosted by unit commanders and for dependents over age 21.
In addition to the new wine cap, USFK announced in its memo that ration cards are no longer required for shoppers with a military identification number who are sponsored by USFK, United Nations Command, or Combined Forces Command-affiliated personnel. Some in South Korea, such as military dependents, were previously required to present their military identification card and their ration card at the point of sale.
USFK sponsors are allowed to access the on-base stores and their tax-free products without having to pay South Korean tariffs. Sponsors are normally allowed to spend $800 per month and an extra $300 for each dependent.
The $800 spending limit was implemented in September 2019 after a review of purchasing data revealed "the preponderance of individuals stayed well below their monthly authorized commissary dollar purchase limit," Camp Humphreys said in a press release last year.
Twitter: @choibboy