Historic alliance: Marriage between US, South Korean army officers is first of its kind
by
David Choi
Stars and Stripes
June 22, 2021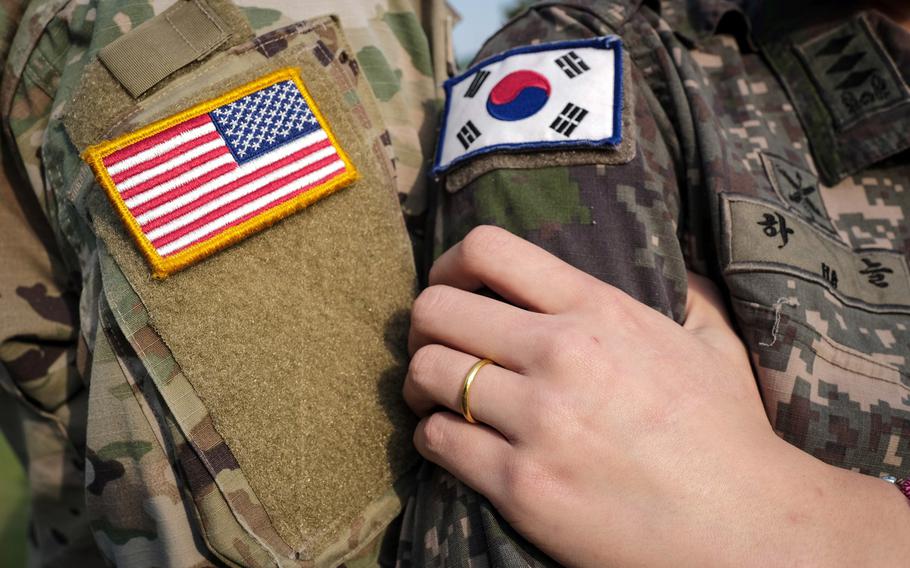 CAMP CASEY, South Korea – South Korean army Capt. Ha Neul laughed as she recalled meeting her husband, U.S. Army Capt. Miles Gabrielson, last year.
"We have a very different memory over that," she said during a recent interview with the newlyweds at this base 40 miles north of Seoul. "He thought I was smiling at him."
While relationships between Americans and Koreans are not uncommon, the couple's Feb. 20 union became the first of its kind: a marriage between active-duty officers in the U.S. and Korean armies, according to the 2nd Infantry Division.
The bond between Ha, 31, and Gabrielson, 29, both artillery officers, formed in May 2020 after the pair was tasked with one of the most mundane duties in the military: creating a PowerPoint presentation.
The project required them to make a bilingual report for 2nd ID's Republic of Korea-U.S. Combined Division, a unique coalition where U.S. and Korean forces work side by side. For Ha, the project was assigned during "one of the busiest days of my life," when she was finalizing the purchase of a new home.
"I'll do the more important part, which is translating," Ha said she told herself at the time. "So, I went out to do all the [real estate] paperwork and then I came back."
Meanwhile, Gabrielson completed the lion's share of their presentation. Ha returned and apologetically asked him out to lunch, and then later to a coffee shop.
"I felt bad about it," she said. "I felt bad to make him work for me."
The two gradually grew closer over subsequent lunches and dinners. During one of those get-togethers, Ha brought up her concern about their off-duty meetings, which she described as potentially "scandalous." Ha said she had avoided relationships with service members, in the off chance they could develop into a disreputable affair.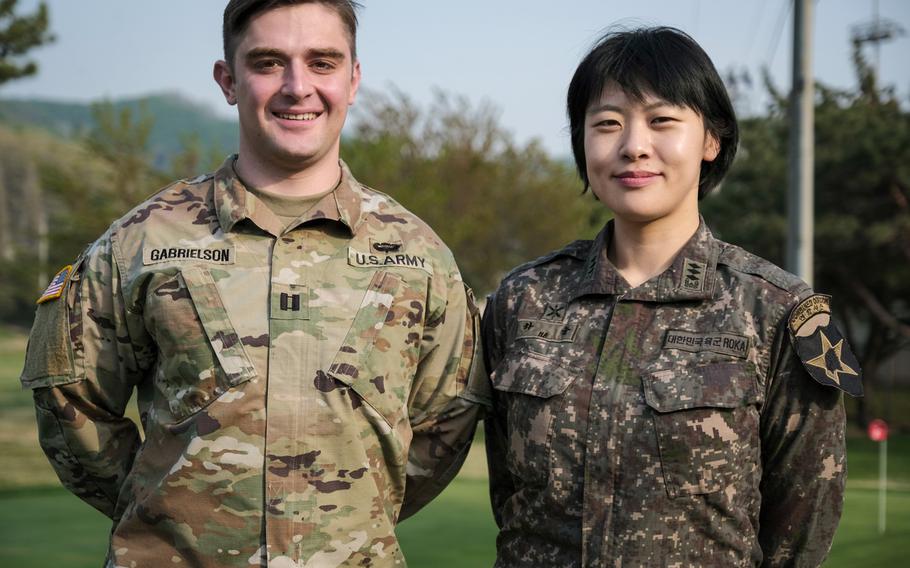 'We saw an opportunity'
It was on a night shift during a field exercise when the two "couldn't keep back our feelings for each other anymore," Gabrielson said, and they decided to make their relationship official.
"We agreed to keep it very discreet, not tell anyone for a while," he said, adding that their interactions were kept strictly professional.
"And then, the next day, she told her boss," Gabrielson said, laughing.
Ha said her senior Korean officer was shocked and humbly blamed himself for having introduced the couple.
Nothing prohibits a marriage between active-duty service members from the two countries, a spokesperson for the combined division told Stars and Stripes on a customary condition of anonymity. She said Gabrielson and Ha, who are of the same rank, went through the proper channels to get their marriage certified.
After thoroughly examining military regulations, Gabrielson proposed to Ha last summer, just three months after they were introduced.
Gabrielson admits their marriage "might have been a fast decision," but insists it was not impulsive.
"In the military, where uncertainty is the nature of our profession, sometimes you have to seize opportunities when they're presented to you," he said. "We didn't know how much time I would be in Korea, and we didn't know how much more time she'd have left in Camp Casey. We saw an opportunity and we went with it.
"The beautiful thing about our relationship is that it really did start as colleagues, as professional counterparts," he added. "And then we became friends."
They exchanged vows at a Catholic church in Busan, about 220 miles south of Camp Casey. The ceremony included a Korean-style reception with Ha and Gabrielson wearing traditional Korean clothing.
Gabrielson's family flew in from Connecticut to attend the ceremony. In lieu of a honeymoon, the couple toured five South Korean cities with their families due to coronavirus travel restrictions.
"I am very pleased and proud of their marriage," South Korean army Lt. Col. Son Sanghyun, deputy commander of the 210th Field Artillery Brigade and one of Ha's senior officers, told Stars and Stripes. "I sincerely hope for their best as they continue on with their army career."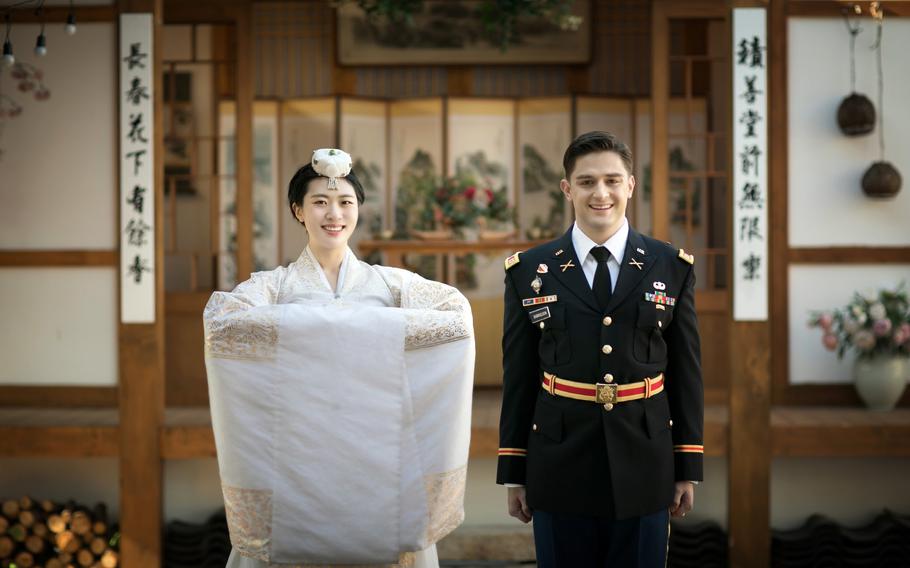 Common ground
Despite wearing different uniforms and being raised in different countries, Gabrielson said he and his wife have a lot in common.
"We both went to military academies," he said, referring to his graduation from the U.S. Military Academy at West Point and Ha's graduation from the Korea Military Academy. "We both have the same job, the same rank, and work in the same place. On the surface, you might say we have a lot more in common than a lot of couples from the same country."
Gabrielson and Ha acknowledged there are "huge differences" in their respective cultures but noted that the "biggest glue that kept us together" was their shared Catholic faith.
"That's something that's been important to me, my whole life," Gabrielson said.
Both Gabrielson and Ha said they have no immediate plans to leave the military. Gabrielson intends to extend his tour in South Korea for as long as possible and plans to eventually attend graduate school in the United States.
Ha hopes to attend a military-sponsored study-abroad program there.
"We'll make the most of our time together and hopefully maneuver some kind of way to spend some time in the States," Gabrielson said, adding that he wants to "start a family together" back home.
Soon after their wedding, South Korean news outlets reported on the significance of the union. Gabrielson said "there's no bigger purpose behind our marriage," despite media reports focusing on the historic precedent.
"We're two people that have a lot in common with each other and got married," Gabrielson said. "We just happened to meet through this military venue."
"I would've married [Ha] if she had any other job in the world," he added. "I would've married her if she was from any other country in the world."
Twitter: @choiboy