Olympians are crying out about their mental health challenges
by
Barry Svrluga
The Washington Post
June 19, 2021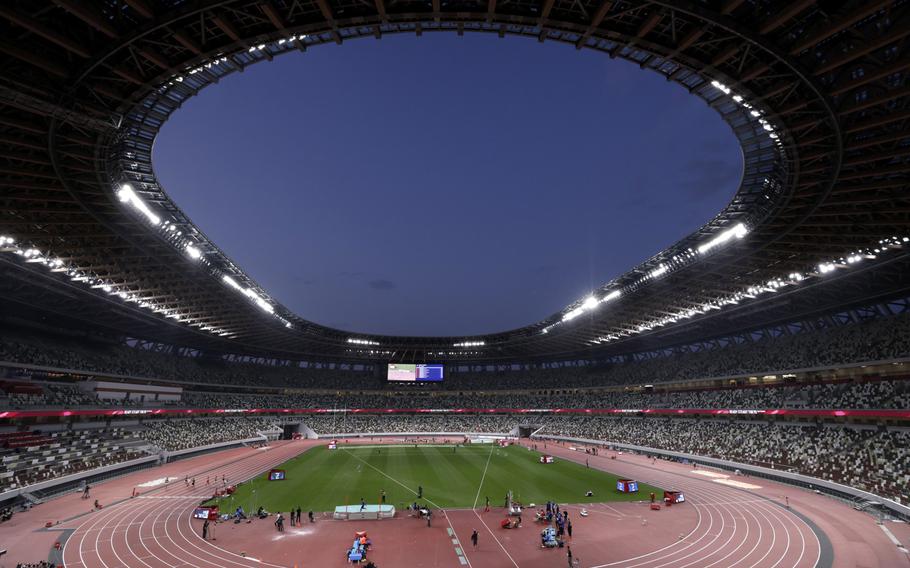 When Simone Manuel, an Olympic gold medalist in the 100-meter freestyle five years ago, failed to qualify for the Tokyo Games in that very event, then spoke into a microphone Thursday night and said, "It's definitely hard for me to be sitting here," it was not a sign of weakness. It was a sign of strength.
There has been an evolution - a profound evolution - in the discourse about athletes and their mental health. Naomi Osaka won't appear at Wimbledon so she can get her mind right for Tokyo, an Olympics at which she will compete for host Japan - with nation's eyes upon her. Simone Biles is training through trauma not in silence, but in a full-throated roar. Manuel had to will herself to the swimming trials in Omaha, only to have the lapses in her training exposed; she was once best in the world, but Thursday she was just ninth in the nation. The conversations about all these issues aren't suppressed. They are right in front of us.
"We're having to change the definition of mental toughness," said Jessica Bartley, a sport psychologist and the director of mental health services for the U.S. Olympic and Paralympic Committee.
That this change is accelerating as the coronavirus pandemic fizzles is no accident. Pursuing an Olympic dream has always seemed reserved for physical outliers, for those who can wring from their already extraordinary bodies more strength, more speed, more stamina. But as we head into what amounts to the Mental Health Olympics, here's to the notion that tending to the mind is more important than training the body it leads. That may have been true a generation ago. In 2021, it's undeniable.
"When viewed within the context of the worldwide covid pandemic; increased protests against social injustices, inequities and systemic oppressions; the political unrest globally, the upcoming Olympics - from a mental health perspective - represent the most challenging environment in which athletes from across the globe will be asked to compete," said William Parham, a professor at Loyola Marymount University who serves on the USOPC's mental health task force and is also the director of the mental health and wellness program for the NBA players' union.
Since last March, we have all been through various degrees of hell, right? Bartley points to numbers published by the Center for Disease Control. Normally, 20% of all adults report struggling with some aspect of mental health. During the pandemic, that has doubled to 40%. Focus on young adults, those ages 18-25, and the numbers are staggering: 30% normally, 78% in a world ravaged by the coronavirus.
What we are seeing this summer - what we had a preview of in previous years - is merely a public indication that athletes aren't impervious to any of it. Collectively, they are cutting open a vein. Osaka, the Grand Slam-winning tennis player; Biles, the revolutionary gold medal-winning gymnast; and Manuel, the groundbreaking swimmer - they are just three examples, among the most pertinent and prominent. But what we are learning is that these struggles are both in the spotlight and in the margins, and that they should be discussed, not dismissed.
Take Jacob Pebley, a swimmer. In 2016, he qualified for his first Olympic team in the 200-meter backstroke. In Rio, he finished fifth. He was an Olympian. He was miserable.
"Unfortunately, after feeling that dream come true it became a five-year burden to get back there and redeem for what I saw as a failure," Pebley wrote on Instagram. "I didn't win medals at the Olympics. And every time I was asked about my experience, that was all I could think about."
This weekend, the trials are concluding in Omaha. Pebley sat them out.
"I'm on a new journey now that is only up to me to decide how it goes," he wrote.
Biles, among the Games' brightest stars, will be dealing with having the eyes of the world on her, with expectations both internal and external. She is the only gymnast still competing from the days when Larry Nassar, the team doctor for USA Gymnastics, sexually assaulted his way through generations of girls. Rather than hide from that reality and shrink from attention, she has highlighted it and stepped forward.
That, then, is the full picture of an Olympian in 2021. The physical talent and daring will that it takes for Biles to pull off unprecedented maneuvers are to be admired. More so, though, there is admiration in facing what she has faced, and succeeding anyway.
"The greatness of Simone Biles lies not in her stellar and one-of-a-kind performances as one of the most gifted gymnasts to ever perform," Parham said. "Her greatness lies in her abilities to convert personal traumas into emotional fuel that illuminates her humanness."
Which is what we're in the process of understanding: the humanness of these athletes. There is a fine line between the performers who win gold and those who are unable to get out of bed. It often has little to do with whether they put in an extra training session or develop a new skill. That's more true in 2021 than ever before.
"We're starting to see in different sports: How did people manage the last year?" Bartley said. " That really matters."
For would-be Olympians, the last year meant the pandemic, but it also meant another year of training for the delayed Tokyo Games. If the mind is prepared for a four-year cycle, it can hold up. If another year is added on, well . . .
"I think it's hard - that's an understatement," Manuel said Thursday night.
And then pile on more. Last summer, she stood up for social justice as her country was in turmoil. But this spring, she had to take three weeks away from the pool. Those shouldn't be - they can't be - compartmentalized.
"I do think that being a Black person in America played a part in it," she said. "This last year for the Black community has been brutal, and I can't say that wasn't something that I saw. It's not something I can ignore."
Nor is her mental well-being. To that end, the USOPC hired Bartley as its first director of mental health services last fall. This week at swimming trials, as well as at the track and field trials that began Friday in Oregon, she and her team have facilitated discussion groups - both for athletes who make the Games and those who don't. The USOPC has funded a hotline staffed by independent experts who can help athletes work through their issues - anonymously if preferred. This is no longer the world of, "Suck it up." This is the world of, "Talk it out."
"We're starting to better understand the science what it does to actually emote or to talk with someone," Bartley said. "We want to highlight that everybody struggles. The literature actually says athletes struggle just as much as the general population. Why would we not talk about that?"
So forget Manuel's time in the 100-meter freestyle at the 2021 U.S. Olympic swimming trials. Remember her message, and the message of so many other athletes - some who will make it to Tokyo, and others who won't. Admitting vulnerability isn't a weakness but a strength, and whatever physical exploits await, the 2021 Summer Games will be more about the mental achievements of the world's best athletes. Training the body was one thing. Training the mind was so much harder - and more important.