Marine's son sails across Pacific with his girlfriend to attend University of Hawaii
by
Wyatt Olson
Stars and Stripes
June 11, 2021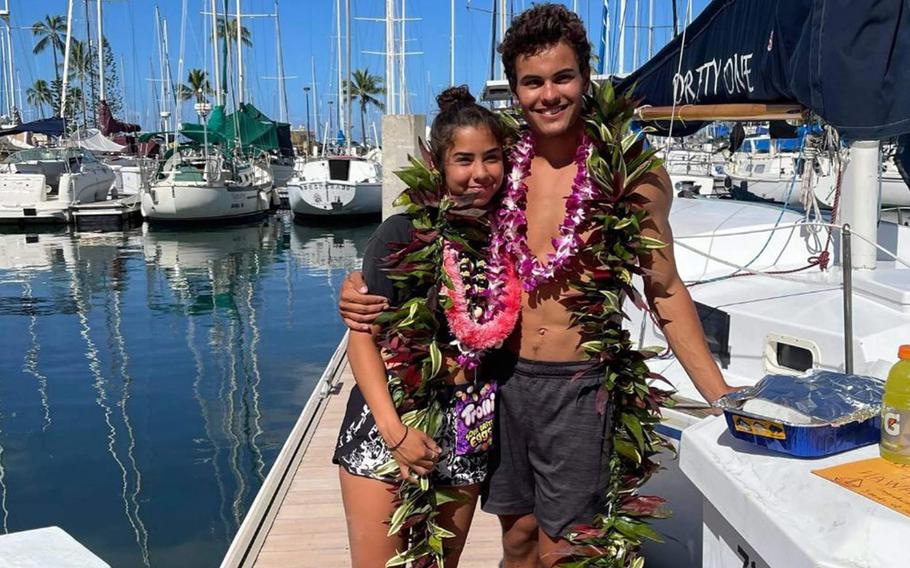 FORT SHAFTER, Hawaii — Every summer as a boy, Tyler Savage's mother took him to spend time in her native country of Hungary, where he swam and learned to sail on Lake Balaton, the largest body of water in Central Europe.
But Savage, now 19, was always frustrated with the strict rules preventing him from sailing all the way across the lake.
Last month, he, along with his 19-year-old girlfriend, Bella Siegrist, set sail on a journey that had no boundaries, crossing the Pacific Ocean from San Diego to Honolulu in a 29-foot boat in 21 days.
They arrived June 5 at a Waikiki Beach marina and will begin attending the University of Hawaii in August. That's a long, long way from Stuttgart High School in Germany, where the two met.
At the time, Savage's father, Marine Corps Lt. Col. Glenn Savage, was stationed in Germany. Siegrist's father, a retired soldier, worked as a government employee.
The sailing trip came about through happenchance and a sense of adventure.
They graduated in the spring of 2020, after which Savage's father was transferred to Marine Corps Air Station Miramar in San Diego. The teen moved with them, and Siegrist joined him there later in the summer.
They had both planned to attend college in Oregon that fall but decided to forgo school for a year when that college offered only virtual classes. They then set their sights on attending the University of Hawaii.
In the meantime, they immersed themselves in San Diego's sailing world, first buying a tiny catamaran for a few hundred dollars, which they rented out for income. Siegrist worked at a marina at Lake Miramar.
With money borrowed from his parents, they bought a 24-foot boat, and with it, the seed of an idea.
"I said to Ty, 'What if we sail to Hawaii with this boat?'" Siegrist said during an interview Wednesday under a huge banyan tree on Waikiki Beach near the marina at which they arrived.
"Ty got into the idea, and he just carried it away."
Savage found a YouTube video posted by a man who had sailed that same route with a 23-foot sailboat.
"That looked miserable," Savage said. "But when he arrived, walking on dry land again having done it, it seemed like a really, really good feeling. So, it motivated me and Bella to do it."
Ultimately, they did not think their first boat was up to the rigors of a transpacific trip, so they ended up selling the boats they had to buy the 29-footer they ended up taking — after a fair amount of refurbishment.
They set off May 15, shortly after they had both gotten their second dose of coronavirus vaccine.
Week one was not at all pleasant — cold and windy, with choppy waters pounding onto the side of the boat and drenching what was inside.
"The first night I threw up," Savage said.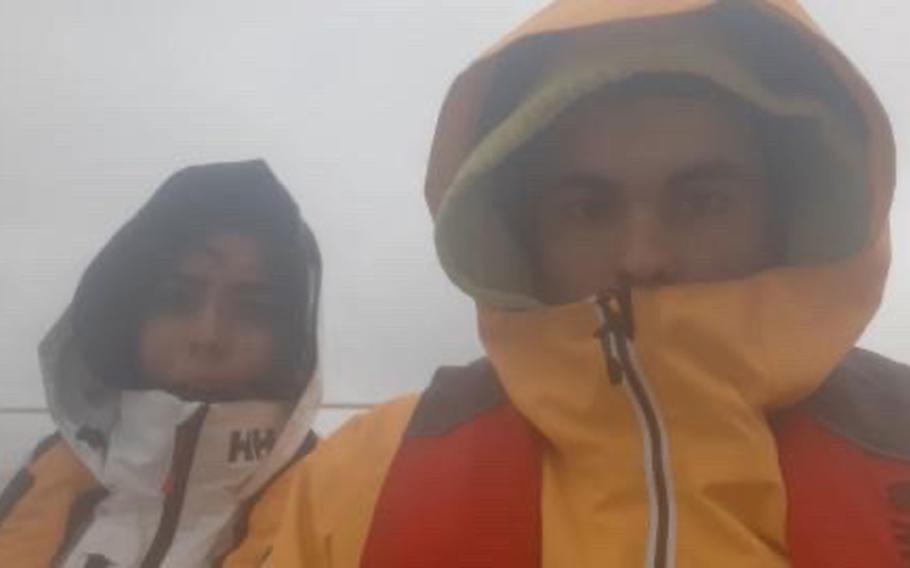 But as they reached a warmer clime and began sailing into the waves, there was more to enjoy.
Whales seemed to be curious about their small boat, swimming under it at times and partially surfacing near it. They once saw a shark rocket out of the water and catch a low-flying bird.
Sound sleep, however, was elusive for the entire three weeks. More often than not, some small item in the boat would begin tap, tap, tapping.
"And eventually you go crazy because you can't sleep," Savage said. "So, we just start opening up everything, all of our stuff and just throwing everything on the floor, rip the whole boat apart to discover what the knocking is."
Savage's parents, who flew to Hawaii for their arrival Saturday, provided them with a lifeboat and other safety devices for the trip.
"We are not big sailors, so we don't exactly know what is needed, so we just trusted them," Vera Savage said.
The teens are staying with friends as they begin preparing for school in the fall. Siegrist plans on majoring in marketing or management, while Savage will focus on physics.
As for their boat, they hope to generate some income by perhaps chartering it during summers for tourists seeking a taste of life at sea, perhaps offering trips to neighboring islands.
"I think a lot of people want to see the more unfiltered version of sailing," Savage said.
Twitter: @WyattWOlson