Bomb threat shuts down Joint Base Pearl Harbor-Hickam in Hawaii for several hours
by
Wyatt Olson
Stars and Stripes
June 9, 2021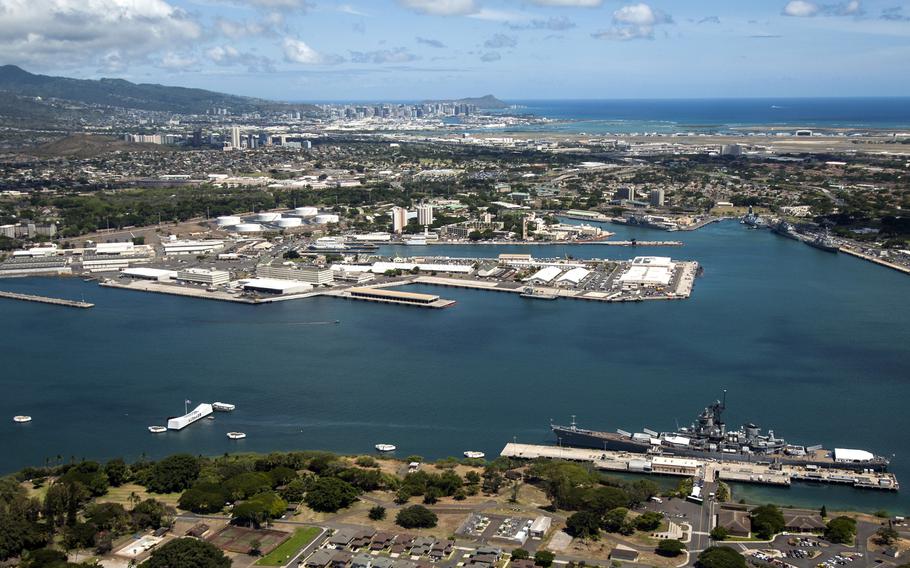 FORT SHAFTER, Hawaii — A bomb threat led to the closure of all gates leading in and out of Joint Base Pearl Harbor-Hickam, Hawaii, for about five hours Tuesday, according to base officials.
Residents and workers at the base were directed to shelter in place at about 9:30 a.m. An "all-clear" was issued about 2 p.m.
No bomb was found, said base spokesman Chuck Anthony.
The alert also temporarily shut down tours to the USS Arizona Memorial, Battleship Missouri Memorial and the Pearl Harbor Aviation Museum on Ford Island.
"Units from Honolulu Police Department and Federal Fire Department responded to assist in the investigation with [base security force] and other emergency personnel," the base said in a news release.
Anthony declined to provide further details about the bomb threat.
The Honolulu Star Advertiser reported that workers at a dry dock at the Pearl Harbor Shipyard were evacuated and that bomb-sniffing dogs were working along the waterfront.
Drivers snarled in long lines of traffic in front of the closed gates expressed frustration on social media over the hours-long delay.
Adding to the confusion, the base had kicked off its annual Citadel Protect exercise Monday, a two-week series of anti-terrorism and force protection scenarios, which the base had warned in a news release would include the firing of blank rounds.
Some social media users believed that the shelter-in-place order was part of the exercise.
Twitter: @WyattWOlson