'Go for Broke' postage stamps honor Japanese-American soldiers of WWII
by
Wyatt Olson
Stars and Stripes
June 4, 2021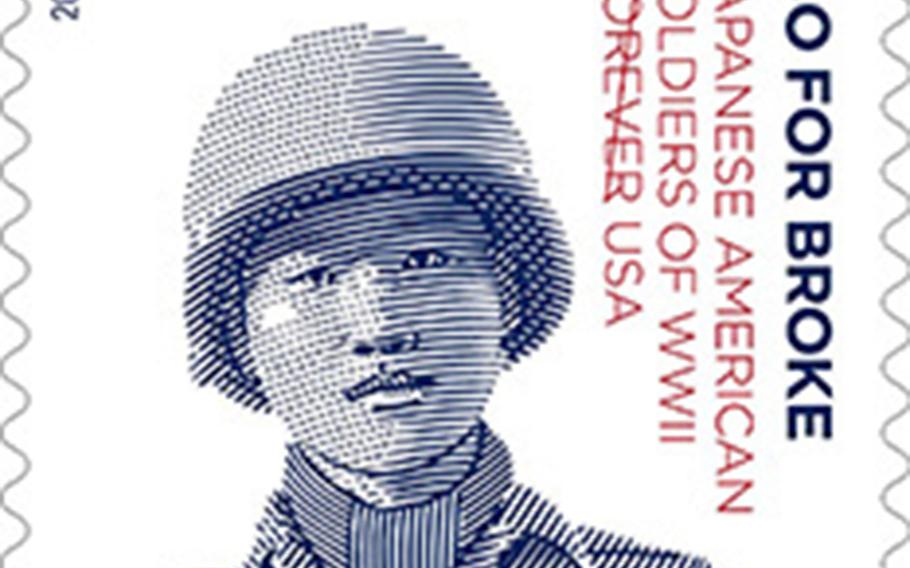 FORT SHAFTER, Hawaii — The U.S. Postal Service on Thursday issued a postage stamp honoring Japanese-American soldiers from World War II that bears the image of a Hawaiian veteran who served in the legendary 442nd Regimental Combat Team.
The stamp features an illustrated version of a photo taken of Shiroku "Whitey" Yamamoto as he stood at a railroad station in France in 1944, the Postal Service said in a news release.
The text on the stamp – Go for Broke, Japanese American Soldiers of WWII, Forever USA — is printed in vertical columns that evoke the style of traditional Japanese writing. It can be purchased online at usps.com/shopstamps.
Roughly 33,000 nisei — Americans whose Japanese parents had immigrated to the United States — served in the U.S. Army during World War II.
In one of America's dark chapters, thousands of Japanese-Americans were sent to internment camps after the U.S. declared war on Japan and Germany in the wake of the Dec. 7, 1941, surprise attack on Pearl Harbor.
Nisei were eventually allowed to serve in the Army, first fighting in Italy in the 100th Infantry Battalion, which then morphed into the 442nd Regimental Combat Team as the soldiers headed to France.
Adopting the motto "Go for Broke," the nisei soldiers were highly decorated but suffered a staggering level of casualties. Some served as translators, interpreters and interrogators in the Pacific for the Military Intelligence Service.
About 1,000 nisei served in the 1399th Engineering Construction Battalion, which worked on crucial defense projects on Oahu.
"As a military veteran, I have the greatest appreciation for the more than 33,000 nisei, or second-generation Japanese Americans, that served our nation during World War II," Donald Moak, a member of the U.S. Postal Service Board of Governors, said during a virtual ceremony dedicating the stamp on Thursday.
Also joining the dedication were three World War II veterans: Shinye Gima, Don Miyada and Yoshio Nakamura.
Yamamoto, who died in 2018 at age 95, was born in a small town on the Big Island of Hawaii. Following the attack on Pearl Harbor, he volunteered with the Civilian Conservation Corps.
In 1943, he joined the 442nd Regimental Combat Team and was assigned to an anti-tank company as a jeep driver.
The company was later attached to the 517th Parachute Infantry Regiment, 1st Airborne Task Force, which landed in France's southern Mediterranean by gliders as part of Operation Dragoon.
Twitter: @WyattWOlson