Pandemic-era 'reverse parade' becomes tradition for another class of Humphreys grads
by
Matthew Keeler
Stars and Stripes
May 30, 2021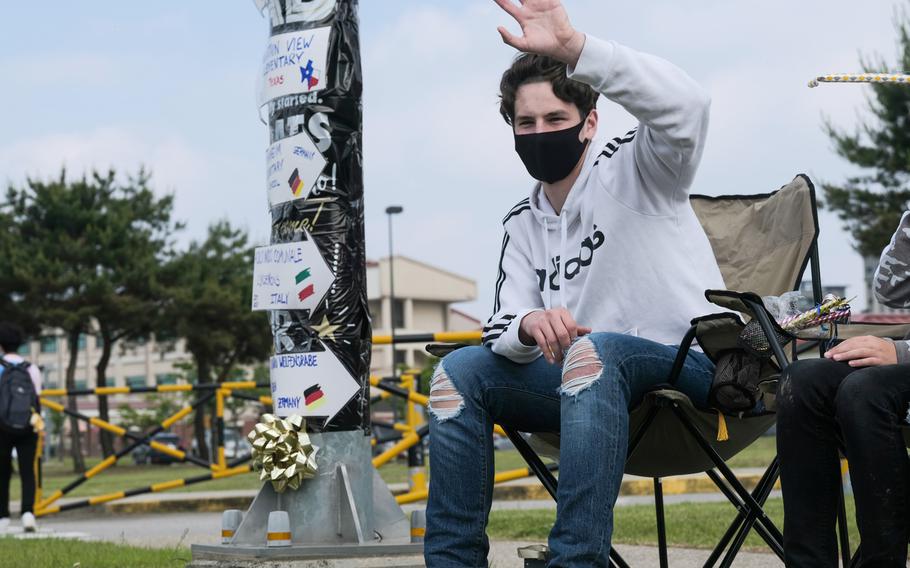 CAMP HUMPHREYS, South Korea – The graduating class of Camp Humphreys High School lined the garrison's streets recently as vehicles filled with friends and family drove past in a now-familiar pandemic-era ritual of celebration.
"Reverse parades" like the one held Thursday provide an opportunity for the community to recognize and congratulate their own. It began last year with an idea from Principal Erin Grazak when strict coronavirus mitigation measures precluded large gatherings.
"This was a big hit last year," Grazak said. "This event was founded by COVID, and I think it's a new tradition that's just started."
COVID-19 is the respiratory disease caused by the coronavirus that spawned the pandemic.
For the reverse parade, each student has an individualized light pole hung with a banner made with their name and graduation photo. The students decorate their posts however they want before the parade begins. Garrison commander Col. Michael Tremblay and Command Sgt. Maj. Benjamin Lemon then lead a convoy of over 150 vehicles past the soon-to-be graduates.
Traditionally, graduates in their caps and gowns walked the halls of the elementary and middle schools as staff and the younger students cheered them on, a custom called the Legacy Walk.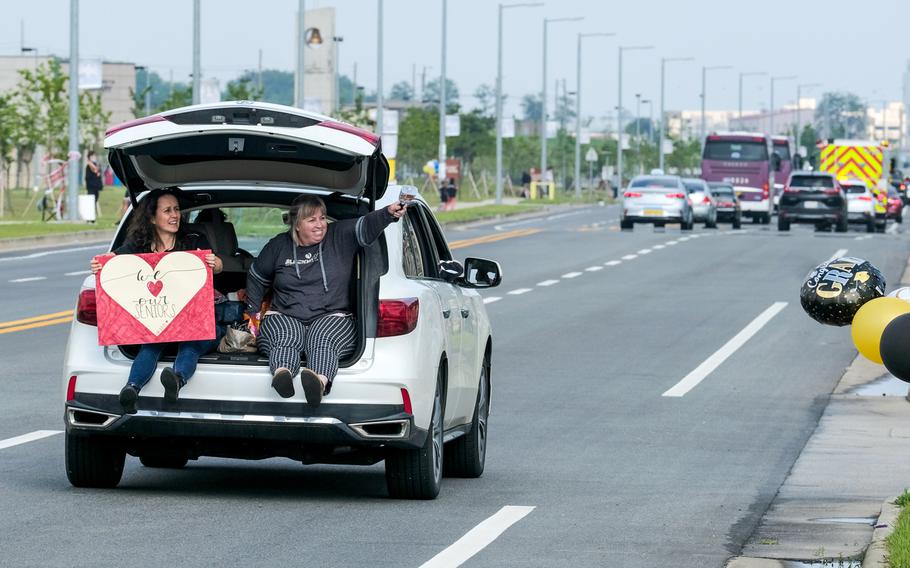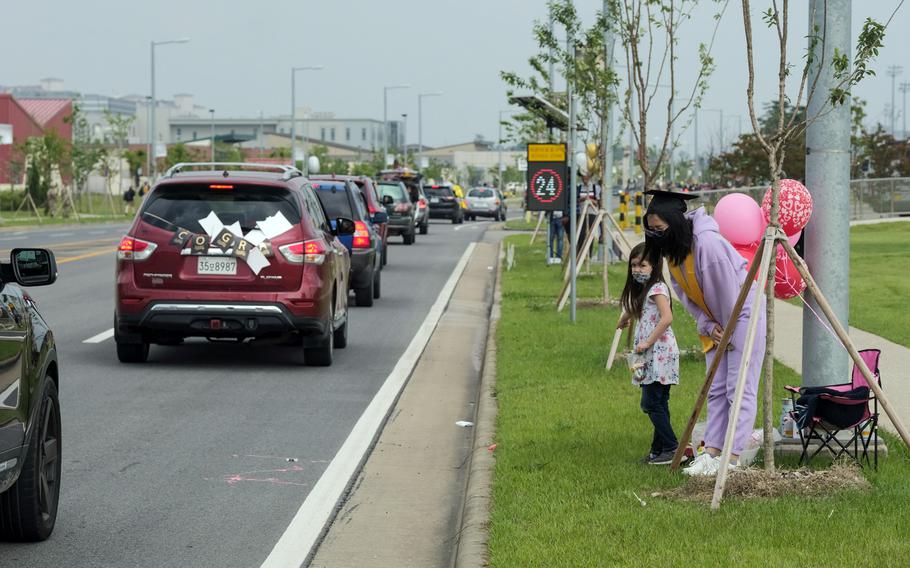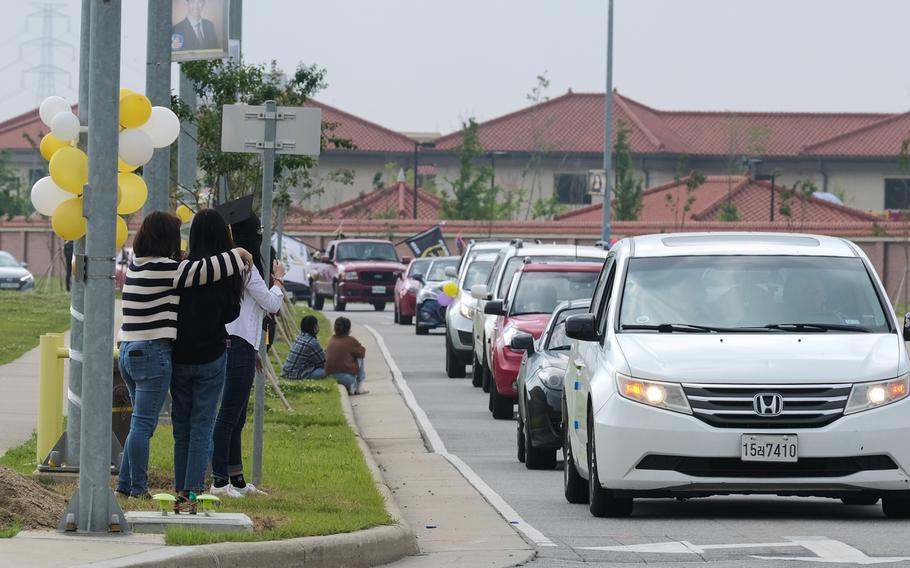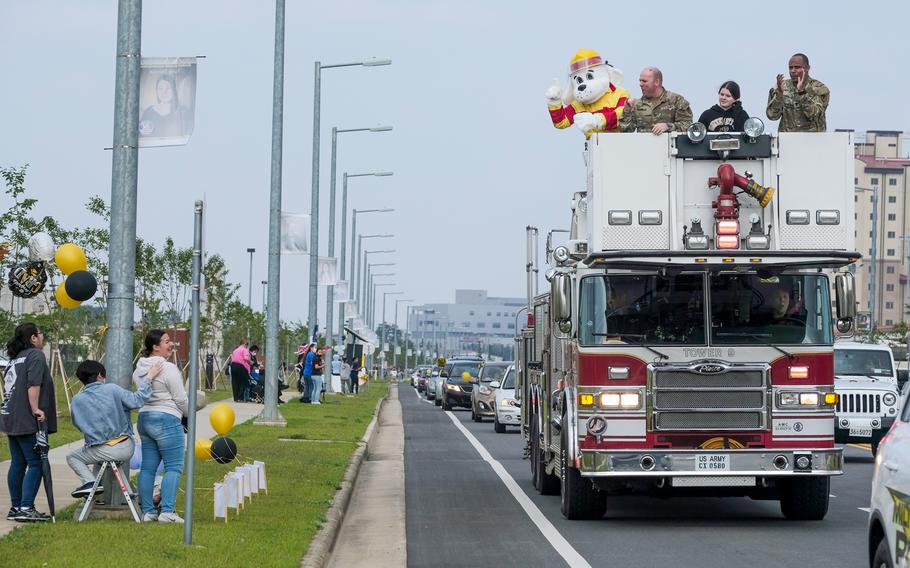 This year's ritual allows those unable to attend the graduation ceremony on Thursday a chance to congratulate each of the 143 students individually, Grazak said.
Matthew Macy, 17, from Vicenza, Italy, said he's never been big on celebrations, but feels excited and said the parade is a great way to end school on a high note.
"It's nice to see every one of my senior classmates just out and celebrating the fact they're moving onto the next part of their journey," he said.
The Humphreys class of 2021 is scheduled to hold a Senior Sunset on Tuesday evening. The seniors plan to gather on the football field one last time to celebrate and talk about future goals as the sun retreats.
On Thursday, 126 out of the 143 graduates plan to walk across the stage at the Collier Community Fitness Center to receive their diplomas. The remaining seniors either moved recently or graduated earlier in the school year.
Twitter: @MattKeeler1231