Soldiers with 25th Infantry cautiously edge back into training in Hawaii
by
Wyatt Olson
Stars and Stripes
April 29, 2020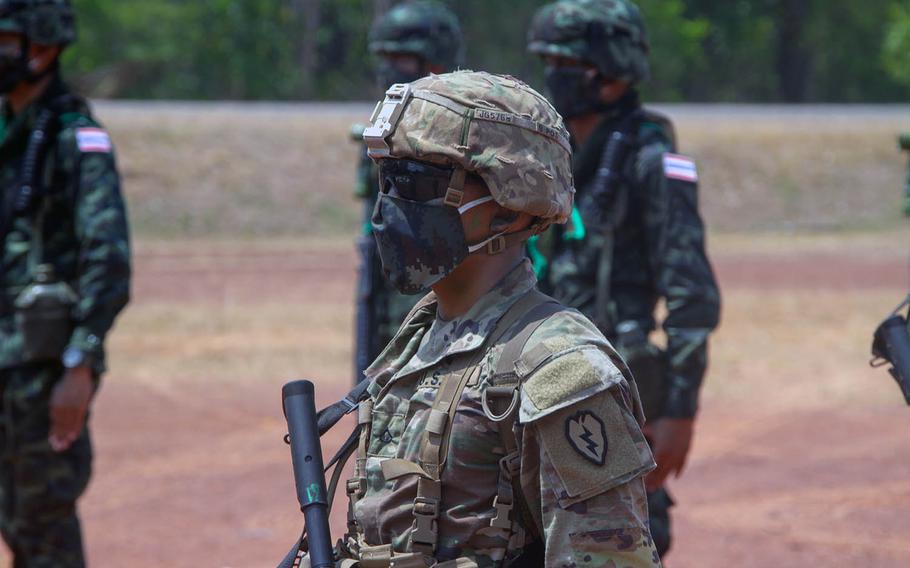 FORT SHAFTER, Hawaii — Soldiers with the 25th Infantry Division in Hawaii will begin individual and small-group arms and skills training after a month-long hiatus of social distancing due to the coronavirus threat.
"We have a requirement to maintain readiness, and so over the next few days you will see a small change here on Schofield Barracks as we begin to allow a small number of our soldiers to start training again," Maj. Gen. James Jarrard, the division's commander, said in a video-streamed virus update Monday. Training will be limited to the individual or squad levels, he said.
Hawaii Gov. David Ige issued a stay-at-home order on March 25 that closed all but essential businesses and banned gatherings in public places. Military officials in Hawaii have abided by the order, and the Army curtailed field training by soldiers, although aviation training continued in a manner that allowed social distancing by those involved.
On Saturday, Ige announced that the stay-at-home order was being extended until at least May 31 "out of an abundance of caution."
The state had 609 coronavirus cases and 16 deaths as of Tuesday, according to the Hawaii Department of Health. The pace of new infections, however, has slowed.
Faced with at least another month of reduced training, Jarrard said the division had to take some steps to maintain readiness.
"We have a requirement to be ready — all of our soldiers — in case our nation calls on us," he said. "Over time, some of these skills atrophy. They have over the last month or so. That is why we need to start our training program back so that we can make sure that our soldiers are proficient at their individual skills."
The training will begin with soldiers shooting their individual weapons on qualification ranges, he said.
"They'll be doing it at a small level, squad-size level, so that we can maintain social distancing protocols just like we have up until now," Jarrard said.
"But soldiers will also be doing training on their individual skill sets in their particular area of expertise or common skills, such as land navigation, driver's training, maintenance on their weapons and equipment — all the things that are required for us to be ready."
Over the course of Monday and Tuesday, roughly 1,100 soldiers completed their required 14 days of restricted movement after returning from the Cobra Gold and Hanuman Guardian exercises in Thailand, the Army said.
None of those returning soldiers had displayed symptoms of COVID-19, the disease caused by the virus, an outcome Jarrard hailed as "a good sign."
"We continue to be trending in the right direction," he said.