Battered dog tag is family's precious bond to father identified from Korean War remains
By
Stars and Stripes
September 22, 2018
---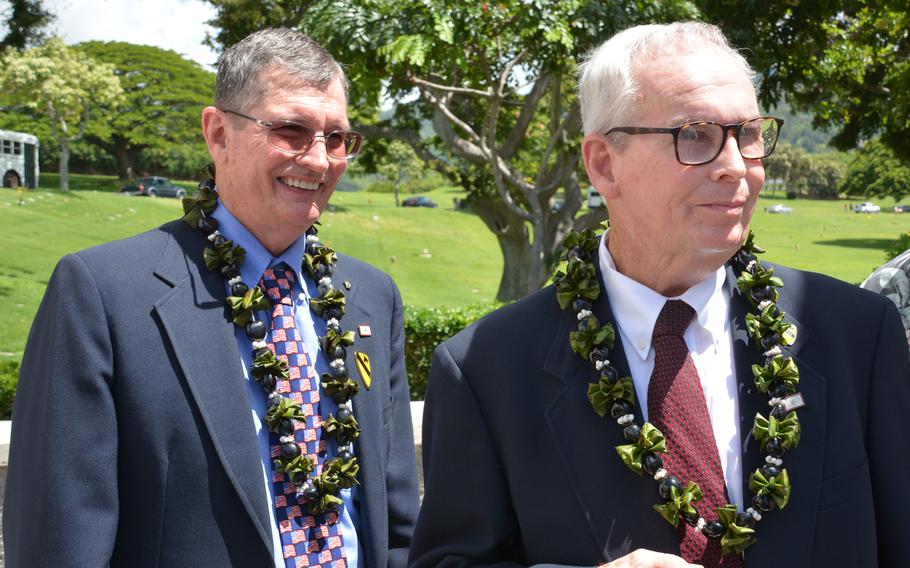 NATIONAL MEMORIAL CEMETERY OF THE PACIFIC, Hawaii – On Friday, brothers Charles and Larry McDaniel ascended the Punchbowl Cemetery's monument displaying the names of roughly 24,000 servicemembers who remain missing from the Korean War and the Pacific theater of World War II.
They climbed up scaffolding to reach the spot where their father's name, Charles McDaniel, Sr., is inscribed in stone and placed a bronze rosette next to his name, indicating he is missing no more.
During an earlier ceremony at the cemetery observing the annual National POW/MIA Recognition Day, Charles McDaniel, Jr., told an audience of 300 how the remains of his father were suddenly and dramatically found.
When North Korea turned over 55 boxes possibly holding the remains of Americans who died in the Korean War in July, McDaniel greeted the news with caution.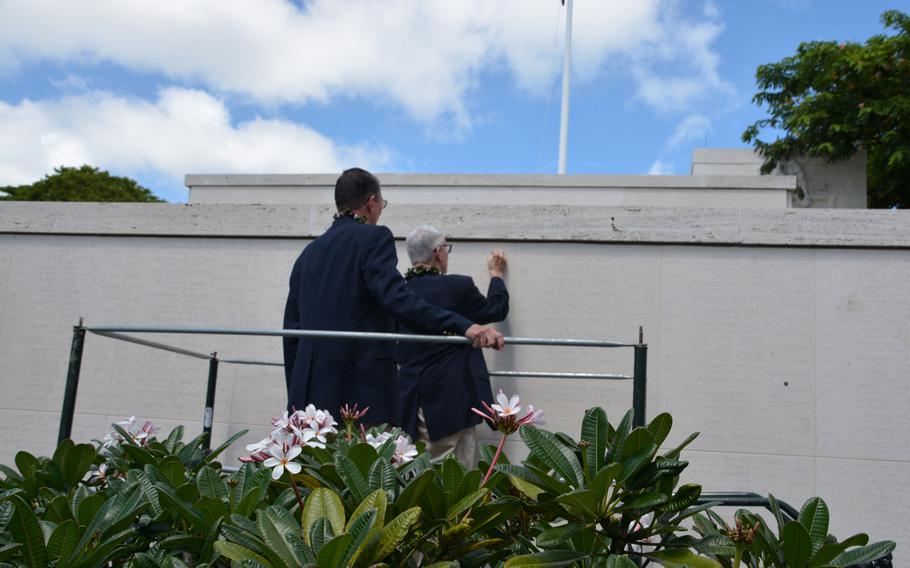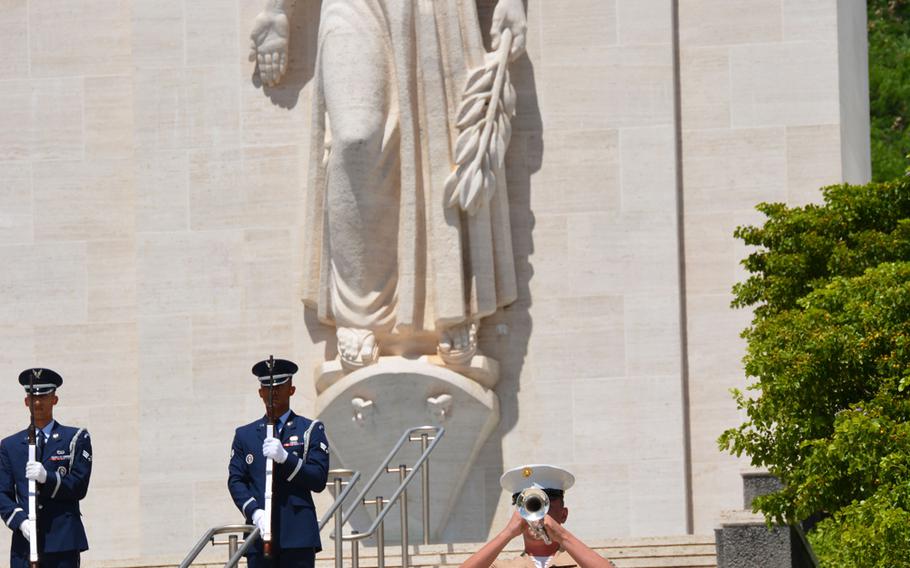 He was three and a half when he last saw his father, who was declared missing in action on Nov. 2, 1950, during the Korean War.
The elder McDaniel, who was a medic, was one of more than 5,000 American servicemembers whose remains are believed to be in North Korea.
"So I figured, 55 sets of remains: 1 percent chance or less" his father's remains would be among them, McDaniel said. "You kind of push it back, like you have to with grief."
Yes, the pain of a lost father always lingers, he said, "but you have to push it back, and you go on with your life."
But then, a representative from the Defense POW/MIA Accounting Agency called with a stunning update: the sole dog tag found in the boxes of remains belonged to his father.
"Last week I got another call," McDaniel explained. "Didn't expect it so soon. Waited 68 years for this.
"They said, 'We've identified your father,'" McDaniel said, gasping as he swallowed a sob, as he did numerous times while speaking to the crowd.
"Excuse me for grieving in front of you," he said. "I'm really not apologizing. I'm just telling you it's a reality."
On Thursday, the brothers were shown their father's remains at the DPAA headquarters at Joint Base Pearl Harbor-Hickam.
"My emotions are jumbled by recent events," he said.
He recalled as a little boy thinking from time to time: "Maybe my dad's still alive."
Then, as he grew up, dark thoughts about his father possibly being in a prison camp somewhere, mistreated and tortured, encroached upon him.
"But I knew logically — as my brother Larry and I discussed from time to time — we knew that he wasn't coming back as a living person," he said.
McDaniel held onto a precious few things that made his father real.
He had a handwritten letter sent by his father to his mother, mailed from Ogden, Utah, as he headed to war in Korea.
"Give my love to the boys," the letter closes, words that took on almost the relevance of scripture to McDaniel, who went on to a career as an Army chaplain.
He has only one memory of his father, a moment when he ran toward him to greet him coming home, his dad sweeping him up in his arms.
Now there is the dog tag.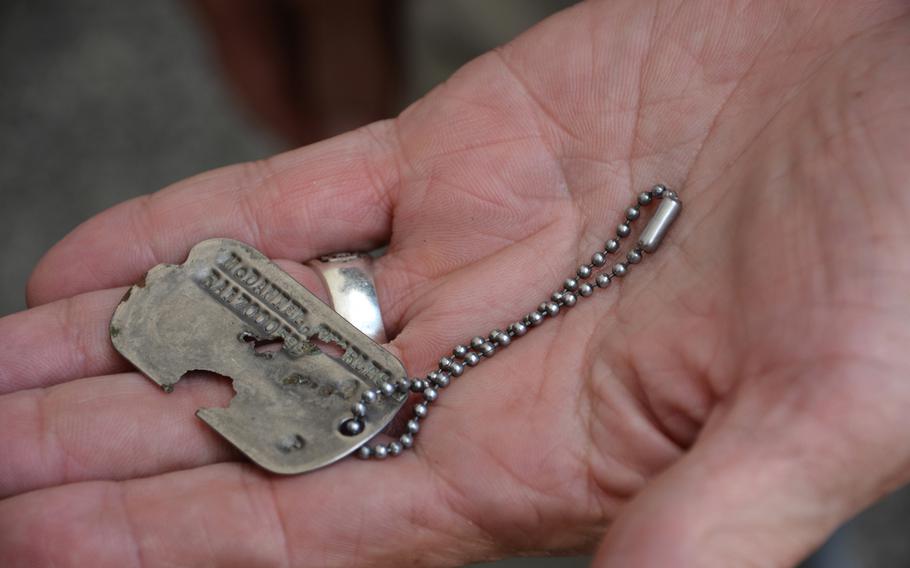 After the ceremony, he held it in the palm of his hand and showed a group of reporters.
"This was around my father's neck," he said with a tone of wonder that he could ever be this close to him.
While at the podium, McDaniel recited the concise information on the dog tag — full name, service number, blood type A, Protestant.
"I value all of those things because I have type A blood, because I have faith, like my father had faith," he said. "That's something that's gotten me through for many years, and I commend it to you.
"I leave him in the hands of God, but I encourage all of you to participate as you can in supporting looking for those who have gone missing, that you take it personally and enthusiastically, steadfastly."
olson.wyatt@stripes.com Twitter: @WyattWOlson
---
---
---
---