US military prepares to aid Japan after massive earthquakes
By
Stars and Stripes
April 17, 2016
---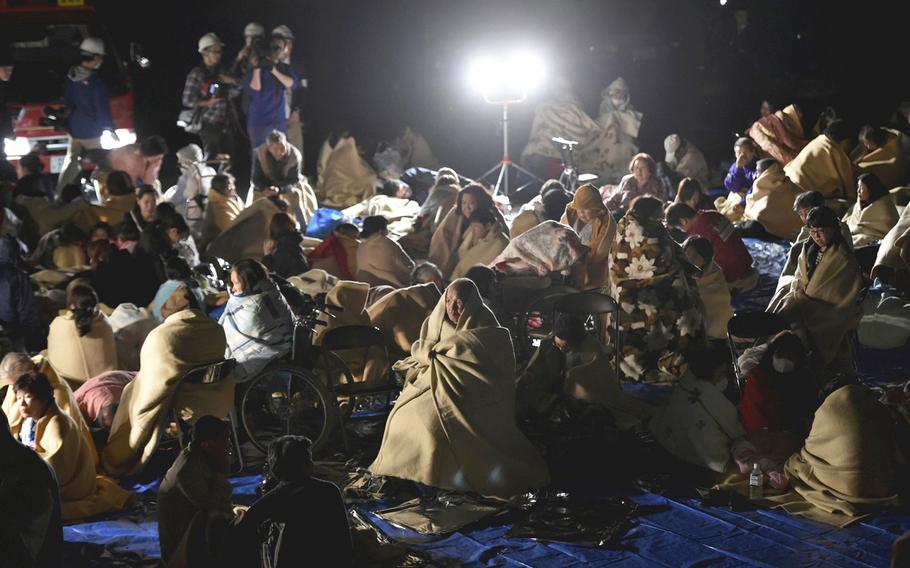 YOKOHAMA, Japan — The United States military is preparing to assist Japan's disaster response and recovery efforts in Kyushu following a series of devastating earthquakes and aftershocks, U.S. and Japanese officials said Sunday.
The military is readying an "operational airlift," according to a U.S. Forces Japan statement Sunday afternoon.
"To the people of Japan and the region affected by this tragedy we send our heartfelt sympathies," said USFJ commander Lt. Gen. John Dolan. "The men and women of [USFJ] stand with you during this difficult time."
Initial support will come from the 3rd Marine Expeditionary Force's Osprey aircraft and the 374th Airlift Wing's C-130 cargo planes, USFJ spokesman Lt. Col. Kenneth Hoffman said Sunday.
Four of the tilt-rotor Ospreys prepared for takeoff from Marine Corps Air Station Futenma in Okinawa, according to a Marine Corps statement issued at 6 p.m. Sunday. The Ospreys were scheduled to fly to Marine Corps Air Station Iwakuni, 130 miles from Kumamoto.
Other Marine and Air Force aircraft are also potentially available, as are the Army's helicopters, Hoffman said.
Navy officials in Japan were determining Sunday which ships and aircraft would be useful to the disaster response. In addition to its assets in Japan, the John C. Stennis carrier strike group is in the Asia-Pacific region.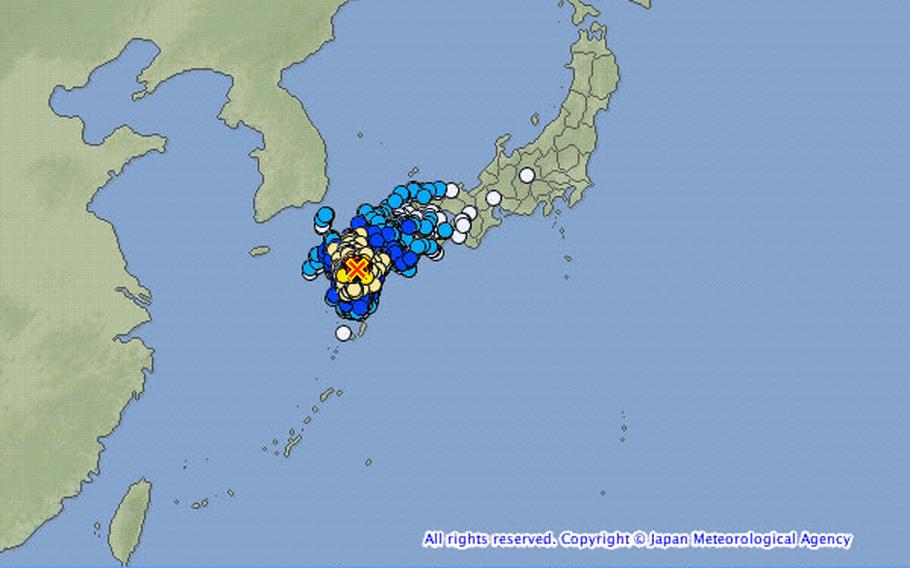 The Japanese government made the request for assistance to the State Department on Saturday, according to a U.S. official speaking on condition of anonymity.
Prime Minister Shinzo Abe on Sunday morning said U.S. forces would be providing aircraft.
"We are grateful," said Abe, according to a Jiji Press report. "We want to conduct it as soon as we coordinate the transportation needs and make preparations."
A Japan Defense Ministry spokesman told Stars and Stripes on Sunday that operations would begin as soon as possible, once needs on the ground in Kyushu had been assessed.
The Japan Self-Defense Forces is now assisting rescue efforts. Defense Minister Gen Nakatani said as of 9 a.m. Sunday, there are 17,000 Japan Air Self-Defense Force personnel in Kumamoto and that will be increased to 20,000 by the end of Sunday, a defense ministry spokesman said.
At least 41 people have died since a 6.4-magnitude earthquake struck Thursday night nearby Kumamoto, a city of about 740,000 people in southwest Japan, according to The Associated Press.
On Saturday night, a 7.3-magnitude earthquake destroyed bridges, initiated mudslides and further stymied recovery efforts.
The Kumamoto Prefecture government said there are 183,882 people staying in emergency shelters, according to a Kyodo News report.
The closest major U.S. military facility to Kumamoto is Sasebo Naval Base, about 65 miles west. Military bases have not reported significant damage or injuries since the earthquakes began.
The last major U.S. humanitarian assistance deployment within Japan came during Operation Tomodachi, which mobilized 24,500 personnel at peak levels following the earthquake, tsunami and nuclear disaster on March 11, 2011.
Stars and Stripes reporter Hana Kusumoto contributed to this report.
slavin.erik@stripes.com Twitter:@eslavin_stripes
---
---
---
---