Curfew eased for servicemembers in Japan
By
Stars and Stripes
February 12, 2013
---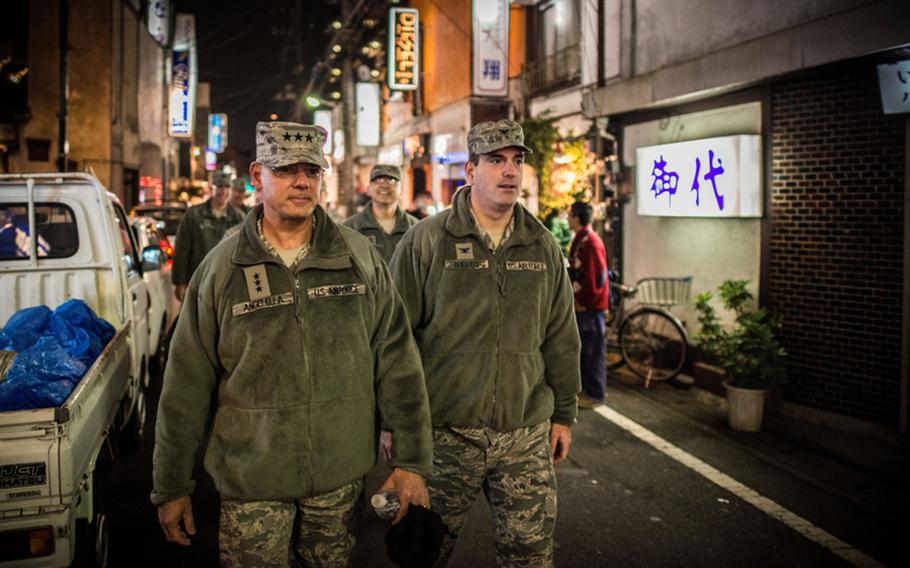 YOKOSUKA NAVAL BASE, Japan — U.S. Forces Japan adjusted its curfew rules Wednesday, pushing back the start by an hour to midnight for servicemembers E-5 and below and dropping it altogether for higher ranks.
Servicemembers of all ranks in mainland Japan remain barred from drinking alcohol in public during the 12 a.m.-5 a.m. curfew, according to a USFJ statement.
The Air Force and Army immediately adopted the new policy. The Navy said it was delaying implementation pending further review. In the meantime, sailors must continue to abide by the old 11 p.m.-5 a.m. curfew on all ranks, Commander Naval Forces Japan officials said.
Marine Corps officials did not respond to a request for comment on Okinawa, though USFJ officials said restrictions on public off-base drinking there will remain in effect.
The curfew was enacted after the alleged rape of a Japanese woman by two U.S. sailors on Okinawa in October. The charges inflamed tensions on the island, where demonstrators were already protesting against the deployment of the Marine Corps MV-22 Osprey aircraft.
Service-specific restrictions were imposed when alcohol-fueled misconduct continued. At one point, the Navy barred sailors from drinking in their own homes and barred some sailors with previous alcohol-related incidents from leaving base or wearing civilian clothing.
The rules were generally unpopular with servicemembers, though some said they understood how the restrictions could be seen as a political gesture to Japan in the wake of the rape allegations.
Under the new rules, servicemembers E-5 and below must be on a U.S. military base, off-base in a private residence or lodging, or must be performing official duties to comply with the curfew. They also must have a "liberty buddy" with them if they go out between 7 p.m. and midnight.
All servicemembers must complete sexual assault prevention and response training, as well as an orientation course on Japan prior to being granted liberty, USFJ officials said.
Orientation courses vary among services; Yokota Air Base's Right Start course takes a few hours over the course of two days, while Yokosuka Naval Base's briefing lasts most of the day for an entire work week, through Friday morning.
The orientation course requirement will also apply to servicemembers arriving in country on temporary duty, USFJ spokesman Lt. Col. Dave Honchul said.
"It is up to the services to find the best way to implement the training," Honchul said.
Yokota airmen who have already completed the course will not have to take it again, 374th Airlift Wing officials said Wednesday. Servicemembers in other branches are not expected to have to retake orientation, although that decision will be up to each service.
Servicemembers in Okinawa will continue to follow the guidance of the III Marine Expeditionary Force, which imposed a public off-base alcohol ban there on Dec. 1.
All servicemembers in Okinawa also are barred from leaving bases or off-base residences with a blood alcohol content level of 0.03 or higher.
Prior to the October rape allegations, USFJ had no official liberty policy. The new rules came after consultation with each of the major service commands in Japan, USFJ officials said.
"We think we've established a policy we believe is appropriate in size and scope now," Honchul said.
Reaction to the new rules was mixed at Sasebo Naval Base.
Some were happy about the later curfew, while others still felt as though they were being treated like children. Sailors said the curfew has affected morale and would affect retention down the line.
Petty Officer 3rd Class Atiba Ferarydefreitas said he appreciated the extra time out, but since officers and servicemembers above E-5 were responsible for some of the behavior that led to the crackdown, the continued curfew should apply to everyone.
"I like that it's a little more lenient," he said. "But you're basically saying they're not being punished. It's not just E-5 and below. Problems are coming from E-6 and above. [The midnight restriction]should be for everyone."
Airman 1st Class Jose Cruz, 19, of Clarksville, Tenn., who is stationed at Yokota Air Base, shared similar sentiments.
"I don't think you can narrow it to specific ranks or enlisted versus officers," he said.
Stars and Stripes reporters Matt Burke and Seth Robson contributed to this story.
slavine@pstripes.osd.mil Twitter: @eslavin_stripes
---
---
---
---