Quake moves U.S. aircraft carrier from Yokosuka pier
---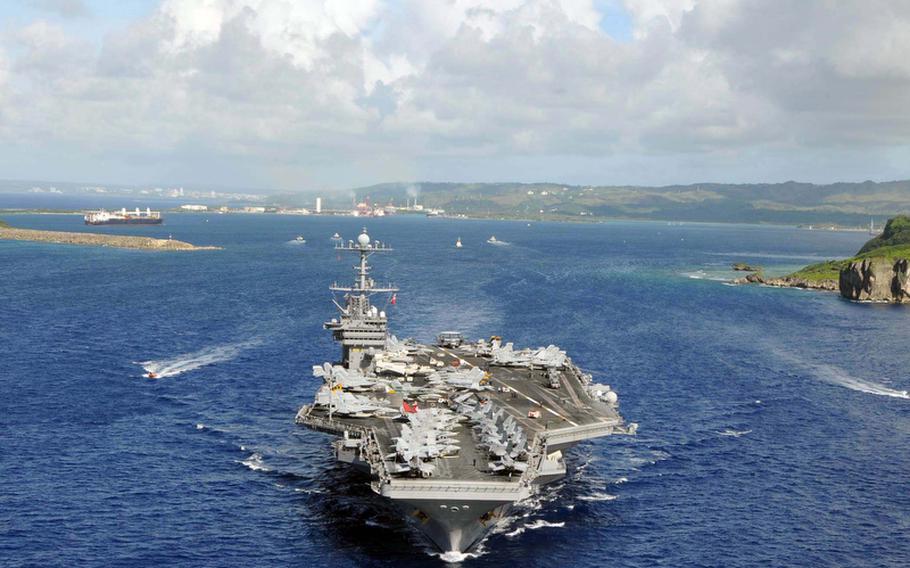 YOKOSUKA NAVAL BASE, Japan — Sailors aboard the aircraft carrier USS George Washington say the gentle rocking that signaled the beginning of the earthquake felt so familiar, they barely took note. As it intensified over the next few minutes, they knew something extraordinary was happening.
"It actually felt like we were under way and answering bells," said Chief Petty Officer Bill Mason, of Damascus, Pa.
Mason checked the water line in the harbor shortly after the major quake — the water had dropped 6 feet, he said.
The George Washington is 1,092 feet long and includes 60,000 tons of structural steel — but the quake was so strong that it moved the ship away from its pier, sailors said.
"It's like a city moving around," said Petty Officer 3rd Class Devin Proctor, who was aboard at the time.
Proctor, from Tooele, Utah, lives along the Wasatch fault line and said he is used to earthquakes, "but I've never felt one like that."
Petty Officer 3rd Class John Williams was also on deck when the quake struck.
"The ship started shaking and I didn't know what was going on," said Williams, of Memphis, Tenn. "That was my first earthquake, so I didn't really know what it was supposed to feel like … after a while, I knew it must have been big."
At 6:30 p.m., loudspeakers at Yokosuka Naval Base directed non-residents to go to the Fleet Recreation center or the Fleet Theater.
---
---
---
---