Angry victims say Navy misled them over doctor's sex-crime sentence
---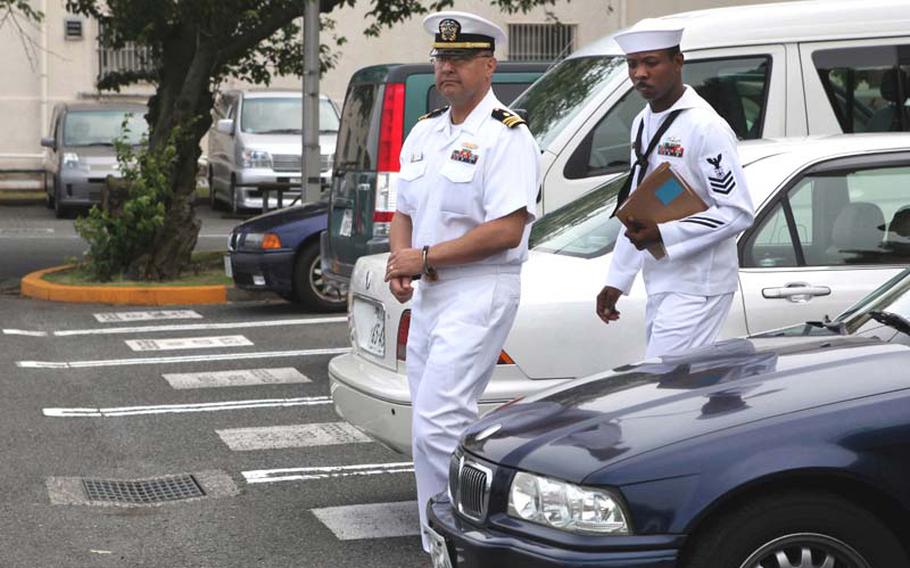 YOKOSUKA NAVAL BASE, Japan — Victims of convicted sex offender Lt. Cmdr. Anthony L. Velasquez say they are furious at the Navy for letting the disgraced doctor off with what they perceive as a light sentence — and then misleading them into thinking the sentence had been much tougher.
At least 23 women had alleged that Velasquez sexually violated them after they sought medical treatment in two locations, at Japan's Naval Air Facility Atsugi branch clinic in 2007 and 2008 and Kuwait's Camp Arifjan clinic between December 2008 and June 2009.
On May 26, Velasquez pleaded guilty at a Yokosuka Naval Base court-martial to two counts of wrongful sexual contact and two counts of conduct unbecoming an officer. In exchange for those guilty pleas, under the terms of a pretrial plea agreement negotiated between the Judge Advocate General's Office and the defense, prosecutors dropped 29 other counts of sexual misconduct and related charges leveled against Velasquez by his former patients.
Military judge Cmdr. David Berger sentenced Velasquez to two years in prison, a $28,000 fine, dismissal from the Navy and forfeiture of all pay and allowances, but the convening authority suspended the prison sentence and fine in accordance with the pretrial agreement. Instead, Velasquez spent just seven days in the Yokosuka Naval Base brig.
But a post-trial e-mail sent to victims by the JAG office left some with the impression that Velasquez would suffer a much harsher fate.
The May 26 e-mail stated that "the judge awarded a sentence of 24 months, a $28,000 fine to be paid right away or else an additional 6 months would be imposed, total forfeitures of pay, and most iportantly [sic], a DISMISSAL from the Navy."
The e-mail made no mention of the plea agreement. Nor did it state that the judge's sentence had been largely set aside because of the plea deal. Unless Velasquez violates the terms of the plea agreement and commits another crime, he won't go to federal prison or pay any penalties.
Stars and Stripes contacted seven of the women whose complaints led to charges against Velasquez. Three said they did not fully understand what happened.
"I was confused when I read the [May 26] Stars and Stripes article, and it said that none of the punishment set would be happening unless he committed another crime ... so I guess I don't even know what his actual punishment is," said an enlisted soldier whom Velasquez was convicted of molesting while she was a patient at Camp Arifjan. "lt's all been very unclear to me. I ask questions, and a lot of them don't get answered."
Capt. Rex Guinn, commander of Regional Legal Service Office Japan and the ranking officer copied on the JAG e-mail, said the victims were offered the right to choose whether they wanted to be notified of a plea agreement as part of the Victim-Witness Assistance Program. Neither Guinn nor any of the attorneys copied on the e-mail sent a follow-up e-mail to the full group of victims to clarify the decision.
"It was a wrap-up providing the 2703 form," said Guinn, referring to a form that explains the post-trial rights of victims. "That was the intent of the communication."
The victims are free to lodge an official complaint if they believe they were misled, Navy spokesman Cmdr. Ron Steiner said. As of Friday afternoon, no one had done so, he said.
Two of the victims that Stars and Stripes interviewed said that prosecutor Lt. Emily Dewey, the author of the e-mail message, explained the plea deal to them after they sent her private replies about the confusing message.
Another victim said she did not blame Dewey for the misleading e-mail "because it didn't sound like her at all."
That victim said Dewey had told her about the impending plea deal days before the final hearing. Before the deal was made, she said, Dewey had expressed her eagerness to fight the complete case in a trial.
Dewey could not be reached for comment Friday, but told Stars and Stripes last week that all requests for comment should be referred to her superiors.
Among the seven women interviewed, two expressed some satisfaction that Velasquez had been found guilty, along with relief that the trial had concluded.
However, all expressed dismay over the terms of the plea deal, which most called "a slap on the wrist."
Velasquez was released from the brig earlier this week and was walking around base at Atsugi on Wednesday, according to Navy officials.
"It feels like, because we're military, there is no justice and that he's getting away with it," said one of the victims. "Had we been in the civilian world, he'd be in jail for a long time.
"But that's not the case in the military, where the higher-ups make that decision," she continued. "It's another slap on the hand. It's appalling. You know you're going to suffer the rest of your life, and he's just going to lose his license. Are you kidding me? It doesn't make up for what he did."
Many of the women visited Velasquez for common maladies such as neck and sinus pain. But, according to evidence and court testimony, Velasquez, 48, used his ungloved hands to fondle their genitals while purporting to check their lymph nodes.
"For me, this is yet another example of the military protecting officer positions from disciplinary action," another victim said. "Have an enlisted man do the same thing, the sentence would have been much harsher."
Steiner, the Navy spokesman, emphasized that Velasquez will have to register as a sex offender when he returns to the United States. His medical credentials also will be subject to revocation by a civilian medical body, and he will be dismissed from the Navy — the harshest type of discharge available in that service.
"That's the equivalent of a dishonorable discharge," Steiner said. "These are serious outcomes."
The case must now be authenticated, which includes transcription and review of the proceedings by attorneys. It is then forwarded for approval to the convening authority, which in this case is the Naval Forces Japan commander, Rear Adm. Richard Wren.
Wren can make the sentence more lenient but he cannot make it any harsher.
"The convening authority can order a rehearing to the findings ... but I've never seen it happen," Guinn said.
Following Wren's decision, the case is subject to appeal.
---
---
---
---