Venezuelans keep arriving in Texas, with or without temporary protected status
By
The Dallas Morning News
July 23, 2022
---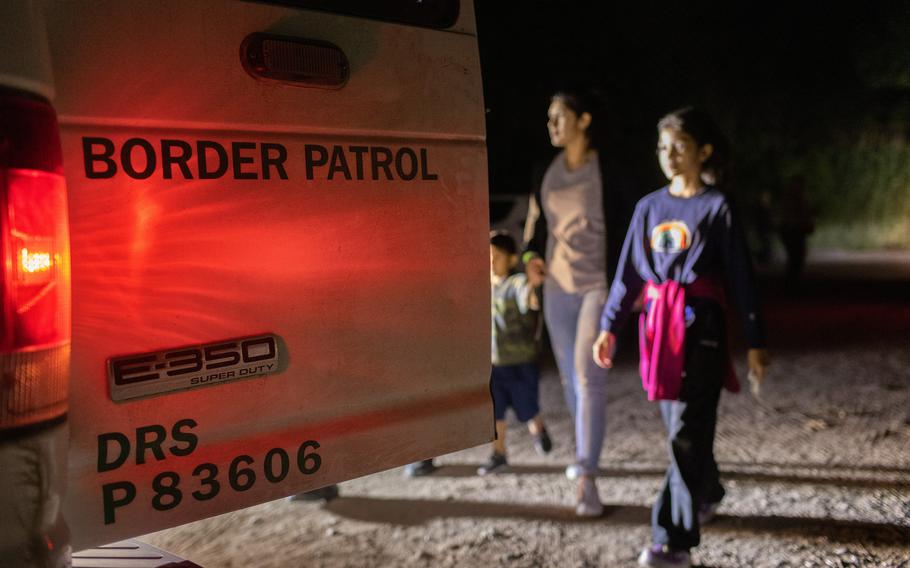 DALLAS (Tribune News Service) — Although not all Venezuelans will benefit from the recently announced Temporary Protected Status granted by the Biden administration, many who continue to arrive in the country in search of a better future are choosing North Texas to settle and restart their lives.
The arrival of Venezuelans into the country has increased over the last five years due to that country's economic and political turmoil. According to the United Nations Refugee Agency, 6 million Venezuelans have fled their country.
Earlier this month President Joe Biden extended the Temporary Protected Status for Venezuelans who had entered the country before March 8, 2021. This designation doesn't confer legal status and only offers protection against deportation and a temporary job permit.
But recent arrivals like the Cuevas family of Lewisville do not qualify for this benefit and find themselves in a migratory limbo.
Néstor Cuevas, his wife and three daughters arrived to the U.S. in January after they left their extended family and possessions behind in Barinas, a central state of Venezuela. Cuevas said the family had no choice but to leave because Venezuela could not offer a stable life, and their lives were threatened every day by the growing violence.
According to Human Rights Watch, Venezuela is currently among the countries with the highest murder rates in the world.
Earlier this week, A Department of State travel advisory recommended U.S. citizens to "Do not travel" to Venezuela "due to crime, civil unrest, poor health infrastructure, kidnapping, and the arrest and detention of U.S. citizens without due process or fair trial guarantees."
"We had to leave or we were going to get killed," said Cuevas, 40. "So we decided to get in touch with some acquaintances in Dallas. We packed our stuff, said goodbye to our family, and we told our youngest daughters that we were going on vacation and would be back (to Venezuela) soon."
On New Year's Day, they decided to start a new life in a new country.
They arrived in the U.S. after turning themselves to immigration authorities on Jan. 1 at the border entry point in San Luis, Arizona, which borders San Luis Río Colorado in the Mexican state of Sonora.
They left Venezuela by plane in December 2021 and spent three weeks traveling through different states in Mexico. They were joined by Cuevas' brother, his wife and daughter.
"We bought a vacation package and spent several days in Playa del Carmen (in South Mexico.) The girls enjoyed the tours and everything, but we were only thinking about getting to the United States," Cuevas said.
Cuevas and his wife were high school teachers in Venezuela and co-owned an industrial recycling business. He said decided to leave the country after they were threatened for refusing to pay "monthly fees" to the military.
At the Arizona crossing point, the family applied for political asylum. They went through several ICE processing centers before being released in Los Angeles.
A few weeks later, they were picked up by an acquaintance at D-FW International Airport.
The Cuevas family doesn't qualify for TPS because of the date on which they entered the country.
"It is what it is; we know we don't qualify for that program, but it's a blessing for our fellow Venezuelans. We hope that this administration would extend that designation… so we all can be eligible in the future," said Cuevas.
A new home
Casa Venezuela Dallas is a nonprofit organization that helps Venezuelans arriving in Dallas-Fort Worth with the immigration process, teaches how the public education system works and helps find jobs.
According to Casa Venezuela, more Venezuelans are choosing to come to the North Texas area instead of South Florida, where most of the Venezuelan diaspora is concentrated. At least 5,580 Venezuelans live in the area, according to the 2019 Census community survey, the most recent number.
Casa Venezuela Dallas estimates that there could be more than 18,000 here.
"Before, they would go to Houston, but because this area is cheaper, there's less competition for jobs and the growth of the Metroplex has made Venezuelans come here," said Carolina Perreira, member of the board of Casa Venezuela Dallas.
Pereira said she increasingly hears stories from Venezuelans who traveled by land to get to the U.S.-Mexico border and surrendered to immigration authorities.
According to the Office of Customs and Border Protection, during the 2021 fiscal year, there were 48,678 encounters of Venezuelan migrants at the border with Mexico, compared to 2,787 encounters the previous year.
So far in the current fiscal year, which ends Sept. 30, there have been 97,696 encounters.
"It's very different;" how they travel now, Pereira said. "Venezuelans would travel with their visas, enter the country legally, and simply stay here. But right now, because of the economy over there, it's almost impossible to buy a plane ticket, (and) apply for a visa and pay for the trip."
Therefore, more people are traveling by bus from country to country, " she added about a journey that can strecht up to 5,000 miles depending on what roads migrants take.
Waiting for approval
Therry Argüelles, 39, arrived in New Jersey in December 2018 by plane with a tourist visa.
Because Argüelles, from the northern city of Barquisimeto, entered the U.S. before March 8, 2021, he was able to apply for TPS last year.
"They still haven't approved me (for the TPS.) I've only received two letters where they've told me they're working on my case, but they don't say if they accepted or denied me," said Argüelles.
To support himself and help his parents, Argüelles works as a driver for Uber and Lyft after two years of working for FedEx in Dallas. He's concerned that a resolution in his TPS permit could also delay his work permit eligibility.
Both the Cuevas and Argüelles families would like to return to their native Venezuela if conditions there improve. But for now, Texas is home.
"We came here to work, to give our daughters a better future and to contribute to this country's economy. We want to do things the right way, work on whatever is necessary to have an honest life," Cuevas said.
———
©2022 The Dallas Morning News.
Distributed by Tribune Content Agency, LLC.
---
---
---
---