NDAA signed this week by Biden bars him from closing Gitmo detention center
by
Corey Dickstein
Stars and Stripes
December 29, 2021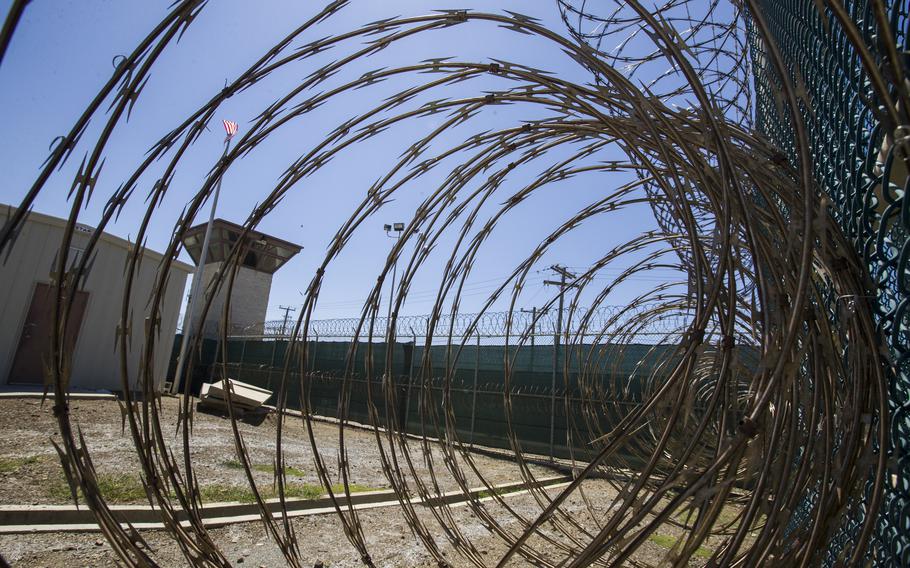 The annual Pentagon policy bill President Joe Biden signed into law this week bars him from taking steps toward closing the controversial detention facility at the United States' Naval Station Guantanamo Bay in Cuba.
Biden, in a statement issued after signing the Fiscal Year 2022 National Defense Authorization Act on Monday, criticized the language included in the bill, which precludes him from sending law of war detainees to certain countries or transferring them to prisons on U.S. soil. The Guantanamo Bay facility currently houses 39 detainees — all captured early in the American war on terror launched in response to the Sept. 11, 2001, terrorist attacks on New York and Washington.
"It is the longstanding position of the executive branch that these provisions unduly impair the ability of the executive branch to determine when and where to prosecute Guantanamo Bay detainees and where to send them upon release," Biden said in the statement. "In some circumstances these provisions could make it difficult to comply with the final judgment of a court that has directed the release of a detainee on a writ of habeas corpus."
The NDAA extended language included in previous versions of the bill which bar the White House from spending money toward shuttering the naval base in southeastern Cuba, which is secluded from the rest of the Cuban mainland, or closing the sprawling detention facilities built there after 9/11. Biden — as President Barack Obama before him — has said his administration is committed to closing those facilities.
Biden in July transferred one detainee, Abdul Latif Nasser, to his home country Morocco after he had been held without charges since 2002. It was the first transfer of a detainee from Guantanamo Bay since the Trump administration sent a man in May 2018 to his native Saudi Arabia to complete a 13-year sentence for terrorism-related charges to which he had pleaded guilty.
That man, Ahmed Muhammed Haza al-Darbi, was the lone Guantanamo detainee transferred during Trump's presidency. Obama transferred more than 170 detainees during his eight years in office, but failed to close the facility, which he had made a central promise of his campaigns in 2008 and 2012.
Republican lawmakers have long worked to block efforts aimed at closing the facility, largely asserting that returning detainees to their home countries or to stand trial in U.S. courts posed national security risks. Language included in the NDAA since at least 2010 has barred presidents from taking steps toward closing the facilities.
Of the 39 detainees currently held at Guantanamo Bay, only 11 have been formally charged with crimes, and 10 of those held without charges have been cleared by parole-like panel for transfer to other countries. U.S. officials have said the detention facility costs about $540 million per year to run — more than $13.8 million for each remaining detainee.
---
---
---
---