Colombia police cadets dressed up as Nazis, sparking outrage and a presidential apology
by
Amy Cheng
The Washington Post
November 20, 2021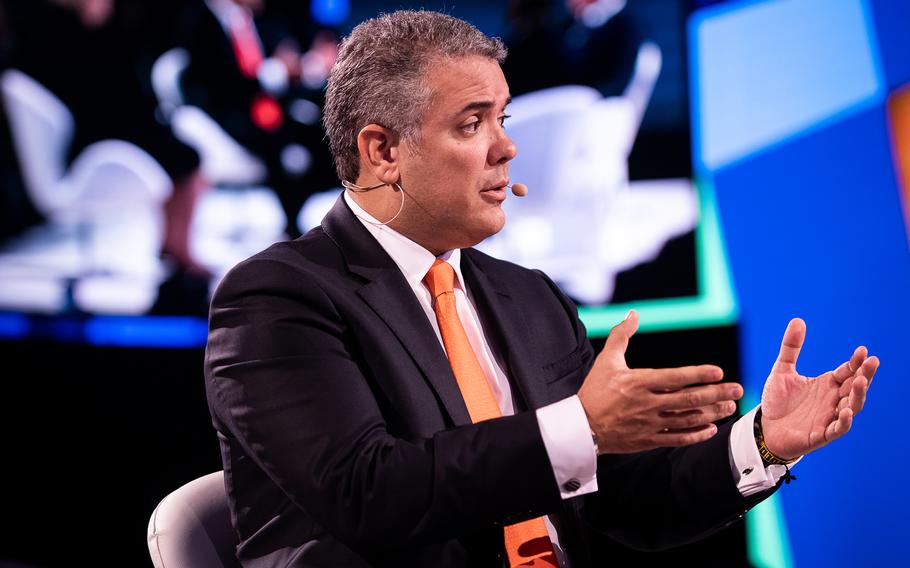 Cadets at a Colombia police academy donned Nazi Germany military uniforms and displayed paraphernalia with swastika insignia during an international culture exchange event, sparking widespread outrage that led the country's leader to apologize.
Colombia President Iván Duque condemned the incident at the Simón Bolívar Police School, writing on Twitter that "any manifestation that makes use or reference to symbols alluding to those who were responsible for the Jewish Holocaust" is unacceptable.
The police training facility, located in the city of Tuluá, some 200 miles west of the capital Bogotá, had chosen Germany as the guest country for its cultural event, according to Agence France-Presse. Local media reported that photos posted to the school's Facebook page, which appear to have been deleted, also showed a student with a Hitler-like mustache.
Experts say the incident may be a symptom of a bigger problem. Colombia's militarized national police has been in the spotlight in recent months, with The Washington Post and rights monitors such as Human Rights Watch detailing apparent instances of excessive police force against civilian demonstrators.
Authorities detained and indicted some officers, while also blaming some violence on agitators that they said penetrated the ranks of protesters. And on Friday, the national police suspended two senior officers at the Tuluá school.
"What kind of a police institution, what kind of a state doesn't recognize fascism, or worse, Nazism?" said Federico Finchelstein, who studies fascism in Latin America at New York's New School for Social Research. "Having no idea is also part of an ideology that is antidemocratic."
The German and Israeli embassies in Bogotá released a joint statement calling on Colombia to join the International Holocaust Remembrance Alliance, a global organization which researches the Nazi-led genocide.
"Any hate speech can lead to tragic results like those experienced years ago, during the Second World War, where 6 million Jews were murdered, in the most horrendous crime ever committed in the history of humankind," the diplomatic missions said.
There are about 4,000 Jews living in Colombia, which has a population of some 50 million. But there is a small but growing number of Jewish people, often evangelicals who have shed their previous doctrines to practice strict Orthodox Judaism. In November, Duque also visited the Yad Vashem Holocaust Remembrance Center during a trip to Jerusalem.
Earlier this year, Colombian police were heavily criticized for how they handled protesters demonstrating against a tax proposal by Duque's conservative government.
According to observers, security forces opened fire into crowds and beat protesters with batons. Within the first five days of the protest, 18 civilians and one police officer were killed, with 87 people missing, according to Colombia's human rights ombudsman.
Duque has said he intends to reform and modernize the police in an effort that will include measures such as the creation of a human rights division and mandating body cameras.