Maduro poised to launch talks with Venezuela's opposition. He seems to have the upper hand.
by
Anthony Faiola and Ana Vanessa Herrero
The Washington Post
August 14, 2021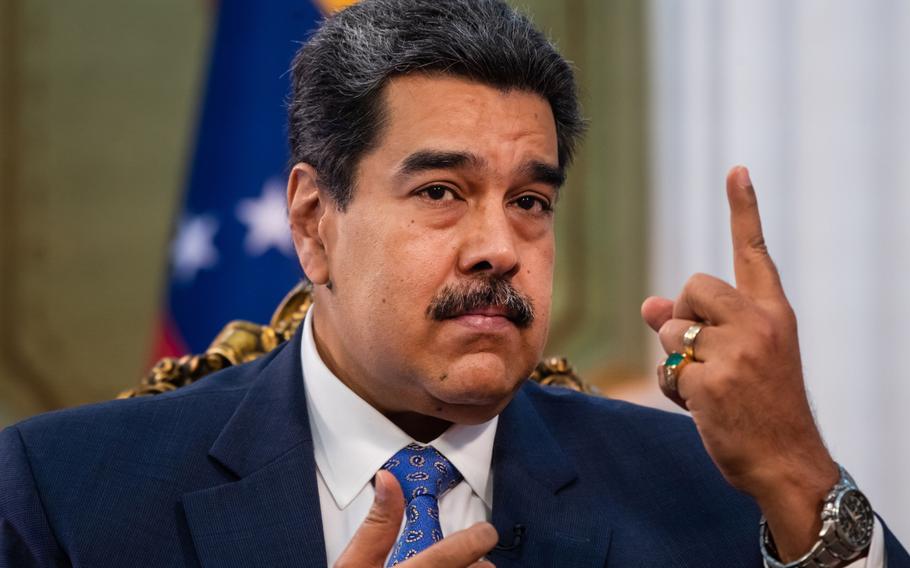 Representatives of Venezuelan President Nicolás Maduro and the U.S.-backed opposition launched talks in Mexico City on Friday aimed at restoring democracy and easing a humanitarian crisis in the South American country.
This time, the authoritarian leader appears to have the upper hand.
The talks brokered by Norway - which has long sought to spur an accord - mark the fourth time in five years that the opposition has sought a deal with Maduro, who was internationally condemned for claiming victory in tainted 2018 elections. All previous attempts failed.
In a significant change from past talks, however, more international players are set to be at the table this time: Russia is joining Maduro's camp, and the Netherlands is aiding the opposition. A broader group of about 10 other nations - including the United States, Canada, Britain, Turkey and Bolivia - is designated as key actors, according to three people familiar with the talks who spoke on the condition of anonymity to discuss sensitive matters.
"Am I overly optimistic? No," said Leopoldo López, mentor to opposition leader Juan Guaidó and a coordinator for one of the four major opposition parties. "But I think the process has the capacity to succeed, so we've put all our efforts into this. I think this is a space where everyone can meet and it has the capacity to align the international community on a solution to the crisis - free and fair elections."
Heads of both delegations met Friday night to sign a memorandum of understanding containing the details of the agenda. Mexico's foreign minister and the head of the Norwegian delegation were invited to sign the document. Political rights, electoral guarantees, the lifting of sanctions against Venezuela, human rights and policies to protect the economy are among the seven points that will be discussed. Each delegation will have nine members and will make "efforts to include women," said Dag Nylander, head of Norwegian delegation.
The objective, he said, is to reach an agreement on every point, although partial agreements can be reached and later included in the final document.
Gerardo Blyde, head of the opposition delegation, said this is the most solid process they've had. "Today we are beginning the second stage of a negotiation process that we know will be complex," he said. "We come to seek agreements on all the issues that we are going to discuss."
For the Venezuelan government, the process is urgent and intensive. "It has been complex," said Jorge Rodríguez, a prominent political figure of Maduro´s regime and head of the delegation representing the government. "We've had months and months of conversations to reach the memorandum of understanding that speaks to all of us."
Key observers remain skeptical of a breakthrough that could restore democracy. Maduro's government is heading into the talks in its strongest position in years.
In 2019, the last time serious talks were attempted, Maduro had suffered an assassination attempt and other alleged plots against him. Guaidó, then the elected president of Venezuela's National Assembly, had emerged to challenge his rule - and won recognition from the United States and more than 50 other countries as Venezuela's legitimate leader. The Trump administration was turning up the heat on Caracas with harsh new sanctions.
And yet Maduro survived, consolidating his grip on power while Guaidó's popularity and ability to mobilize the masses dramatically waned. The Lima Group - a collection of nations that were pressuring Maduro to step aside - is now in tatters, with its host country, Peru, abandoning it following the election there of it's anew, far-left president. Many Venezuelans now blame the Trump-era sanctions for making their lives worse while failing in their fundamental purpose: forcing Maduro out.
Reflecting the new reality, the starting point for the opposition has changed. Its negotiators have dropped demands that Maduro immediately step down. An agenda was still being hammered out, but opposition officials say they will push for shorter-term deals to stem the humanitarian crisis, which has sent millions fleeing a collapsed health-care system and high levels of malnutrition, and to set a timetable for free and fair parliamentary and presidential elections.
Analysts have low expectations. Perhaps the most likely positive outcome, they say, could be incremental agreements on access to coronavirus vaccines, the release of political prisoners, and a more level playing field for local and regional elections in November.
"If the opposition and international community had the power to remove Maduro, they would simply be negotiating his departure right now," said Luis Vicente León, director of the Caracas-based Datanalisis polling agency. "That is not what is happening here."
The United States, the opposition's strongest backer, will not be sitting at the negotiating table, a decision opposition operatives say was made to avoid the Cold War optics of Washington and Moscow staring each other down in Mexico City. But the United States will be critical to any deal. Maduro is unlikely to budge on much unless he achieves his primary objective: an easing of the U.S. sanctions that have isolated his government financially and made him increasingly dependent on Russia, China and Iran.
Last month, the Biden administration offered a small olive branch, allowing Venezuela's state oil company to restart imports of cooking gas from the United States amid a major domestic shortage. But U.S. officials say any significant sanctions relief would depend on irreversible changes to re-democratize the country and a firm commitment to free and fair elections - a standard that observers see as a high bar.
"I think it's a pragmatic approach, but that doesn't mean we're necessarily going to lift pressure, lift sanctions," said a senior U.S. official who spoke on the condition of anonymity. "Biden is not just going to give in to a dictator. That's not going to happen."
Maduro says the government has seven specific demands.
"We hold them firm," he told reporters this week in Caracas. "First of all, the immediate lifting of all criminal sanctions against the Venezuelan economy and society."
The pathway to any broader deal is a minefield of issues that have blown up past negotiations - including whether and how amnesty would be granted to Maduro and his inner circle, who stand accused of narcoterrorism and crimes against humanity. The 58-year-old leader is seen as unlikely to surrender power as long as it leaves him vulnerable to arrest and prosecution at home or abroad.
But the power structure in Venezuela is complicated, and some in the opposition think that major players in Maduro's inner circle and the military could push for a deal to secure their own political futures. That calculus, however, hasn't worked in the past.
In 2016, an effort backed by the Vatican fell apart before talks even began. In 2017 and 2018, after months of street demonstrations in which dozens of people were killed by government forces, talks in the Dominican Republic brokered by former Spanish prime minister Jose Luis Rodríguez Zapatero ended without a deal. In 2019, talks organized by Norway in Oslo and Barbados after several months of political and social unrest broke up without an agreement.
Even if a deal isn't reached, the talks could still serve two purposes in line with opposition goals. European allies have been pressing for dialogue, and the U.S. decision to effectively sanction that approach keeps the international coalition against Maduro intact, at least for now.
In addition, the simple fact that representatives of the major parties and Guaidó's interim government are sitting at the table amounts to a reaffirmation from the international community - and a nod from Maduro - that they remain a credible political force in Venezuela.
- - -
The Washington Post's Vanessa Herrero reported from Caracas.