Report: US seeks base for drones in northern Africa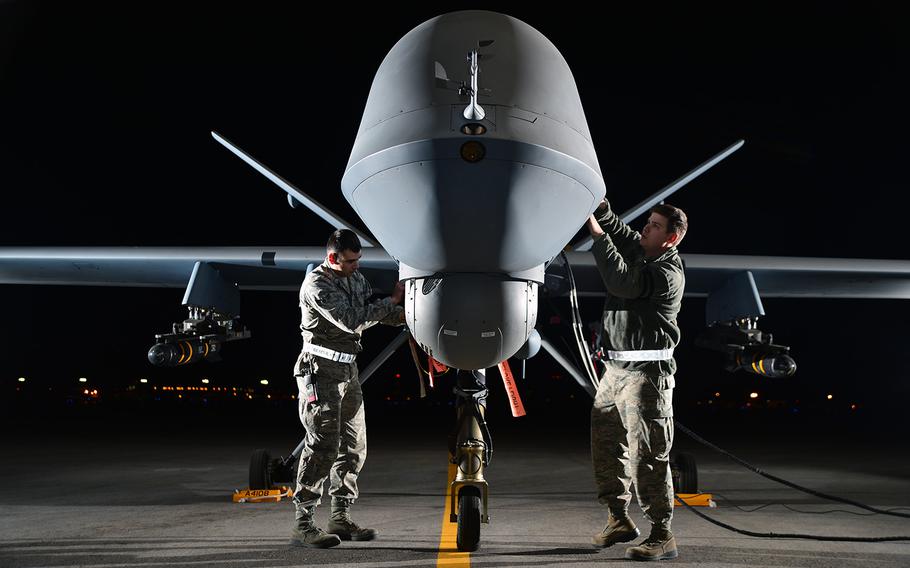 The U.S. is seeking to position drones at a base somewhere in northern Africa as part of an effort to increase surveillance on the Islamic State group in Libya, but so far no countries in the region have agreed to play host, according to The Wall Street Journal.
The addition of a drone base in northern Africa would help close intelligence gathering "blind spots," the paper reported.
"Right now, what we are trying to do is address some real intelligence challenges," the paper quoted an unnamed senior administration official as saying.
The Journal said the U.S. uses Naval Air Station Sigonella, in Sicily for some drone flights over Libya, but missions are routinely canceled because of frequent cloud cover over the Mediterranean and other weather-related hurdles.
The U.S. military also has access to bases in Niger, both in Agadez in the central region of the country, and outside of the capital of Niamey. But officials say those bases are too far from Libya to be useful for operations there.
During the past year, the Islamic State group has made gains inside Libya, taking advantage of a security vacuum in a country that has disintegrated into a virtual failed state.
U.S. officials have emphasized that there are few concrete measures that can be taken to improve conditions until Libya establishes some form of political cohesion.
Currently, there is no national unity government, and numerous militias hold sway in various parts of the country. More recently, fighters tied to the Islamic State have secured areas in Libya's east.
While U.S. Africa Command and NATO have long had plans to help Libya build up its military forces, those efforts have been on indefinite hold as because of the widespread political chaos.
If the U.S. were to add new drone hubs in Africa's north, it could mark a significant expansion in capabilities. So far, unmanned surveillance aircraft bases have been restricted to the east and west of the continent, with facilities in Djibouti as well as Niger hosting U.S. drones.
Last month's attack on tourists in Tunisia, a close military partner of the U.S., highlighted concerns about instability in Libya rippling beyond its borders. The gunman was believed to have spent time training in Libya.
Still, potential hosts in northern Africa have expressed reservations about inviting drones into their territory, citing concerns over sovereignty, according to the Journal.