US clears $1 billion deal to furnish Nigeria with attack helicopters, compliance training
By
Stars and Stripes
April 14, 2022
---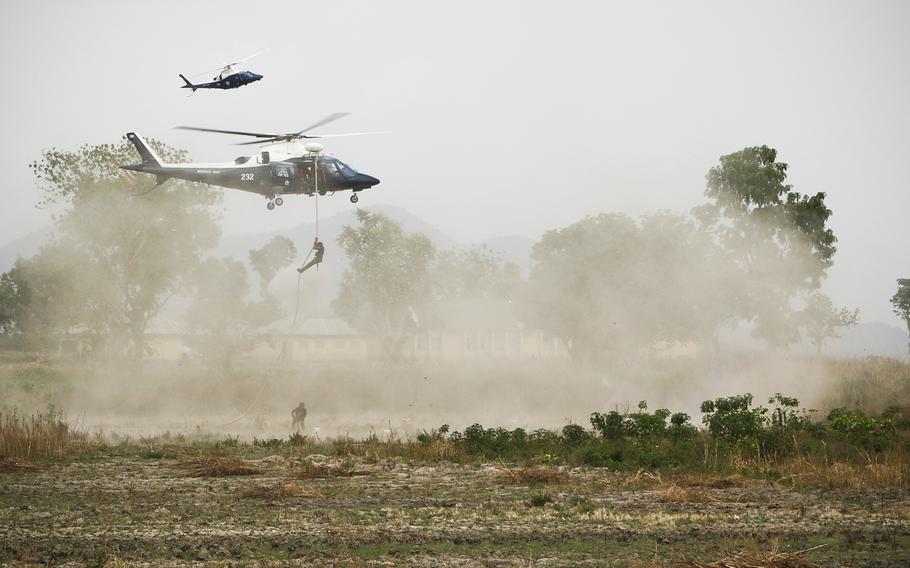 U.S. attack helicopters and related gear worth nearly $1 billion has been approved for sale to Nigeria, the U.S. State Department announced this week, saying the deal will bolster security in a region facing threats from multiple extremist groups.
Approval came Thursday for the sale, which includes 12 AH-1Z Cobra attack helicopters. The $997 million deal also includes 28 extra engines and 2,000 Advanced Precision Kill weapon systems and other targeting hardware.
"This proposed sale will support the foreign policy goals and national security objectives of the United States by improving the security of a strategic partner in sub-Saharan Africa," the State Department said Thursday.
In addition, $25 million is set aside to ensure that Nigerian forces are trained to use the weapons in a way that is "legally compliant" with international laws of armed conflict, the State Department said.
In July, the proposed sale was put on hold by Congress over questions about possible human rights abuses by the Nigerian government, Reuters reported at the time.
The Nigerian military also has faced criticism. A Nigerian judicial panel last year found that soldiers in October 2020 opened fire on civilians during a protest against police brutality, killing 11 people and injuring many others. 
During Secretary of State Antony Blinken's visit on November, he said the U.S. was looking forward to seeing the full results of the government's investigation and would make a decision on arms sales to Nigeria based in part on the findings and whether those responsible were held accountable, The Associated Press reported. 
The decision comes as security threats persist in Nigeria and bordering countries, where extremist groups such as Boko Haram and Islamic State group affiliates are among the organizations causing instability.
The helicopter sale follows the recent delivery of 12 A-29 Super Tucano planes from the U.S. to Nigeria in a $593 million deal to provide the country with an attack aircraft to battle insurgents.
The U.S. also carries out periodic training with military forces in West African countries, including Nigeria.
On Wednesday, the U.S. Embassy in Nigeria said Marine Corps Raiders recently carried out six weeks of training with local special operations troops that was focused on maritime security and counterterrorism.
---
---
---
---