US service member injured in Mali mortar attack
By
Stars and Stripes
January 26, 2022
---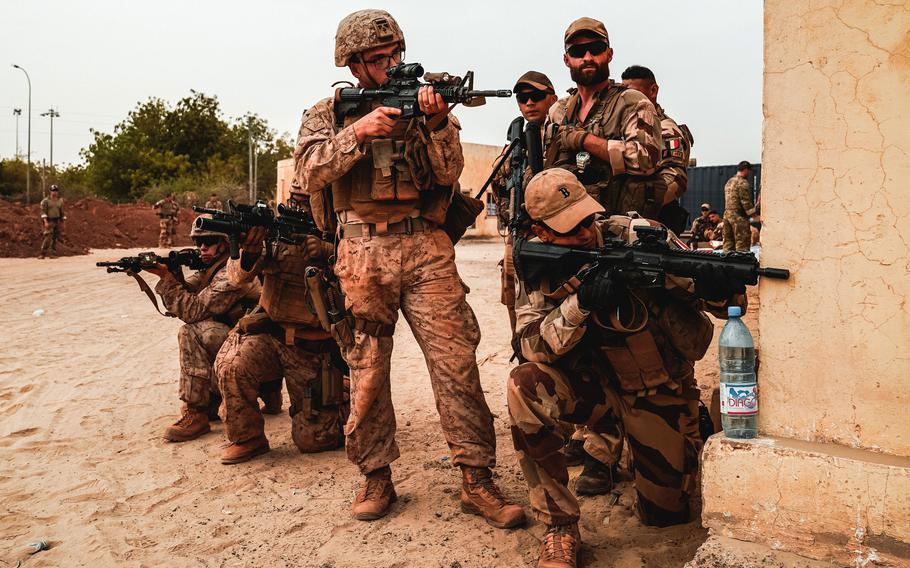 STUTTGART, Germany — A U.S. military member was hurt in the mortar attack that killed a French soldier on Saturday, U.S. Africa Command said Wednesday.
The U.S. service member, whose injuries are not life threatening, was injured in a strike on a French military base in the city of Gao, AFRICOM said.
The service member's identity and unit were not released. AFRICOM said the servicemember was airlifted to Landstuhl Regional Medical Center on Sunday.
French artilleryman Alexandre Martin, 24, died while serving with the anti-insurgent force Operation Barkhane, according to a French army statement Sunday. 
A small contingent of U.S. troops provides support to the French-led counterterrorism effort in Mali, where a mix of Islamic extremist groups have long operated. AFRICOM did not disclose how many troops are now supporting Operation Barkhane.
"U.S. AFRICOM supports French efforts in the region by routinely sharing assets such as medical evacuation, logistics support, [intelligence, surveillance and reconnaissance], and air refueling support," AFRICOM said in a statement.
The support in Mali continues despite multiple coups in recent years in the West African nation, the last of which occurred in May 2021.
The attack serves as a reminder of the risks for U.S. forces in parts of Africa, where military missions are carried out largely outside of the public eye. In 2017, four U.S. soldiers were killed in neighboring Niger in an ambush.
In the aftermath of the Niger attack, some AFRICOM missions were scaled down as the military shifted assets to other parts of the world. Still, AFRICOM maintains a steady presence in Niger, where the Air Force operates a base in the desert that is a hub for surveillance and reconnaissance missions throughout the broader region.
---
---
---
---